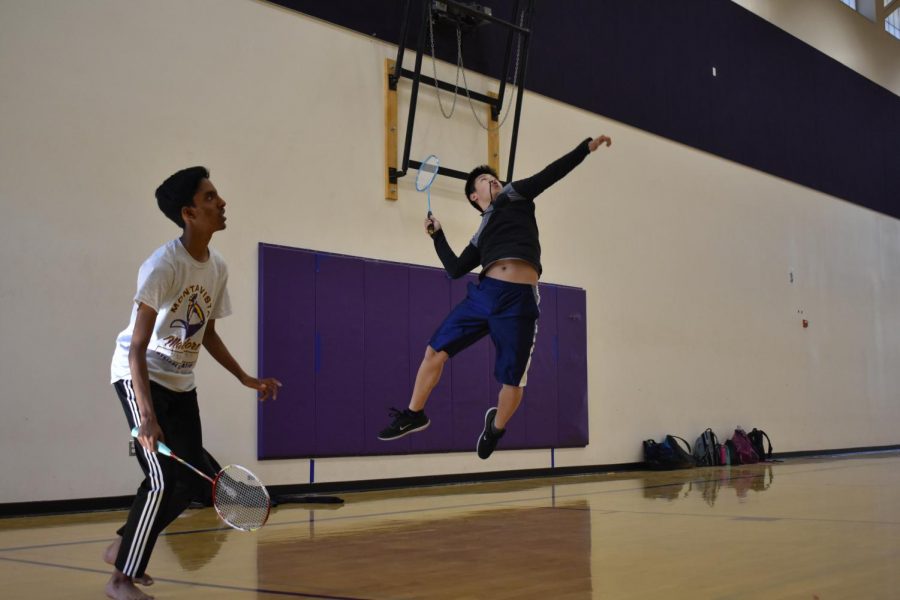 Robert Liu
queaky sounds of sneakers skidding across the hardwood floor filled the field house at lunch on Oct. 22, as Badminton Club members faced off against each other in matches. Like previous years, Badminton Club hosts weekly open gyms during lunch, a period where both prospective team members and those on the MVHS badminton team can engage in the sport. Any student interested in playing badminton, even those with no experience, are encouraged to participate in open gyms on Tuesday at lunch in the field house.
Although many of the club officers are also members of the badminton team, junior and public relations officer Henry Kam doesn't believe that the club officers deliberately host open gyms to attract talent for the team — rather, he believes that open gyms serve to foster an environment that may attract prospective players to the sport and encourage them to try out for the team.
"Badminton Club allows others who are not exposed to badminton to develop a new perspective on the game and maybe further develop their passion towards it," Kam said. "[But] it's the choice of students to go to Badminton Club — if they want to pursue badminton as a team sport, then they should continue going to open gyms. It's not like the officers want to attract talent; it's that [students] ultimately get inspired to [join] the team."
Kam explains that many of the positive values of his experiences in the badminton team percolate into the cordial Badminton Club culture through open gyms. He believes these inclusive values make open gyms inviting to everyone, badminton team member or not.
"Our welcoming officers, our welcoming memes and the friendly badminton culture all make it appealing for everyone," Kam said. "Our team is a tightly-knitted community and having [open gyms] allows others to have the ability to somewhat immerse themselves in our community."
Junior, club member and boys varsity badminton player Tanush Talati agrees, believing that the social aspect of the club sets opportunities for playing the sport in the environment of Badminton Club apart from normal badminton practice.
"Open gyms aren't as intensive as training outside — it's just playing around for fun," Talati said. "Training outside — you have a coach, you have to do your drills. But at Badminton Club, you can play at low stakes and bond with friends at the same time."
Junior and boys varsity badminton player Raghu Venkatesan echoes the social and educative value that participating in open gyms can offer, especially for inexperienced players. He sees the club's array of "competitive, friendly and encouraging" aspects as a cornerstone of its unique and familial experience, and also believes that open gyms are an opportunity for new players to get better at the sport by watching matches played by veteran team members. 
Kam agrees that open gyms are not only valuable for new badminton players, but are also useful for current and returning badminton team members as opportunities to practice.
"In the offseason, some of the badminton team members don't train too often, so they utilize the open gym as training for the season," Kam said. "[Open gyms are] a fun and encouraging environment for not only new players to badminton, but also others that are trying to teach new players as well — it's also a great place to socialize and get exercise."
While Talati acknowledges how being a part of the club is useful to one's skill as a player, he personally doesn't go to the club to improve at the sport, but to instead enjoy its fun, social and familial ambience.
"[Open gyms] are a fun way to socialize with friends when you don't have much going on at lunch," Talati said. "Last year, it used to be on Thursday at lunch, and when I didn't have anything else to do at lunch, I could go out with friends and play badminton for fun — it was just a way to forget about school for a while and enjoy a sport that I like. [But] I feel like Badminton Club is not the place to train, but rather a place to hang out, socialize with friends and have a good time while playing a sport that all of us enjoy."
Check out the photo gallery from Badminton Club's open gyms below.