Crafting a traditional farewell: The Farewell Rally
MVHS Leadership organizes preparations for the annual end of the year Farewell Rally
Under the fluorescent lights bouncing off the gym floor, the class of 2019 clothed in Matador garments and purple bandanas ripped through the white breakthrough poster, following the Farewell Rally tradition. As always, this year's Farewell Rally was run by the current ASB and Leadership team, alongside with the incoming class officers for next year. Like years prior, this year's rally theme  was the homecoming theme for each year the class of 2019 has been at MVHS: Willy Wonka, Tomorrowland, The Hunger Games and Monsters Inc.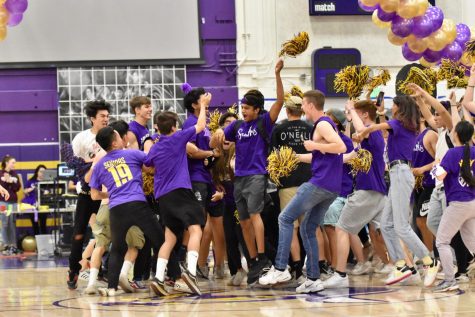 While setting up for the rally and spirit week, the MVHS Leadership team made an effort to promote the rally through TikToks on Instagram, social media, lunch games, donations and dress up days throughout the week. According to senior class president Ashika Jaiswal  there is an immense amount of preplanning behind the scenes of spirit weeks and rally days.
As the incoming class of 2020 social manager for the 2019-20 year, junior Chris Cellini is a veteran in leadership. As  Cellini served this position in the 2018-19 year, he knew exactly what his role was at rallies.
"It's a little different for this Farewell Rally because the elected class office instead of current class office [planned the rally] so that we can get a feel of how it's going to be next year, before we have homecoming and the welcome back rally." Cellini said.
With the changes that came with all the rallies this year from the location of the rally and the TikToks as promo, Jaiswal speaks on behalf of her class that  she wanted this last rally to be just like it always is.
"[We] wanted to be sent off with a traditional rally that encompassed what it meant to have a rally at Monta Vista," Jaiswal said. "Bye MV, this is what I want to remember you for."