The USA Biology Olympiad, or USABO, is one of the most prestigious biology competitions for high school students in the United States. Every year, 5000 to 7000 students participate in the open exam, and only the top ten percent (or top 500) pass onto the semifinals. From there, the top 20 contestants are invited to a free training camp where students are given lessons and guidance for the finals. Finally, four students are chosen to represent the USA as a team in the International Biology Olympiad (IBO), where over seventy countries battle for a medal annually. Biology Club president junior Ria Kolli has made it into the top 50 of the nation in her freshman and sophomore year, after discovering USABO through the Science Olympiad.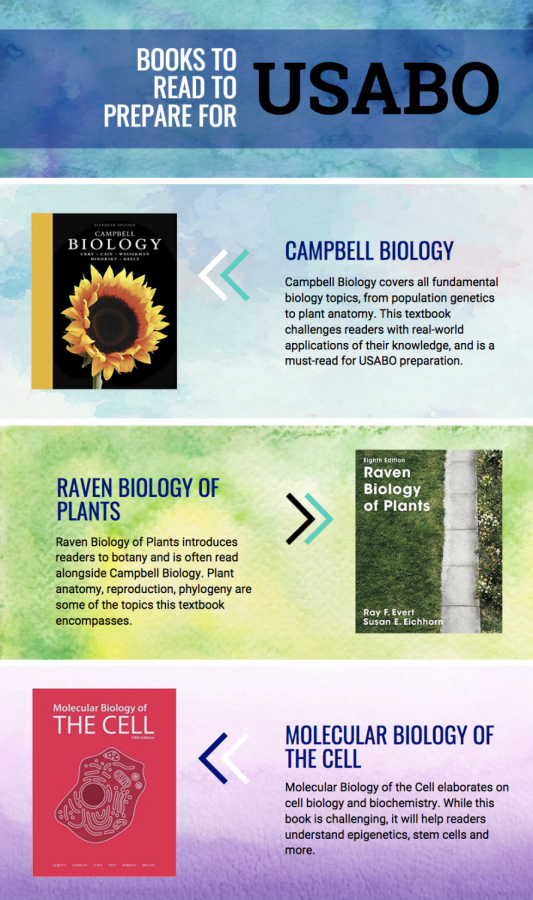 "[USABO is] definitely [a hard competition] and I think it's the only biology competition—if I'm not mistaken—that … you [just] take a test," Kolli said. "[In] most other [biology competitions] and science fairs … you have to do research. This one's just purely knowledge based."
Biology Olympiad coordinator junior Audrey Cui was actually introduced to USABO through Kolli, and decided to try it out her sophomore year. Like Kolli, she was able to make it into the top 50, and is planning to take it again this year.
In Cui's experience, USABO has become more focused on conceptual and real-world applications of biology in recent years.
"USABO is [based on] how much you know about biology concepts," Cui said. "Now it's gotten harder, so only a few of the questions are just asking you for a fact. But now it's making you really think about how things work."
Similarly, sophomore and second-time USABO participant Megan Chang feels that USABO is an intellectually stimulating competition. She acknowledges that it is difficult to succeed in the competition and that a lot of time must be put into studying to do so, but she finds it enjoyable.
"I feel like with USABO, I challenge myself more," Chang said. "For example, when I read the Campbell textbook, I feel like I need to know a lot more detail than [I] know in the AP Bio[logy] class … It makes me even more interested to study … about biology."
Likewise, Kolli, who is now participating in USABO for a third year in a row, doesn't encourage those who aren't truly in love with biology to take the exam — the amount of effort that needs to be put into studying for the exam will simply not be worth it.
"Do something because you like it [and] because you enjoy it," Kolli said. "Because in order to succeed in USABO you have to study a lot, and chances are the people who really like biology, who are interested in it, they're the ones who are going to enjoy studying and … retain more information and therefore do better on the test."