Q&A with Model UN President
Looking back at first semester
As first semester nears its end, Model United Nations club president and senior Amit Chandramouly reflects on the past semester. The club has had an eventful start to the year, and hopes that the second semester brings forth even more.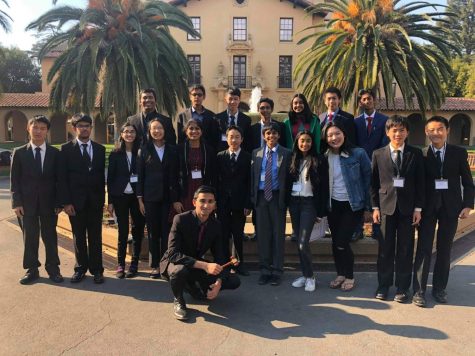 Read the following Q&A to learn more about their experience.
El Estoque: What has MUN accomplished this past semester?
Amit Chandramouly: We've certainly accomplished a good deal this semester — within our own officer team we've managed to hit our stride and are past the adjustment period where everyone's trying to figure out how to work their roles. Member wise, we've had two extremely successful conferences (hosted by Gunn HS and Stanford University) and have learned a lot from what we've seen on the circuit this year. That being said, one thing I'd like to emphasize is the sharp growth in our member base as we're seeing record conference interest this year. For example, we finished pre-registering and collecting forms for a couple of conferences in the last few weeks and here are the changes we saw:
All in all our success, combined with larger numbers this year, gives me hope of a great second half of the season (especially given the fact that we have all our heavyweight conferences then). That being said, estimating numbers has always been something that we've gotten wrong this year because we always get more signups than we think we'll get, and we've had to go back and forth with the conference organizers quite a few times to request more spots and hotel rooms. At the end of the day though, I'm super happy to see that we've grown to a 150+ member club this year after having had to share a room with another club every other week just three years ago. It has been an insane amount of growth, and we're loving every bit of it.  
EE: What changes did you guys implement? Did they turn out as expected?
AC: The most significant change we implemented was splitting up our meetings into two to three sub meetings every week to reduce crowding in our rooms and give each of our members more attention. This has proved to work, as our member retention has been much, much better this year, and so has our awards rate and conference attendance.
Another change I personally looked to implement is to grow the scope of MUN beyond just competitions in the last few months of this semester, our members have been given the opportunity to volunteer for rallies and voter drives in the weeks leading up to the midterms, attend a conference hosted by the UN on poverty and development at Stanford University and also attend a Climate Change Summit hosted by NatGeo at the San Jose Tech Museum. I pushed to create these opportunities because I want our members to see MUN as more than a means to simply add lines to one's resume, but to actually learn about the world around them and get informed on various different issues. Members have taken onto this idea pretty well, and we saw approximately 20-30 of them attend each of these three events.
EE: What are you most proud of?
AC: This is kind of a hard question — we've done a lot this semester and there's certainly a lot that our team can be the most proud of. However, if I had to pick on one of them, it'd probably be our improved connection to our member base this year/our club culture this year. I feel as if I'm a lot closer to the rest of the club this year, and this closeness is what I think holds our club together for the most part. Members always reach out to the officer team for questions and to clarify things (which may not even be MUN related) and I think we're building a pretty strong bond. Our club is a whole lot more connected this year, and in my opinion there's none of the conventional club divide between the officers and members, so that's what I've grown to appreciate immensely.
EE: In terms of just you, has it been a successful semester? Are you happy with your performance?
AC: I'm extremely happy with how I've done this semester. In terms of purely awards, I was the only one to win the Gavel (1st place) this year at Stanford University, and it sure feels good because it was a hard battle to win. But more importantly, I think I've been more successful in how/what I've taught the members this year. They're beginning to look at MUN as something more than a simple means for them to win stuff, and are taking note of the deeper issues that the activity aims to address, and it's my belief that this realization is lost on most of the people who do MUN. As someone interested in international relations, it warms my heart to see this change in the mindset, and I consider helping bring about this new way of thinking to be my greatest MUN success this year and possibly of all time too.
EE: Do you think you guys have been able to/will retain members? Are you planning to implement any new changes next semester?
AC: Definitely. As stated earlier, we've signed up record numbers for some our hard-to-sell conferences this year such as BMUN and NAIMUN, and I'm sure that the member interest and enthusiasm we've generated is here to last. In terms of changes, our officer team has nothing planned on the table, but we'll surely adapt to anything that comes our way if needed.
About the Contributor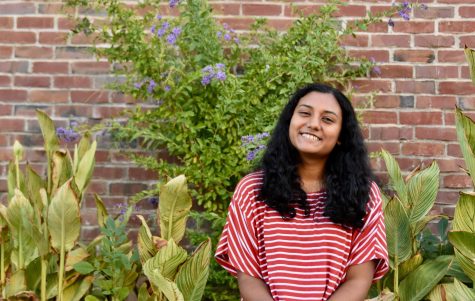 Oishee Misra, Opinion Editor
Oishee Misra is currently a junior and opinion editor for El Estoque. She enjoys reading, trying new foods, hanging out with her friends, watching Netflix, and is obsessed with dogs. She loves to read works by New York Times columnists and hopes to be like them someday.