Starting young
How MVHS athletes got started coaching youth around the city
Match point. Junior Evan Yu bounced the ball up and down, closing his eyes and letting his muscle memory take over. He bounced the ball once. Twice. Thrice. Six times. He visualized the outcome of the point and the strokes he had to make to win the game. Picturing the fundamental strokes he taught one of his students the night before, he proceeded to serve the ball. Just as Yu envisioned, he won the point.
Similar to Yu, certain MVHS students find coaching others beneficial to improving their skills in the sports they play. Yu was first approached about coaching while playing local tournaments at locations like De Anza College and Memorial Park. The more he played, the more people watched–including his soon to be students.
"At first I didn't think about [coaching] but people were asking me to coach them," Yu said. "I would go to tournaments and there would be young kids and their parents there watching me. They asked to play with me later and they said they would pay me so I agreed."
Similarly, sophomore Kira Israni initially started coaching youth soccer because she wanted to earn some pocket money. However, her initial intent gradually morphed into more as a result of other consequent factors.
"It helped [me] with stress relief and it was just something just to relax and get out there and have fun," Israni said. "Just watching kids play soccer, and also playing soccer with them ––  [coaching] was really fun."
Israni connects her success in coaching to her passion for the game; she began playing soccer at the age of four, and recalls having the urge to play all the time. The passion stuck with her throughout her childhood and into her teens, and she notices that similar passion mirrored within the younger kids, which was what initially led her to coaching kindergarteners during the summer.
"[Soccer] has been an amazing thing in my life, and I've always loved to play," Israni said. "[The kids I coached] were really excited to play soccer, and they really wanted to, not really learn — because obviously they were really little — but like play it and actually do stuff."
However, for some athletes, coaching is not a choice they make but a requirement. Sophomore Pallavi Srinivas has been doing taekwondo since the age of five, and one of her requirements entails having to be a volunteer coach. She says that everyone has to coach at least 30 classes before being eligible to test into the black belt, which is the highest and most prestigious ranking.
"They probably have this rule so you can learn from other mistakes that the kids make," Srinivas said. "And the instructors are also there to help you out with your skills."
Srinivas consistently manages to keep the kids engaged and working hard, regardless of her not having as much experience as some of the older coaches. In fact, she finds that since the kids she coaches are in elementary or middle school, she is able to keep them engaged because of the closeness in their ages.
"The kids are more engaged when someone coaches them is younger because they can kind of relate more," Srinivas said. "While those that are older don't really get how the kids work, but since we are closer in age, we do."
Unlike Srinivas, Yu embraces what he learned from older coaches and tries to mimic his past coaches in his classes. Throughout his life Yu has participated in tennis classes and learned certain ways coaches are able to keep their kids attentive and engaged. He tries to model classes after his old coaches and his ultimate goal is to try and make it a comfortable environment where kids can grow and learn.
"I try to be patient with the kids and answer their question [just like my coach was with me], so I think that's why they listen to me," Yu said. "I try to make it a fun atmosphere so they are engaged and ready to learn."
Similar to Srinivas, junior Samer Awad found the minimal age difference an advantage while coaching. Awad, who plays for the school's varsity water polo team, had an experience this season where he stepped up to coach the junior varsity team. Awad explained that since he had played with some of the kids on the team the previous season, he was able to establish a connection with them.
"There was just this whole change in dynamic," Awad said. "I could tell that the kids started to play differently and I guess I had a more personal connection with them than the coach did at that time and we ended up winning that tournament."
Awad explained that his style of coaching was much more laid back, which allowed to players to respond easier since they felt comfortable with him coaching.
"I know that some of the coaches can seem a little authoritative but if it's like a student talking to another student, it felt like the kids understood me more," Awad said. "[I] wasn't really someone controlling them on what to do but rather telling them instead of bossing them around."
For Israni, she feels that coaching can have an impact on a child regardless of the age difference between the player and coach. She recalls one of her favorite moments of coaching, one that involved an intense soccer scrimmage among a swarm of five-year olds. Even though it was a hot summer day, all of the young players shoved and pushed each other, wanting to touch and kick the ball. As she supervised, she noticed a little boy who kept attempting to kick the ball but repeatedly got shoved out of the way and run over. Eventually, he burst into tears. To try and appease him, Israni stopped the scrimmage and let him do a free kick all by himself. That was all it took for a smile to light up his face.
"I've seen how other kids play and how soccer has an impact on them," Israni said. "I thought it was really cute that [the kids] wanted to play soccer so badly. It reminded me of a younger me."
About the Writers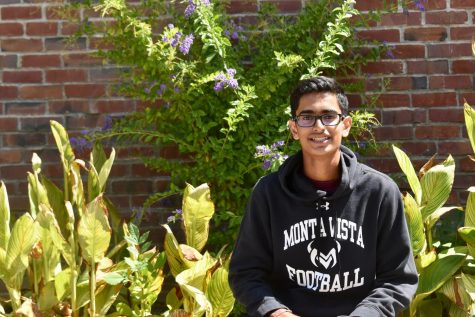 Anish Vasudevan, Co-editor-in-chief
Anish Vasudevan is currently a senior and co-editor-in-chief for El Estoque. He is a wide receiver and cornerback for the MVHS football team and enjoys playing recreational basketball with his friends. In his free time he watches ESPN and dreams of being a sports journalist someday.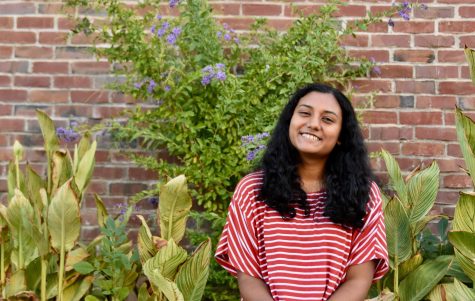 Oishee Misra, Opinion Editor
Oishee Misra is currently a junior and opinion editor for El Estoque. She enjoys reading, trying new foods, hanging out with her friends, watching Netflix, and is obsessed with dogs. She loves to read works by New York Times columnists and hopes to be like them someday.