Bridging therapy and culture
Bilingual student advocate Ya-Huei Chi reflects on her experience as a counselor
Eight years ago, Ya-Huei Chi was working as a physical therapist at a hospital in Taiwan. Before the hospital opened at 8 a.m., she remembers that people would line up outside the hospital, eager to enter. They often stayed the whole day, but Chi says that many didn't even need physical therapy.
"What I learned from my experience is that a lot of people coming here for physical therapy are not actually there for physical therapy," Chi said. "They want to talk to someone and build a connection with the therapists and patients there. That's what they kept coming for."
Chi explains that patients at the hospital found a comfortable environment where they could talk about issues they had, such as conflict with their parents or children. While the physical therapists weren't qualified to do any counseling, Chi was helping patients by simply lending an ear and listening to their stories.
It was through her experience at the hospital that Chi realized she wanted to do this — lend a hand and help people — full time. So, she booked a plane ticket to San Francisco, where she enrolled herself in the California Institute of Integral Studies to study counseling therapy. Four years later, in 2014, Chi started her job as an intern at MVHS, coming to school two days a week to see and counsel students.
Now, Chi is a student advocate on the MVHS campus. Every Tuesday, she meets with those wishing to talk to her, and, as she refers to her role, acts as a bridge.
"In school, we do a lot of managing, like crisis intervention, or [helping by referring] a student for regular therapy or to talk to teachers and guidance counselors," Chi said. "We can make therapy or mental health support become very approachable, not like you have to make an appointment. You can just drop by and talk to someone for 20 minutes and leave. I really like that."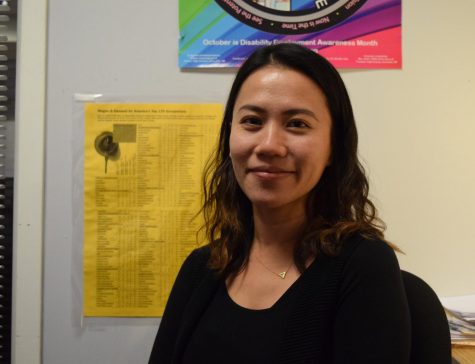 Chi stresses that students can come chat with her about anything on their mind: from issues with their parents to depression to breaking up with a significant other. When students talk with her, Chi's bilingual background can help her connect with Asian students.
"A lot of our students here are Asians, so I feel like I have a good understanding about their background," Chi said. "Their parents are usually first generation immigrants, so I totally know why the parents are thinking that way [and] how the family culture is. Being bilingual, I'm a bridge, not only between two languages, but between two cultures. That's what I really like about it."
However, being a bilingual therapist not only allows Chi to connect with students' backgrounds but also helps students clarify their thoughts. Chi says that since she is a first generation immigrant, there are some English words students tell her that she doesn't understand.
And when she asks them to explain to them what it means, she finds that students often rethink what they say and synthesize their thoughts in a more productive manner.
"It's actually interesting because students have the chance to talk about what they mean, and even just by telling me about it they have a deeper understanding about it," Chi said. "They have to explain [words] to me, so they have to think, 'What do I mean? Maybe I used that word but it's not really what I mean. I actually mean this.'"
In addition to the work she does with students on the MVHS campus on Tuesdays, Chi also has a private practice, where she meets with clients in sessions in Campbell and San Francisco. It is in these sessions where she is able to do more long-term, deep therapy, paralleling the emotional conversations she had when she was in Taiwan.
Chi also runs a drama therapy group at a teen eating disorder center in Los Altos; she says that drama therapy is her specialty. According to the North American Drama Therapy Association, drama therapy is the use of theater processes to reach therapeutic goals. Using this, Chi works to help embody and experience issues her patients experience, instead of solely talking them out.
"For example, instead of talking about anxiety, we'll bring anxiety into the room," Chi said. "What does anxiety look like? How big is it? What color is it? If anxiety is sitting in that chair, what interaction would you have with it? What would you say to it?"
While she is able to do drama therapy with her private clients, Chi says that being a student advocate is rewarding, and that she learns a lot from teenagers. As an adult, Chi says that it's easy to think of teenagers as just teenagers, when in fact, they have amazing creative abilities.
"Teenagers are a very amazing age," Chi said. "I feel like for a lot of work I've done here, I'm not really teaching people what to do. I'm just talking to people and people will just come up with their own idea, and it's much better than the ideas I give to them. What I learned is [to] just trust the students. [My job is to] just kind of refract their own 'inner wisdom.'"