Stop the BULLy: Behind the Scenes of MVHS leadership's bullying prevention day
A deeper look into the intentions behind anti-bullying day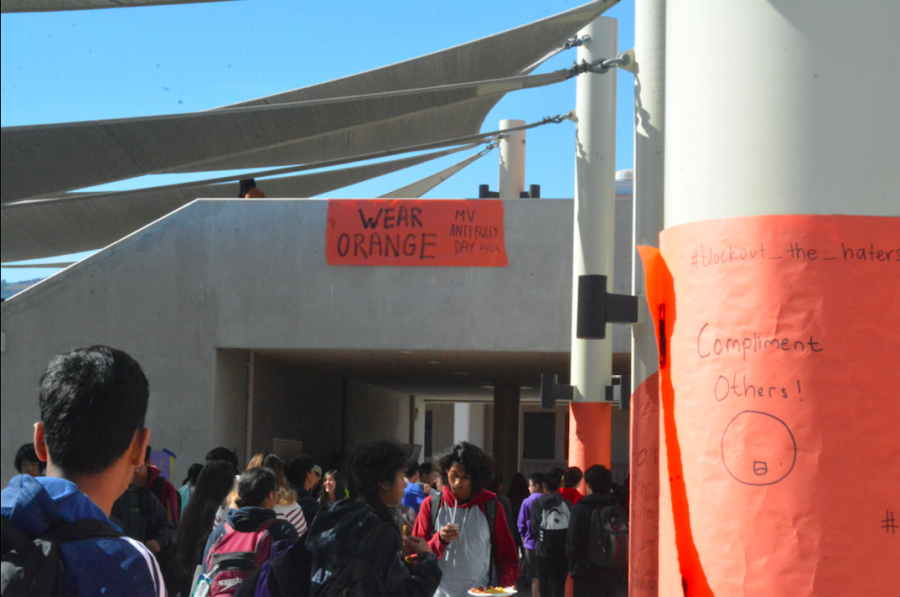 On Wednesday, Oct. 24, MVHS celebrated Unity Day, also known as Anti-Bullying Day. Waves of students sporting orange t-shirts and wristbands could be seen around the school in support of victims of bullying, as well as notes and decorations promoting a message of love and solidarity within the student body.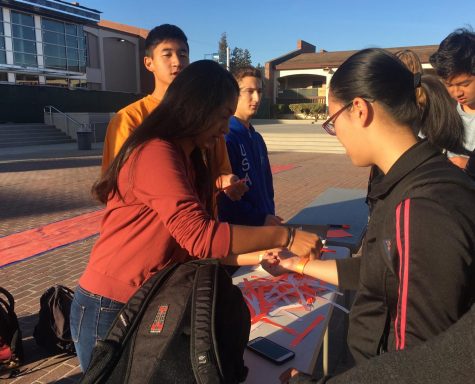 Junior and class secretary Sonia Singh attests that the Leadership class' intentions behind the Anti-bullying Day activities were centered around raising awareness about the different kinds of stigmas surrounding bullying, as well as showing support by standing in unity with any victims at MVHS.
"[We want to] not only raise awareness but also stand with the victims of bullying and spread positivity so that we can all be united with them," Singh said. "That's kind of the action that we're taking, not to attack the bullies and try to eliminate the problem, but rather help the victims and try to be the solution instead."
Singh mentions how it was difficult to narrow down the activities MVHS students could participate in to focus on the theme of bullying prevention.
"Originally, a lot of the activities we wanted to do were wellness based," Singh said. "So we did some more research on the official website [for anti-bullying day] and came up with these activities to spread messages of positivity and raise awareness on what bullying is and how we can combat it."
Sophomore and Bull Spirit commissioner Kira Israni listed the activities that students could partake in: wearing orange clothes and wristbands in order to signify unity and solidarity, writing nice messages on post-it notes in the MVHS rally court for other students to pick up and hugging El Toro, the MVHS bull. The class officers also handed out flyers that provided different resources that victims of bullying could use to reach out for help.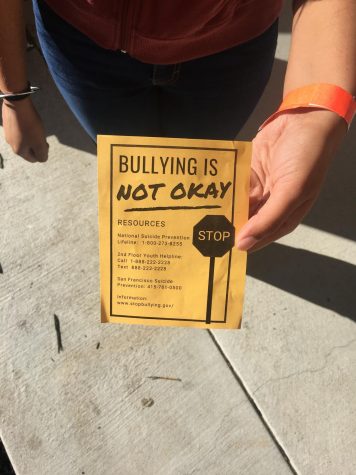 "We [as a leadership class] wanted to bring awareness to bullying because it does happen [at MVHS], unfortunately,." Israni said. "We wanted to prevent people from bullying others because sometimes even the smallest things people say can negatively impact someone."
Many students, like sophomore Navya Rao, didn't participate in the Anti-Bullying Day activities, but did recognize their importance to the MVHS community.
"I definitely saw a lot of people wearing orange and showing their support and I thought that was great," Rao said. "It shows that everyone in our school community is really supportive of victims of bullying and of people in need."
She, like many other MVHS students, originally didn't know what change the activities could enact and was confused as to why they were in place. She later recognized that a lot of the activities were to spread awareness about the prevalence of bullying as opposed to combating the issue directly.  
Singh acknowledges that while awareness is not the same as action, spreading awareness was the most important thing.
"The thing about bullying is that it's a really complex issue," Singh said. "You can't just wave a magic wand around and solve bullying; it's a long and complicated process. I think that the most that we can do as a Leadership class is begin with awareness. Without awareness, you can't go any farther than that."
Rao believes that bullying can occur anywhere, even in the progressive and accepting environment at MVHS.
"I think a lot of people [at MVHS] kind of judge each other and make fun of each other because of grades, and a lot of times it's unintentional but it comes across as negative and hurtful," Rao said. "I definitely think we should keep [celebrating Anti-Bullying Day] because it makes everyone more aware of issues that happen in our own school a lot, but are pushed under the rug most of the time."
Israni and Singh both hope that MVHS students take a lot away from Anti-Bullying Day and recognize that even the smallest actions can make a big difference. They hope that the day helped students become more aware of the power of their words and actions. They also hope that the Leadership class' original intent of spreading positivity and messages of bullying prevention was well-received.  
"It's never too late to make our campus more amazing," Israni said. "We can always find ways to improve it more. We don't really know what's happening in everyone's life so judging people based on what they say and what they do isn't helping anyone, and [hopefully] Anti-Bullying Day helped students recognize that it's never too late to make another friend."
About the Writer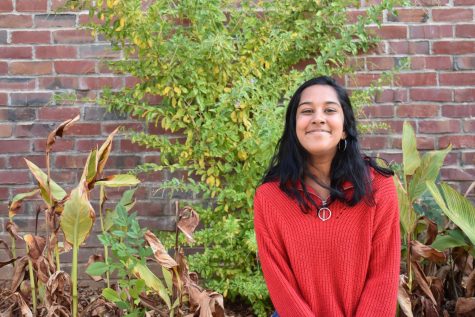 Lakshanyaa Ganesh, Opinion Editor
Lakshanyaa Ganesh is currently a senior, and an Opinion Editor for El Estoque's multimedia platform. Outside of journalism, she is a part of MVHS's Speech & Debate team, where she can be found frequently talking at walls. She loves music, pasta, and Harry Potter, and is always willing to talk about dogs or astrology any time of day.