Coffee with the Principal
First "Coffee with the Principal" event of the year encourages discussion about concerns and issues at MVHS
Circulating around the room, 35 parents introduce themselves to Principal Ben Clausnitzer. They sit in a circle with cups of steaming coffee in their hands, conversing casually, asking questions and talking with one another about their children's experiences at MVHS.
The 'Coffee with the Principal' event, held by the MVHS Parent Teacher Student Association (PTSA), occurs multiple times a year as an effort to connect parents with the MVHS administration. October 19 marked the first event with new principal Ben Clausnitzer.
"[The event is] a venue for parents to bring questions and meet the principal," PTSA Secretary Devika Aponso said. "It's an opportunity for parents who have questions or concerns to bring it up to the principal and also socialize a little bit with other parents. It's also nice to see what concerns the parents have about the school."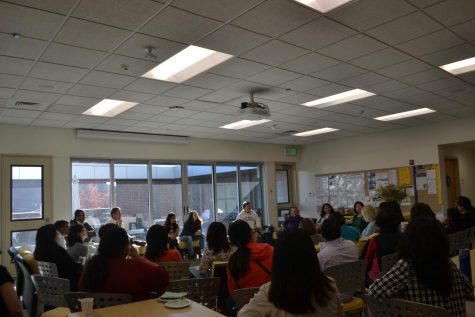 Aponso has a unique perspective of the relationship between the administration and parents as both a parent of an MVHS student and part of the PTSA board. This perspective is also shared by PTSA Communications Vice President Leigh Stevens, who has two children attending MVHS.
As someone who has previously been to many 'Coffee with the Principal' events, what Stevens likes most about the event is the connection it fosters between administrators and parents.
"[The event] allows the administration to hear what parents are thinking, and in some cases it's been pretty interesting when there's been a disconnect between what we as parents are hearing from our kids, and the admin has no idea that [that's happening]," Stevens said. "It's useful to get everyone on the same page and get the administration recognizing that as parents, we may not be there, but we're paying attention."
Of the many different questions and concerns raised by parents at the event, Aponso says one of the most popular includes the creation of a work-life balance for students.
"I personally feel that sometimes, kids, especially high schoolers, get so caught up in academics that they really don't have time to do more things that would help develop them as a person," Aponso said. "That's one of my biggest concerns: trying to find a balance for my kids."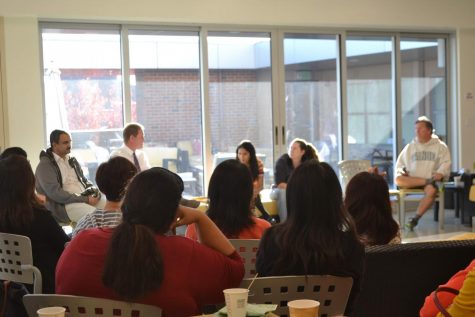 While stress at MVHS is a continuing issue that the community is tackling, another common issue raised by parents is the differing teaching styles and difficulty levels between teachers of the same class.
Principal Ben Clausnitzer emphasized the continuous work that the MVHS administration does to combat this, referencing the two collaboration periods on Monday and Wednesday mornings where teachers have to work together to create similar goals and plans.
Professional Learning Communities (PLCs), consisted of the school's staff, encourages teachers to collaborate and ensure that they are meeting certain goals. Clausnitzer also says that it's important for parents to know that the MVHS community cares for students as learners.
"If we really cared for students as learners, all students should be able to learn 'x' in U.S. History, or 'xyz' in Biology," Clausnitzer said. "It shouldn't be dependent on the teacher, it's dependent on the course. It's not just a focus on teaching, it's a focus on learning. The idea is to bring coherence across sections, so the experience is on the teachers working together. The process — the PLC process  — is what our teachers engage in as teams."
Clausnitzer says that it's an ongoing process to ensure that students have the ability to learn and achieve equally across teachers and classes. While parent concerns might not be completely resolved after the event, Stevens believes that the event also functions to foster transparency between the administration and parents.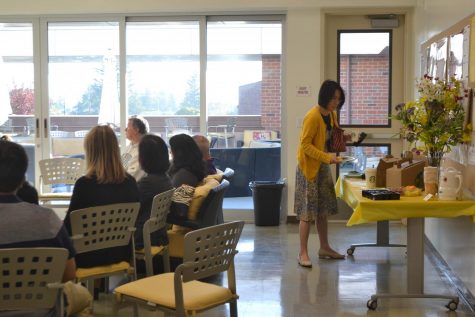 "In general I've found that the principals have done a really good job in terms of responding to [concerns]," Stevens said. "There's pros and cons to everything. But I do think that at least there's an attempt to be made to listen in, [while] action isn't taken on everything. I consider it a good thing [anyways], because it shows that [the administration is] attempting to alleviate concerns."
Stevens' sentiments are echoed by Clausnitzer, who says that the MVHS community is beyond students and teachers, and includes parents. He believes events like the 'Coffee with the Principal' only strengthen that narrative.
"It gives us the opportunity for us to engage in dialogue and have conversations," Clausnitzer said. "People get to hear what's going on here at MVHS, [they] ask questions; it's a good time. I find that generally speaking, the more we communicate, the more we talk, the better."