Art Club introduces Inktober
Art Club teaches members the importance of trying new mediums of art
As October rolls around, artists prepare for the popular art event, known as "Inktober." It lasts the whole month and encourages artists to follow certain prompts, such as "scorched" or "swollen," every single day of the month.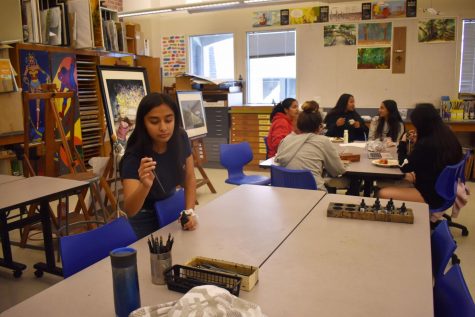 The event first started in 2009 as a challenge to improve inking skills and develop good practice habits when it comes to art. This year, Art Club hosted a meeting to give an overview of the event, having members either draw the prompt of the day or whatever came to mind ㄧ as long as it was in ink.
Art Club's vice president, senior Elysha Tsai, saw it as an opportunity to introduce new art techniques to the members.
"I think it's a good way to talk about ink in general because we wanted to talk about ink and Inktober is a good way to segue into the topic," Tsai said.
The meeting started off with a quick introduction to Inktober as well as a Powerpoint presentation on the different kinds of shading used with ink. A picture and two sentence description described each type of ink-shading technique.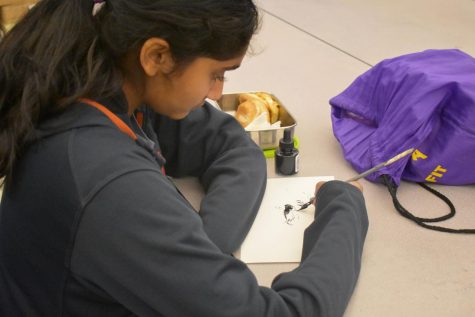 At the end of the lesson, the officers passed around papers for the members to get started. Freshman Srika Kodur, a member of the club, isn't sure if she has the time to participate in Inktober but does believe it's beneficial to try this new type of art.
"It's fun working with something that I don't know how to use because I can just experiment with it," Kodur said.
For Kodur, every Art Club meeting is a chance for her to practice art, which she doesn't think she's especially talented at. Similar to Kodur, senior Omar Hossain is also relatively new to inking and considers it a unique medium of art. Hossain has typically drawn digital art with a tablet, pencil sketches and paint, but believes inking might be the hardest.
"If someone were to ask me if they should just do ink, I would tell them to start with pencil, then get used to it, and then do ink," Hossain said. "[Ink] is one of those things you can't go back on."
While inking may be challenging, Tsai still encourages everyone to join Inktober, regardless of whether they  follow the official rules of posting a picture every day or following the prompts. She believes it is a way to engage with the artistic community and will often scroll through her Instagram feed to peruse the Inktober posts.
"It's a good way for the artistic community to come together and do something," Tsai said.