Fright Night: Horror movies to watch
Six unconventional horror films to get in the Halloween spirit
"Se7en" (1995)
Our rating: 5/5

Rating: R

Director: David Fincher

Stars: Morgan Freeman, Brad Pitt, Kevin Spacey

Synopsis:

Homicide detectives Somerset (Morgan Freeman) and Mills (Brad Pitt) discover  a number of gruesome and unusual murders, launching their hunt for the killer (Kevin Spacey). As the victim count grows in numbers, an unruly pattern appears: each victim embodies one of the Seven Deadly Sins. The detectives' search for the killer's motives lands them in a struggle between justice and evil.

Our take
With a cast that'll make you think, How have I not seen this movie yet?, "Se7en" tackles the mysterious mind of a killer who justifies his homicides based on the Biblical teachings of the Seven Deadly Sins: envy, gluttony, greed, lust, pride, sloth and wrath. The detectives provide the viewers the same confusion they feel in the investigation as they try to unravel the mind of the killer.
"Se7en" is not for the faint of heart, since gruesome aftermaths of the killings are unapologetically depicted, especially for the murders of gluttony and lust. However, the film provides more than just nauseous imagery and cinematography as the psychological plot twist will make you groan in agony. The perversely bizarre murders, never shown in action, provoke the viewer's own imagination to picture the scenes themselves and combine the visual horror with the bone-chilling images.
"Donnie Darko" (2001)
Rating: R

Director: Richard Kelly

Stars: Jake Gyllenhaal, Jena Malone, Maggie Gyllenhaal

Synopsis

:

A schizophrenic teenager, Donnie Darko (Jake Gyllenhaal), has frequent visions of a man in a bunny costume. His parents, impotent and out-of-touch with their troubled son, sign him up for hypnotic therapy. However, these visions persist. Donnie tries to continue living his life with his girlfriend from school (Jena Malone), but everything falls into disorder as he fails to distinguish real from fake. In one fateful hallucination, he is warned of a countdown to the "end of the world" on Halloween. In the weeks leading up to this, he must find a way to save, if not himself, everyone around him.
Our take
Don't make the mistake of watching this by yourself — the bunny man is not forgiving. Donnie himself doesn't even know the depth of what he's getting himself into, but he's not afraid to do all he can to figure it out. This film is confusing, but in all the right ways. With a dysfunctional family life and all the quirks of high school, it pays homage to the traditional coming-of-age film… except a human-sized bunny is involved.
On Halloween night, follow Donnie as he tries to save the world. The supporting characters, who play a small yet influential role in the movie, include Drew Barrymore, Patrick Swayze, Maggie Gyllenhaal as Donnie's older sister and a young Ashley Tisdale. It's helpful to have someone to talk to throughout the movie because this unconventional coming-of-age thriller is a tough one to crack. A background in theoretical physics also wouldn't hurt.
"Would You Rather" (2012)
Our rating: 4/5

Rating: Not Rated

Director: David Guy Levy

Stars:  Brittany Snow, June Squibb, Jeffrey Combs

Synopsis

A young woman, Iris (Brittany Snow), in a desperate attempt to help her sickly brother, agrees to a dinner invitation that promises participants a chance to win a large sum of money. The game? Sadistic rounds of "Truth or Dare" alongside seven other players, gruesomely "eliminating" contestants along the way.

Our take
If you're in for something more than just gruesome, "Would You Rather" is your psychological slap in the face for the Halloween season. A mere slap in the face, however, is nothing compared to what the characters in the film resort to in order to win the cash prize. With the majority of the film set at a dinner table, the focus of the film is clear: we're looking inside the minds of the characters, especially Iris, who is engrossed in saving her ailing brother.
Merciless, sympathetic, frustrated, concerned, twisted characters prompted to push their limits to win begs the viewer to reflect: What would I do? In a jumble to analyze the characters' choices, you'll tense up, flinch and even close your eyes at the gory scenes that'll make you questions your own limits. Horror, thriller and psychological travesty all around?, "Would You Rather" introduces plot twist after plot twist to ensure a spooky Halloween movie night.
"All Cheerleaders Die" (2013)
Our rating: 2/5

Rating: Not Rated

Director: Lucky McKee, Chris Sivertson

Stars: Caitlin Stasey, Tom Williamson, Brooke Butler

Synopsis

After a star cheerleader dies performing a stunt, her best friend Maddy Killian (Caitlin Stasey) joins the team in her honor. Maddy befriends many of the other cheerleaders, who soon realize she wants revenge for her deceased friend. Maddy targets the star of the football team, Terry (Tom Williamson), her best friend's ex-boyfriend. Unbeknownst to him, the girls have supernatural powers that allows them to take the football team down a very bloody, vengeful road.

Our take
Although it's not the most nuanced or complex movie, "All Cheerleaders Die" doesn't let the audience catch their breath. Reminiscent of the 2009 cheerleader horror "Jennifer's Body," the femme fatale narrative drives this story, with a girl cliqué out for revenge and a football team unaware of the consequences of their actions. For a less serious tone, this movie trades in the traditional narrative of a horror movie for the perfect blend of teenage drama and the gore that every thriller needs.
"The Babadook" (2014)
Rating: Not Rated

Director: Jennifer Kent

Stars: Essie Davis, Noah Wiseman, Daniel Henshall

Synopsis

Amelia (Essie Davis), a widow struggling to cope with her husband's death, meets her dark fate in the form of her only child, Samuel (Noah Wiseman), whose unusual tantrums and fear of monsters continue to take a toll on Amelia. This proves to be only the beginning for her as she discovers a mysterious and haunting book about the "Babadook."

Our take
A combination of a deranged child and eerie cinematic scenes, "The Babadook" will consistently keep you on the edge of your seat. More than just horror, "The Babadook" delves into a psychological genre, peeling back the layers of Amelia's traumatized mind and leaving her in a twisted struggle to love her child.
The true value of the film lies in its metaphorical narrative; the monster symbolizes Amelia's suppressed frustration towards Samuel, condemning him for her late husband's passing. As Amelia desperately begs to get rid of the book, the monster appears to return stronger than before, framing the psychological battle to accept her son. More than just class-A jump scares and 'dun-dun-duns,' "The Babadook" will make for a creepy Halloween night film that goes beyond the ghouls and goblins of the status quo.
"Get Out" (2017)
Rating: R

Director: Jordan Peele

Stars: Daniel Kaluuya, Allison Williams, Bradley Whitford

Synopsis

Young black protagonist Chris (Daniel Kaluuya) is invited to meet the parents of his white girlfriend, Rose (Allison Williams). When he gets to their family cabin, the father's (Bradley Whitford) sensitive behavior around his race is nothing new. "I would've voted for Obama for a third term" simply seems like a mundane microaggression, right? The father repeats this three times throughout Chris' stay. Chris notices the parents' concerning behavioral patterns and begins to piece together the warning signs to get out before it's too late.
Jordan Peele brings everything to the table with this film — there are countless instances of symbolism and allusions to black history. Peele, a long-time writer for Comedy Central, drifts far away from comedy to create this social commentary with a plot twist that will make your jaw drop. Confusion turns into shock, shock into rushes of adrenaline as you see Chris race against time to uncover the underlying danger in this family cabin. You'll never view Froot Loops and milk the same way again.
About the Writer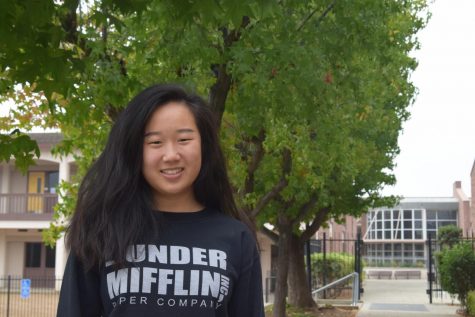 Ruth Feng, Managing Editor
Ruth Feng is a managing editor of El Estoque. Aside from journalism, she likes to watch reruns of The Office and West Wing.