"A Star Is Born" Review
Bradley Cooper's 2018 remake is raw and emotional but lacks a theme
"Tell me something, girl. Are you happy in this modern world?"
Lady Gaga shines as Ally in Bradley Cooper's 2018 remake of "A Star is Born," portraying a waitress who is discovered by drunken music star Jackson Maine, played by Cooper, at a drag bar one fateful night. The undying pressure between pursuing her dream as a singer and the demands of everyday life is somewhat of a Hollywood cliché, but her expression of this struggle is what sets Gaga apart.
"Tell me something, boy. Aren't you tired trying to fill that void?"
Cooper's character, Jackson Maine, is an alcoholic singer coming down from his prime. Maine, battered down by fame, succumbs to his drug addiction and grapples with his loneliness and difficult past — his mother died at childbirth and his father passed away when Maine was 13. His troubled and honest character often clashes with Ally's, yet they find refuge in each other amid the chaos.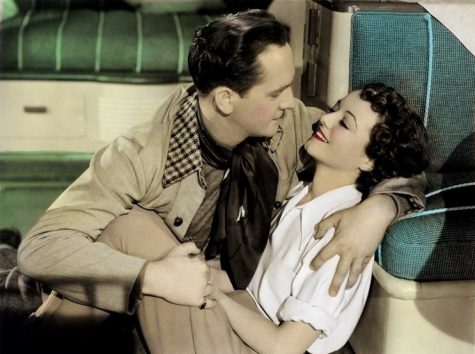 Gaga and Cooper's "A Star is Born" is the fourth remake of the film, following Fredric March and Janet Gaynor's 1937 version, James Mason and Judy Garland's 1954 version and Kris Kristofferson and Barbra Streisand's 1976 version. While each version encapsulates the relationship between a squandering musician who has just forfeited his peak, and an up-and-coming artist who he helps, but sometimes hurts, Gaga and Cooper's adaptation shines among the rest, with acting that sheds any trace of hesitance as they both fully transform into their characters.
In an interview with Yahoo Entertainment, Cooper revealed that he spent time with Pearl Jam front star Eddie Vedder to prepare for his grueling role. Although Vedder wasn't initially ecstatic about Cooper's stage performances in the film, he eventually helped him find the allure of a rockstar in four or five days, Cooper said.
This remake incorporated quirks of modern life — drag representation, diversity and cameos including rapper Quavo, actor Alec Baldwin and drag stars Willam Belli and Shangela Laquifa Wadley.
Already garnering talk for award season nominations, this movie is no doubt an emotional rollercoaster of the modern times. The pain that Gaga portrayed made it easy for the audience to sympathize with her. Viewers from all corners of the theater could be heard suppressing tears as Gaga performed "I'll Never Love Again."
Anyone can scream with frustration and grief, but very few can translate those emotions into song with the ferocity that Gaga did.
The film's soundtrack includes varying genres of rock thanks to Jackson Maine, earnest songs by Ally Maine and love songs shared by the two. For a movie that dominates the rockstar film narrative in 2018, Gaga and Cooper's harmonious tunes soar above expectations.
However, as you walk away from the theater, the somber feeling brought about by the film's ending begs the question: what does this movie teach us? Besides having an overarching theme of believing in yourself and taking chances, "A Star Is Born" lacks a takeaway. Unrealistic aspects of the rise to stardom bolstered the lack of a driving force. Besides the emotional performances of Gaga and Cooper, there was not much to internalize.
"Or do you need more — is there something else you're searching for?"
This is what Jackson Maine asked Ally, and it is also the question the audience was grappling with after watching the film. There were plenty of emotions, but not enough lessons. Perhaps that is the price of remaking a screenplay from the 1930's and maintaining its integrity.
Nonetheless, "A Star Is Born" is sure to headline at award shows for months to come, as the classic Hollywood storyline garnered an attractive audience. With a concept as simple as "A star is born — so a star must die," the film earned $16 million on its opening night and continues to illuminate theaters nationwide and pull at the heartstrings of millions.