How two MVHS students found their love for fencing
F
rom traveling to Paris on a school week to representing a whole entire country at an international competition, MVHS sophomores Isak Westelius and Richie Hsiung have dedicated countless days and nights in order to compete at the highest levels in one of the world's most cerebral sports — fencing.
EE: How and when did you start fencing?
IW: About three years ago, so I haven't been fencing for that long.
RH: I used to do Taekwondo and [was] a black belt, but I didn't like it. I actually started [practicing] fencing very late [compared to other people competing in the sport]. Basically my sister started fencing, and I was like, "this is pretty good."
EE: What specifically drew you to the sport of fencing?
IW: First of all, it's individual and I didn't really like team sports. I think it's a great combination of a lot of strategy on your own and athleticism at the same time. It's not just running or jumping. It's both.
RH: In fencing, you have to use your brain a lot. That's what drew me to it. It's a sport that requires a lot of creative thinking and you have to be calculated. You have to think about stuff, so it's fun.
EE: How often do you travel for competitions?
RH: It varies month by month a lot. From January to April, I had a competition every week for three months. In April, I had to travel three times in one month. The first week, the second week and the fourth week. The third week I had a regional [competition]. It is very tiring.

IW: Pretty often. I'll go short distance for local tournaments and those are very numerous. And then once a month, there is a North American Cup, which are the bigger tournaments, and I usually go to five or six a year. I'm going to go to two international competitions, and if I do well, then I can go to European championships, and if I do super well there, I get to go to Worlds.
EE: How much time commitment does fencing demand?
RH: I go before practice [for] a private lesson and then practice [after] from 6:30 until 9 p.m. so that's around three hours, give or take. I also play violin, and I practice two and a half hours at least, so I have to do a lot of my work at school when I have time at lunch or tutorial.
IW: I have four practices a week, and I'll try to go to all of them. They are each about two and a half hours long, but if there's a bunch of schoolwork, I'll skip a practice to get that done because I don't want to kill myself. So I go to four practices, sometimes three. I have two private lessons that last from 20 to 40 minutes. Those are on days where I have free time, and I try to work out if I finish homework fast before practice. And maybe a workout after. I just try to squeeze in whatever I can.
EE: Why is fencing worth it? What's the eventual goal?
RH: You want to get better. There's a goal in mind. Opportunistically, you want to be high enough on the rankings so that you can go to world championships. It's a very long stretch and you have to work very hard. That's what motivates me to go to practice.
IW: At the very least, I would like to fence at a division one college for fencing. That is my minimum goal for now. I feel it's more important to do one or two things. I really like choir and I really like fencing. I try to do those as seriously as possible, instead of doing a trillion things and not really caring much about them.
About the Writer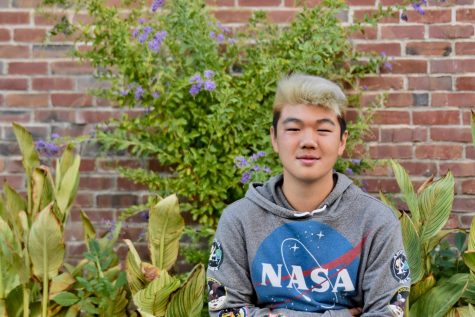 Collin Qian, Visuals Editor
Collin Qian is currently a junior, a second year staff member and a visuals editor. In his free time, he enjoys hanging out with friends and playing with his cat Pumpkin.