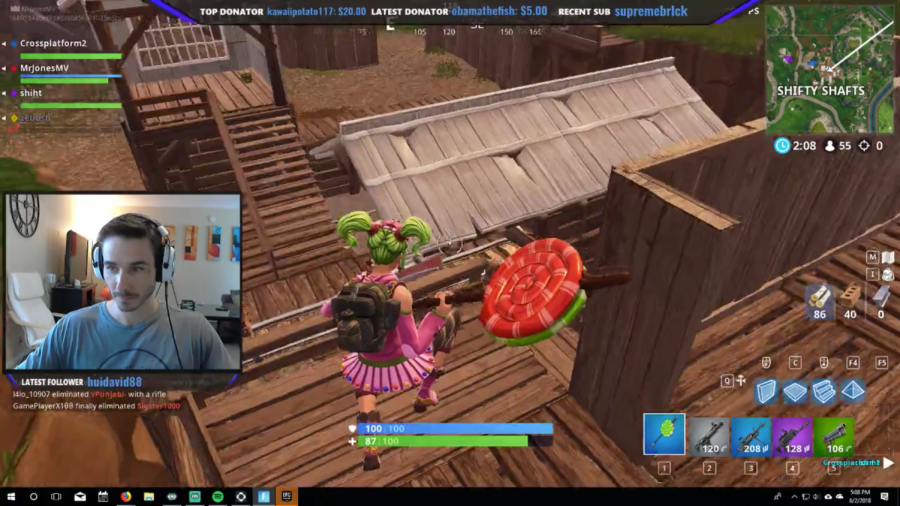 Being one of the most popular video games of 2018 according to The Verge, Fortnite has taken the MVHS campus by storm, becoming a popular pastime for teachers and students alike. In the game, players are able to participate in a 100-player battle royale, a genre that cultivates exploration and scavenging with survival and encourages players to fight to the last man.
For science teacher Kyle Jones, the game serves as an outlet for recreation. Though Jones originally began playing the game at the request of his students, he now holds frequent streams for his students to ask questions or have fun.
"[Video games are] just enjoyable," Jones said. "I've always played them since I was a kid; I find them relaxing, challenging and interesting. I appreciate some of the games that are really creative and artistic –– they're just lots of fun to play with yourself or other people."
While sophomore Anshul Dash also sees the fun in video games, he acknowledges the range of emotional reactions he experiences during gameplay.
"Whenever you kill someone, it's really satisfying," Dash said. "But when you die or get eliminated, you get pretty frustrated."
Fortnite, which was released in July 2017, has already amassed a player base of over 125 million people, according to Epic Games. Jones suggests that a possible reason for the game's success is its unique gameplay style.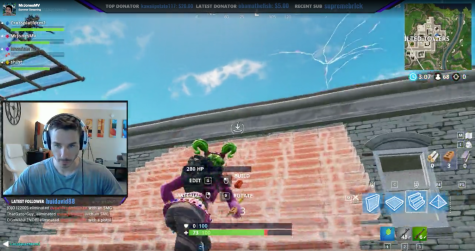 "A lot of it has to do with the format, the fact that it's a battle royale game," Jones said. "It was one of the first games to do that genre of battle royale: massive, free-for-all, make it to the end, the style of the game that I enjoy."
In some games, players who are willing to pay for special items or downloadable content gain significant advantages over those who play for free. Fortnite, however, does not follow this philosophy. Dash sees this as the most appealing aspect of the game.
"The most unique thing of all is probably that Fortnite is a free game and there are no in-game purchases that give you advantages against other players," Dash said. "The only thing you can buy are V-bucks, which you can use to buy cosmetics, but doesn't improve your gameplay."
Weekly challenges that offer XP points to level up weapon tiers, and a variety of skins within the game offer different ways to keep players involved. The excitement of the game's ever-changing features, for some, has become a distraction. Jones, for example, found it easy to be immersed in video games, resulting in constant distractions from completing academic work.
"[Video games are] a little bit less enticing at this point in my life as it used to be," Jones said. "When I was younger, there were times when I spent the night playing video games when I should have been doing something more productive."
Other students have developed methods to remedy the constant desire to immerse themselves in video games. For senior Bryce Nevitt, maintaining a perspective of his workload keeps him from going overboard.
"You just have to think, 'Do I want to do this now?'" Nevitt said. "Or do I want to get it out of the way so I can play games and not have that guilty conscience of 'I need to get this stuff done.'"
Despite a rapid increase from 40 to 120 million players in a mere 6 months, Nevitt is not optimistic that the Fortnite craze will last. After five in-game seasons, he doesn't see much ahead for future updates. The overall decrease in interest since the initial frenzy during the game's release has led Nevitt to this conclusion.
"I think the hype around Fortnite is cool, and it's definitely an interesting game, but for me, and a lot of other people, it's kind of dying now," Nevitt said. "There's some purple cube that they're trying to implement; I really don't know what they're doing anymore."