Lunchtime Legends
The competitive nature of intramural tournaments
The sound of players arguing with the referee and shouting at their opponents bounces off the field house walls. The scene heats up, but after a couple of shoves between the two teams and an argument over the call, the players settle down again and go back to their usual joking ways. This competitive atmosphere is not an uncommon sight during the lunchtime basketball tournament.
Although the spring sports teams are wrapping up their seasons, the field house is still bustling with energy. This is due to clubs like Basketball Club and Badminton Club who have just finished hosting one of their biggest events of the year: the intramural tournament.
Kicking off on April 25, the intramural basketball tournament consisted of eight teams with six to 10 players on each team. While the Basketball Club has hosted the tournament successfully for several years, current club president senior Manu Hundal encountered some difficulties in organizing the games and reserving the field house this time around. Because the games did not start as soon as lunch begun, many of the games were not completed in time. Hundal planned on restarting the tournament, explaining that this would make the competition more fair for the teams. However, he ultimately determined that redoing the entire tournament would take up even more time and decided to run the tournament based on the original schedule.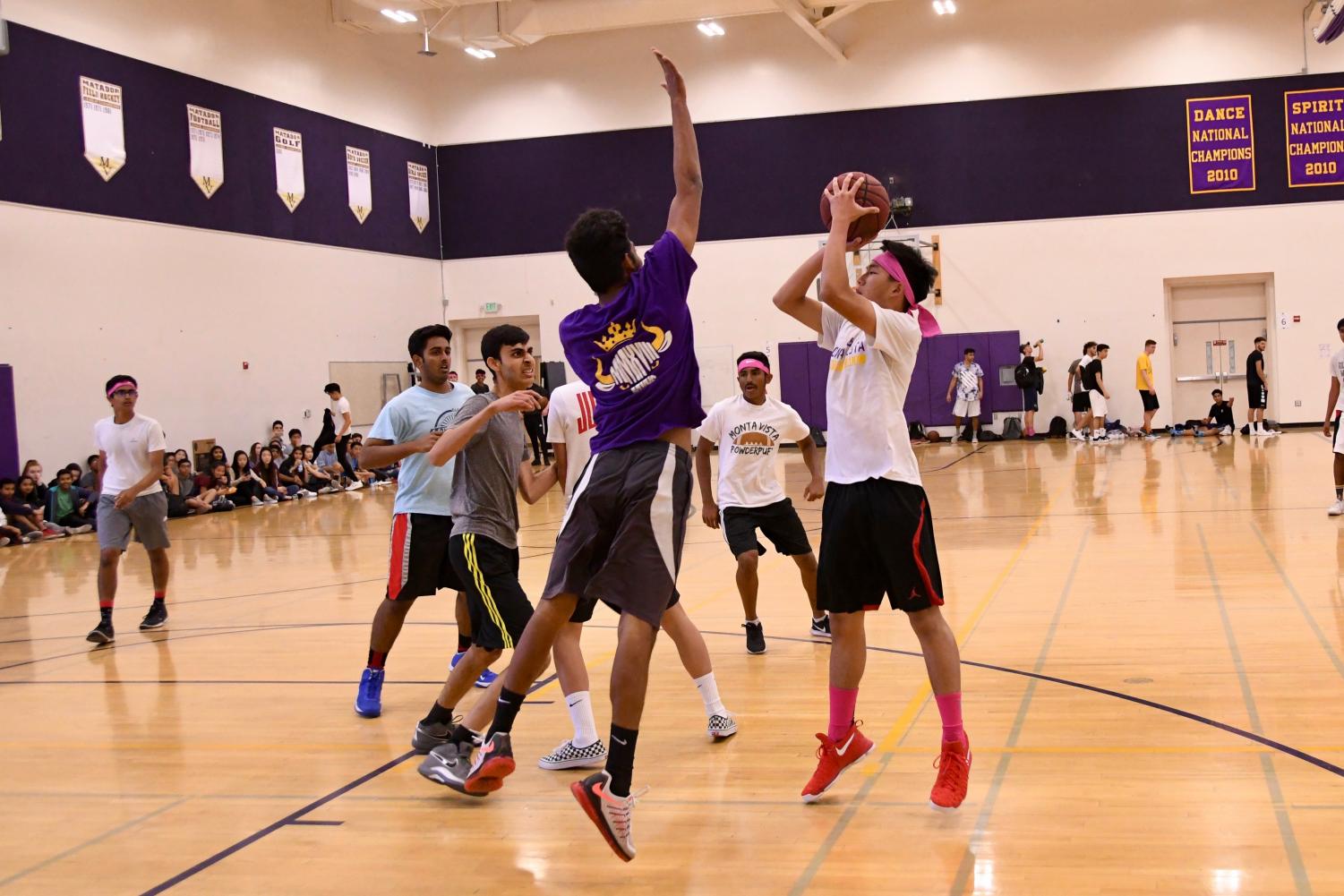 English teacher and Basketball Club advisor Shozo Shimazaki explained that these games may act as an outlet for many students, especially if they are pressured by the academically rigorous environment at MVHS. He acknowledges the competitive nature and pride that is associated with the tournament, but he reminds the players that they should keep the level of physicality to a minimum.
"I think the players need to understand that this is just a game … that the referee has a job to do," Shimazaki said. "They really shouldn't be second guessing what the referee is calling…nor any excessively physical play. I know everyone is trying to be very competitive, but there's a balance that needs to happen, especially respect for the refs. Those are lines that can't be crossed."
Similar to Shimazaki, junior Gautham Dasari, an athlete who is currently playing volleyball, agrees that the games can get aggressive. He explains that his biggest priority is avoiding an injury from rough lunchtime play that could affect his performance after school, but recognizes that this is a result of competition and passion.
In contrast to the competitive environment of Basketball Club's tournament, Badminton Club's "Smashing Stress" on May 4-5 offered a more relaxed atmosphere. Public relations officer and junior Carl Rosenthal explains that the club requested that players make a one or two dollar donation when signing up for the tournament, and the money raised was donated to the FUHSD Community Wellness Taskforce, which helps combat high stress levels among students.
Players competed in different levels of tournaments, which were based on experience. Along with the theme of decreasing school-related stress, the competitions were jokingly dubbed "AP Flight" for the more experienced players, and "Honors" for amateurs and beginners. However, some players such as seniors Ginga Sato and Ethan Low decided to enter as doubles partners despite their distinctly varying levels of experience. Low is a four-year member of the MVHS varsity badminton team, while Sato has only played in PE class. Despite this, the two say they enjoyed themselves.
"After watching [Low's] senior night, I was more interested and he asked me [to compete with him]," Sato said. "There was a little pressure … but I guess I [tried] to have fun and I did."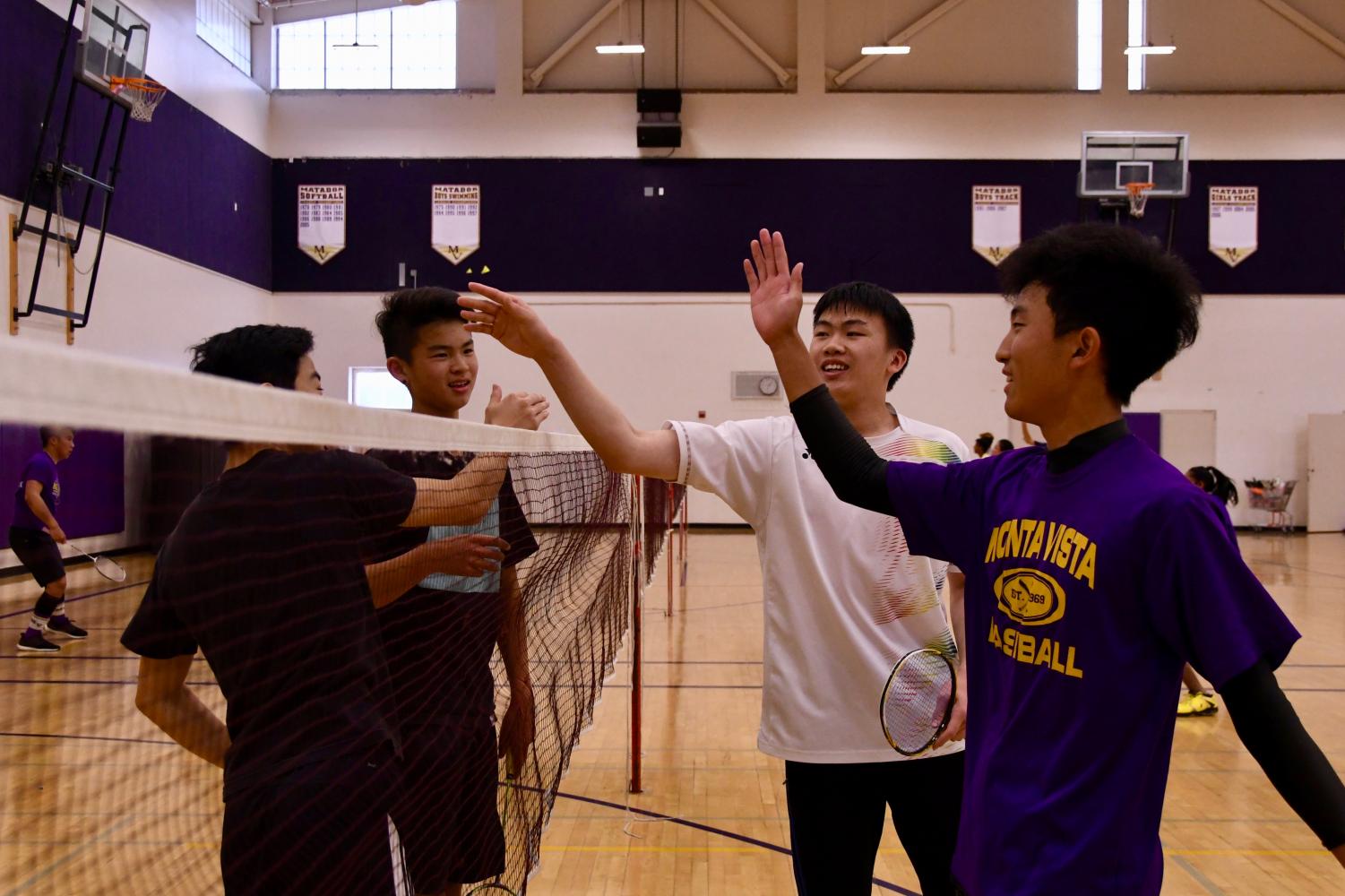 Rosenthal thinks the competition was a huge success this year, and he hopes to continue it next year. However, he points out that he would like to change the scoring system. This year, the first round games were much longer, and the final round games were rushed due to the lunch bell, similar to basketball.
"It [was] definitely rather hectic as we were not super experienced in having organized one before," Rosenthal said. "However, we did manage to get all the games in. And I think people had a fun time which was the goal of it. There were a lots of smiles all around. So I think it was light-hearted environment."
Dasari explains that despite the competitive environment, it's a nice change to play basketball with his friends. With less experience than some of his teammates, who are members of the MVHS varsity basketball team, Dasari does his best to try to live up to his teammates' standards. A former middle school basketball player, he admits that his skills are a bit rusty, but nonetheless he enjoys any opportunity to get back onto the court.
"Usually when I play with these guys it'll just be screwing around, just shooting balls and having fun," Dasari said. "But this time we actually played and it was actually competitive. We were really into winning, [and] everyone worked really hard and [hustled] up and down the court."
Just like Rosenthal's plans for next year's tournament next year, Shimazaki also has ideas for the future of intramural basketball. Currently a coach of his 10-year-old daughter's basketball team, Shimazaki explains that he would like to see more girls participate in the intramural tournament. He feels the level of physicality that is present now could be preventing more athletes from joining, and he would like to see the club broaden its scope by adding a bracket for a separate girls tournament.
"But if [my daughter] was here right now, and she loves basketball, she wouldn't be all that comfortable jumping in right now with all these boys out here."
These tournaments bring out the prideful nature of those competing according to Dasari. To outsiders, it may seem like just a lunchtime activity, but to those participating, it's about competition, bragging rights and so much more.
"It's just a pride thing," Dasari said. "[It's just] the fact that by winning this tournament you can say that you were the best team in the school."