The absurdity of UC acceptance rates
In a statement released by the UC Office of the President, they said "In the 13th straight year of record-breaking highs, more than 221,000 students applied for undergraduate admission to the University of California for fall 2018, an overall jump of 5.7 percent over last year, according to preliminary data released today."
To those who applied to start college this fall, this announcement hit like a wrecking ball, especially for me. As the days of March slowly and dreadfully rolled by, many usually cheerful faces around campus could be seen void of emotion. Students who everyone expected to get into top universities like Berkeley or UCLA with little difficulty were getting rejected from less prestigious colleges. First Davis, then San Diego, then Los Angeles, then Santa Barbara; the carnage never seemed to stop.
The UC's have been notorious for being biased in favoring of out-of-state applicants, as many public universities tend to be. However, when applicant pools increase so rapidly year by year, the most miniscule changes can make it or break it.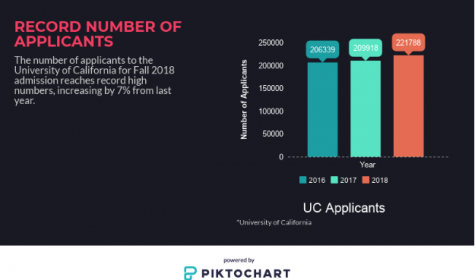 After getting hit by rejection after rejection, I began to ponder the absurdity of the whole thing —  just because someone was born a year before or after you, they could have a significantly increased ordecreased chance of getting into their dream university. When admissions rates this year for UCLA are loosely speculated by anxious teens on College Confidential to be as low as 10%, the whole thing feels unfair.
I remember scrolling through the subreddit r/ApplyingToCollege and seeing one post that gained a lot of traction, which really put this whole mess into perspective. The post was about the acceptance rate of some top colleges around the country. It claimed that since heroin relapse has a rate of 88%, your chances of breaking a heroin addiction is significantly higher than that of getting accepted to many colleges. While no UC schools were listed in this specific post, Harvard's acceptance rate of 6% means that you are twice as likely to break that heroin addiction than get into the university. A heroin addiction.
For many seniors it may seem like armageddon to not get into the UC you were targeting because of the sudden spike in applicants. However, there is a bright side to those who chose to attend a school that may have been a tier or two under their target. Because of the increased need for exclusivity, the applicants accepted for the 2018-2019 school year will end up being a noticeably a higher performing class than any of those who came before them.
Throughout the next four years, this performance will no doubt boost the prestige of many colleges. As found in this study from 2014, the increased prestige will lead to even more applicants and the acceptance rates will continue to fall. When the graduating class of 2022 finally exits college and either enters graduate school or the workplace, their university will be of higher prestige than in previous years.