Not enough room for two?
Hang on for a minute...we're trying to find some more stories you might like.
Inescapable drama
Celebrity drama: some people hate it, some can't get enough it —yet, it seems that no matter what you think about Blac Chyna and Rob Kardashian's what seems to be like a decade-long feud about only-God-knows-what famous-person conflicts, your Facebook timeline won't care.
It's as if we're being force-fed bitter, pop cultural drama, and the spoon being shoved deep down our throats just happens to be inflicted by us.
Feuds between pop culture icons have been an increasingly popular trend, spanning from more innocent conflicts between artists like Taylor Swift and Katy Perry, to more aggressive battles, such as the one between Chris Brown and Soulja Boy, who teased a boxing match to resolve the tension.
While feuds among stars generally simmer down overtime (with the honorably mentioned exception of Kanye West's and Taylor Swift's iconic, decade-long tensions), there comes along a different genre of feuding — one where there's really no feud at all.
To share the throne
So what happens when the "Queen of Rap," Nicki Minaj, a prevalent pop culture icon for almost a decade now, has to share her throne with up-and-coming star Cardi B? This feels like prime playing ground for a new feud. Well, let's ask the Queen herself how she feels about the tension between her and Cardi, specifically on their 2017 co-feature, Motorsport.
I was on the song w/Quavo. No one else was on it. He called & asked if I think we should put Bardi on it, I said "ok let's do it". The end.
NICKI MINAJ (@NICKIMINAJ) October 31, 2017
So, problem solved, right? No tension here. Well, not according to thousands of fans and social media users.
For the first time in over a decade, since the era of Missy Elliot and Lil Kim, there are two female MCs making headlines, so famous even my mother knows who they are. Alongside the rise of the new female rappers, there stands a new playing ground for criticism and an outlet for expression by fans and the icons themselves: social media.
Since the rise of Cardi's career and success, fans have been comparing her and Nicki's every move, from hairstyles to shoe choices.
Which rapper does it for you?

Cardi B VS Nicki Minaj#ShizLive

— #ShizLive (@Shiz_Live) April 11, 2018
Barbz FIX THIS POLL https://t.co/EbIkDBKgtc #3Nicki

— Matt Maraj (@MattWhateva) April 10, 2018
It's inevitable, to compare a new star to the ones who have shined before them, but the Nicki vs. Cardi 'feuds' instilled by fans is on another level — including hate pages dedicated to one in the defense of another. In an interview with Beats 1, Cardi addresses the supposed "beef."
"I really feel like fans and people, they really want to see that happen because it's really entertaining," Cardi said. "To see people beef is entertaining."
So what's really going on?
Entertainment is a factor, yes. But, this is a controversy that goes beyond a simple made-up feud for entertainment purposes. This is society demonstrating their standard that two women cannot both succeed at the same time.
After the era of Missy Elliot and Lil Kim fell through, one having gotten sick and the other jailed, the playing ground for women in rap tightened, imposing the belief that there is only room for one female MC.
What kind of messed up standard is that?
In a male-dominated hip-hop industry, women have been made to feel inferior, and according to Nicki, they have to work twice as hard to get to where men are.
In any field, women must work TWICE as hard to even get HALF the respect her male counterparts get. When does this stop?

— NICKI MINAJ (@NICKIMINAJ) October 25, 2017
In an interview with Westword, Denver MC Sherie Cole, or Rie Rie, recognizes that women are held to much higher standards than men in the same industry.
"It's not equality. It's a man's game. That's just the way it is. Women just gotta strap up and play the game and go hard. You can go hard showing your body, but you have to know where that's going to get you. When I was coming up, you didn't show your body; guys looked down on that. You didn't run around half naked, because the guys didn't like it. Now, that's all it is."
And I'll be the one to say that this standard is one we, as a society, must take responsibility for. The constant comparing of female artists results in fake feuds that reinforce the same status quo that only one woman can succeed in the rap industry.
Rie Rie continues by addressing how Nicki Minaj, even with her steady success and fixed status as the "Queen of Rap," faces criticism and must tackle misogyny.
"Nicki Minaj, in a cipher, she would get ate up because she's too prissy. In a new cipher, a dude is there to eat you up and talk smack to you. It's like playing the dozens. You gotta hold your own and be strong and be loud. Because if not, they won't even hear what you have to say."
A form of ingrained misogyny is the best reason I can think of for this unfair desire to put women head-to-head in not only rap, but in fields like tech, politics, and the arts. What are we achieving? Is female success a threat? Do we feel that what comes with female empowerment is a messed up need for competition?
To me, the answer is a clear yes. I can admit to comparing Nicki to Cardi as well a Nicki to Iggy Azalea, Cupcakke and other MCs — I'm sure you could too. But in the lieu of tens of male rappers with the same flow, haircut, outfit and car, what is keeping them from facing the same harsh criticism unleashed on Nicki Minaj and Cardi B?
A lot of questioning, yes. But to change the stagnant role of accepting only one female MC, we have got to do a lot of questioning. And with that, I can finally feel comfortable saying I like Nicki and Cardi the same, and hopefully I won't have to face flack for wanting two women to succeed.
About the Writer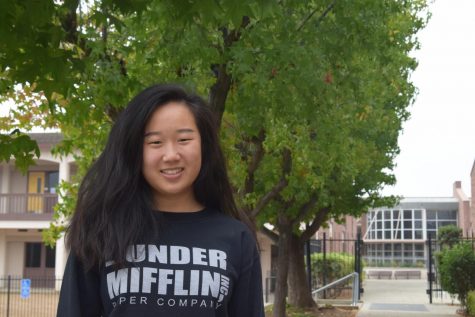 Ruth Feng, Managing Editor
Ruth Feng is a managing editor of El Estoque. Aside from journalism, she likes to watch reruns of The Office and West Wing.