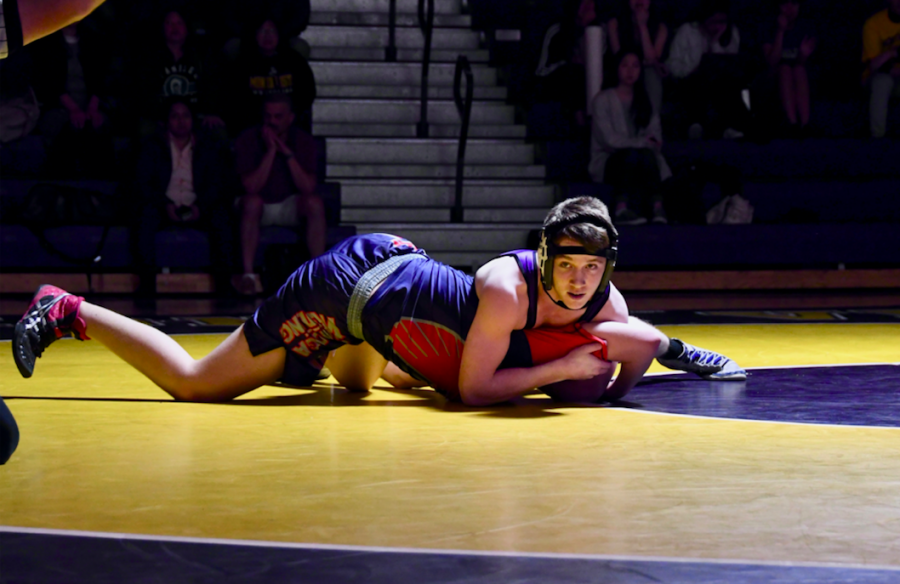 Correction: February 7, 2018 at 8:55 p.m. A previous version of this story incorrectly spelled the name of senior Colin Yang.
he voice of the Saratoga HS coach rang through the gym during the meet on Jan. 30. He yelled to his players, directing them on how they should position themselves and what moves they should execute. He could still be heard long after the meet had ended, as he instructed his players to run liners back and forth across the gym floor. The MVHS players, however, ignored the comments of the opposing coach, focusing only on their game and doing their best to pin their opponents.  
Ultimately, the SHS coach and his players' efforts fell short, as SHS was defeated 41-27 in the Matadors' senior night and final dual home meet.
A short pregame ceremony was held to honor the team's four seniors: Om Khandekar, Anahit Falak, Andrew Burke and Colin Yang. The team celebrated their victory, posing for a team photo with their seniors and presenting their seniors with a framed photo and posters. They then proceeded to chase each other around, throwing whipped cream at one another in an attempt to catch their teammate in the face.
Scroll down to see highlights from the different matchups during the meet against SHS.
Photos by Roshan Fernandez