Girls soccer: Close win over Lynbrook HS seals Matadors' second seed position in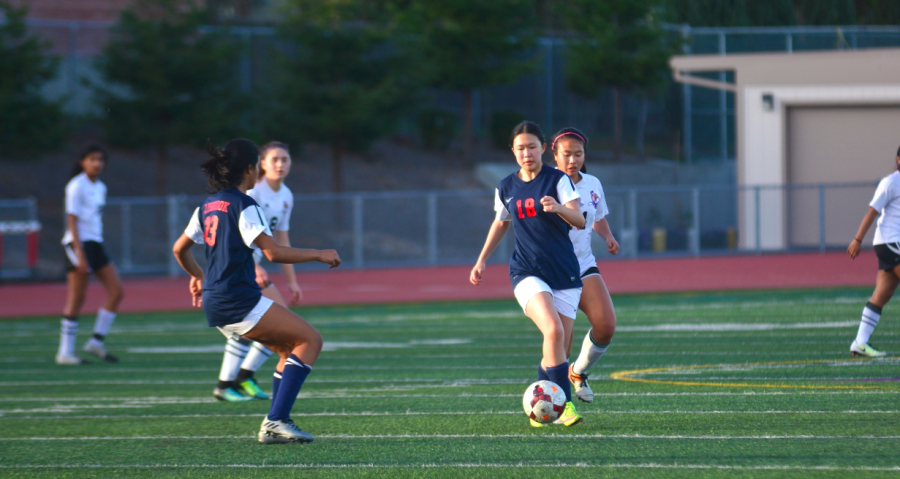 J

ust a few seconds after senior Nanda Nayak retreated from the Lynbrook HS goal after scoring, her team slapping her back and shouting her name, junior Samantha Chan came in from behind the LHS defensive line and sealed another goal for MVHS, making the score 2-0 just ten minutes into the game.

On Feb. 2, the MVHS girls soccer team played LHS, who is ranked as one of the last teams in the league, with the Matadors hoping to reinstate themselves in second place.
Sophomore Jaimie Chan dribbles past a defender in their victory against LHS. Photo by Rana Aghababzadeh.
Both teams moved quickly across the field from end to end, allowing repeated scoring opportunities for the two. But eventually, the LHS team was unable to push the ball far past the MVHS defense, often having to throw the ball in near the end of the second half. The game resulted in a 3-2 win for the Matadors with an additional goal by Nayak.
For this particular game, Nayak received the Player of the Game recognition from her coach. For each game, the head coach picks a player who he feels deserves this award.
The Player of the Week is updated for each game on the MaxPreps high school sports website. The coach's comments can also be seen in the light blue box.
In addition to being named Player of the Game, Nayak claims that she had never scored two goals in a game during her four years on varsity, and that her team was had never been near one of the top league positions.
The result of this game put the Matadors in second place in their league, which sets them on track for securing a spot in the CCS playoffs for the first time in many years. Nayak even admits that she didn't know what CCS stood for because it was so foreign to her.
With two games remaining, Nayak hopes the team will maintain their second place position to qualify for the CCS playoffs.
About the Writer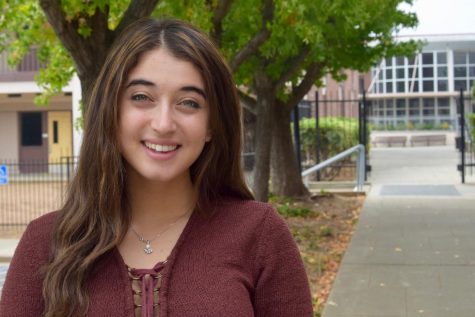 Rana Aghababazadeh, Co-editor-in-chief
Rana is a third-year member of El Estoque and is currently a co-editor-in-chief. She is a former sports editor and enjoys covering basketball and volleyball. In her free time, she enjoys playing movie scores on the piano and watching Billboard's Top 50 hip-hop and R&B Songs of the Week.