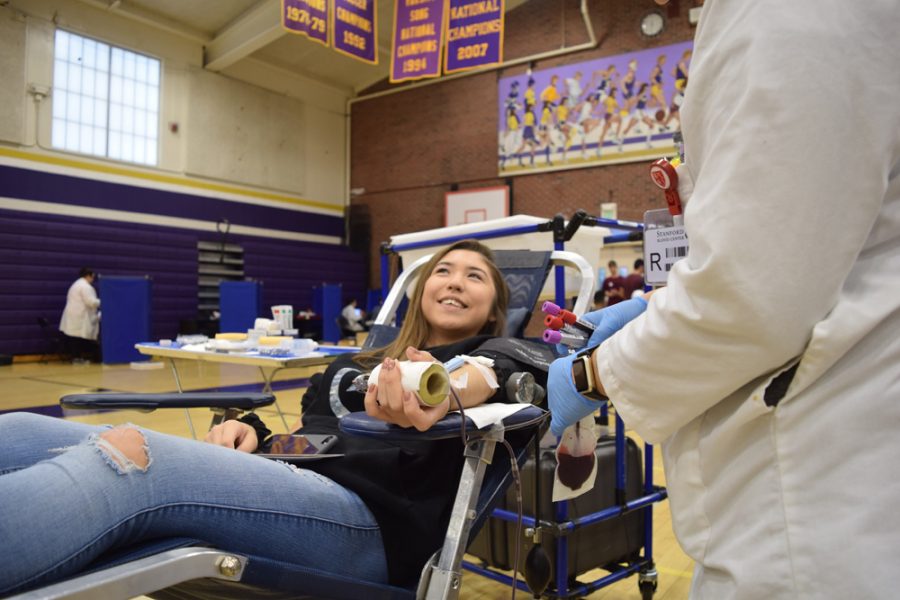 hree lives. That's how many a single blood donation could potentially save, according to Stanford Blood Center Field Recruitment Account Manager Monica Doleshel-Aguirre. After the blood donations are tested for infectious diseases, the white blood cells are sent to labs for research, and the red blood cells and plasma are used in hospitals during accidents and organ transplants.
According to Doleshel-Aguirre, the blood drives at MVHS used to have around 90 to 100 people register to each donate one unit of blood. However, only around 60 to 80 met all the requirements necessary for successfully donating blood. The number of donors is declining, with the past two blood drives only having produced about 18 to 24 pints of blood.
Doleshel-Aguirre attributes the declining numbers to factors such as students applying without meeting the height and weight requirements. In addition, after the Zika virus outbreak in April of 2015, the FDA set more stringent guidelines, which led to the required parental consent form for minors. Without these consent forms, students are ineligible to donate blood.
"We want to make sure that the people running the blood drive are really committed and really understand how important it is for us to make the numbers [and reach the goal for amount of blood collected]," Doleshel-Aguirre said. "The hospitals are already waiting for those units of blood because we told them 'On this day we're expecting this many units.'"
Senior Mansi Reddy, lead commissioner of Outreach, a new leadership commission that focuses on drives and giving back to the community, admits that there are several people who are organizing the blood drive for the first time.
"Because our team is new to Outreach, we don't really know how blood drives work," Reddy said. "Just getting all the information and knowing how to deal with waivers and getting people to sign up [is our goal]."
Speaking from personal experience, Doleshel-Aguirre also believes fear plays a factor in preventing students from donating blood.
"I'm ashamed to say that the first time I donated blood was when I started working at a blood center [around 21 years ago]," Doleshel-Aguirre said. I don't like to look at the process — I will pass out if I do. For me it's all psychological."
Doleshel-Aguirre's most recent donation was a couple of weeks ago — it was her 276th donation.
Like Doleshel-Aguirre, senior Samantha Millar also had a fear of needles, but realized after her first donation that it's an easy way to give back to the community.
"The pain [from the needle] is a second, if that," Millar said. "It's a really cool way to donate because it doesn't cost anything [and] it's not a huge investment, but it helps save lives."
Millar and Reddy hope to improve blood drive promotions this year by appealing to the right audience: juniors and seniors.And based on the experience Outreach has this year,
Reddy hopes future and returning members can use other social media platforms and promotional methods to spread awareness to student donating for the first time.
Since Doleshel-Aguirre is aware that students are eager to make a difference in their community, she is always excited to collaborate with MVHS students and encourages more to participate in the blood drive to help make a difference and ultimately help save people's lives.
"I personally love working with high school students," Doleshel-Aguirre said. "The [students] that are helping us are what we call the cream of the crop — the leaders of tomorrow."