Gray area: The MVHS community responds to the passage of Prop. 64
Hang on for a minute...we're trying to find some more stories you might like.
*Names starting with K are false names to protect the anonymity of the sources
With Proposition 64, the Adult Use of Marijuana Act, legalizing the possession, processing, transporting and obtaining of marijuana in Calif., a slew of issues pertaining to the community have cropped up — from the lack of licenses for some dispensaries early on, to the rescinding of relatively lax federal regulations on marijuana.
The legalization of marijuana is seemingly irrelevant to the MVHS community, as high school students are not 21 or older, but there are some indirect effects that it may have on the weed culture at the high school level.
An anonymous alumnus from the class of 2014 who will be called Kylie believes that the weed culture at MVHS has become more prominent since she graduated. According to Kylie, enough students have adult connections to obtain weed, so since it will be easier, and legal, for these adults to get weed, weed use at the high school level may also be more prevalent.
"Well, I think weed is just going to be more easily accessible, obviously, and I think that enough people at Monta Vista already have enough connections to get weed," Kylie said. "I think it'll just increase from there … it'll be a lot easier for students at Monta Vista to smoke weed. That would be the same at any high school, I think."
Art teacher Tyler Cripe believes that it won't affect MVHS at all. Since marijuana is still illegal as far as high school students are concerned, the administrative response would remain the same. Teachers are expected to go to administration if they see suspicious behavior, but that is up to the teacher's discretion. Cripe tends to err on the side of giving students the benefit of the doubt until he finds it impossible to do so.
"How would you discern [being high] from just being tired or just being a kid and being confused or maybe stayed up until three in the morning?" Cripe said. "Having been around, [I] can probably guess most of the time … there's a pretty good chance that that trip to the bathroom was actually a trip to the parking lot, and maybe something is going on, to a certain extent. If you have a strong suspicion, it's your job to get to the bottom of it one way or another."
Guidance counselor Monique Balentine agrees. According to her, people can't be classified by certain mannerisms and one shouldn't jump to assumptions regarding whether someone is high. For the Cupertino community, Balentine thinks that weed won't be talked about openly. However, it completely depends on how individuals treat the issue.
"I think if it's still something that is socially taboo, it's still going to be something people don't talk about," Balentine said. "You're still going to have people that are using but are hiding the fact because they don't want their neighbors to know. They don't want to be shunned socially because they're that family that smokes. It just depends on how much the community embraces it."
For Cripe, the only foreseeable change with the manner in which marijuana is dealt at MVHS has to do with the blanket statements about its illegality.
"Now you're not treating something as just blatantly, 100 percent illegal," Cripe said. "Now it's kind of more of a gray area. We wouldn't be changing the way we approached somebody who's actively high in the classroom but we would have to change the way we talk about it as a societal issue … It's a changing sort of amorphous thing."
About the Writer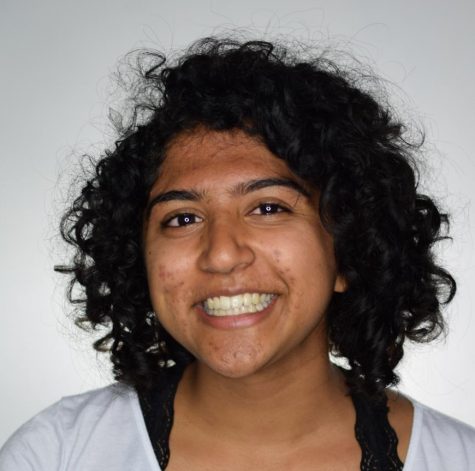 Anjini Venugopal, Staff Writer
Anjini Venugopal is currently a senior and previously served as beats editor for El Estoque. She is quite fond of music and coffee. When she isn't reporting, she's likely to be found sitting with a book.