Bitter meets sweet: grapefruit crafts
Four things to make with grapefruit
Winter has arrived in full blast, but the chilly air and cascading rain are not the only things accompanying the season. It is now the perfect time to harvest grapefruit, a sour yet  sweet and somewhat bitter citrus fruit.
With these do-it-yourself crafts and recipes, you may be inclined to drop a few of these nutritious fruits into your shopping cart on your next trip to the grocery store.
1. Grapefruit Jam (foodinjars.com)
Tired of strawberry jam on your morning toast? Add a unique start to your morning with this homemade spread.
Ingredients:
8 large red grapefruit

2 1/2 cups granulated white sugar
Directions:
Start by cutting the top and bottom off of the grapefruit and removing the rind.

When the rind is removed, use a knife to separate the fruit from the membrane of the fruit. Collect the fruit sections and juice in a bowl.

Separate any seeds and put them into a cheesecloth.

Pour the fruit into a pot, and add the sugar and cheesecloth bundle with the seeds inside.

Stir until sugar begins to dissolve. Turn heat to high and bring mixture to a boil. Cook until jam reaches 220 degrees Fahrenheit.

Pour into jars, close the lids and keep jars in a boiling water bath for 10 minutes.

When time is up, remove jars and let them cool. Store sealed jars in a cool, dark place.
2. Dried Grapefruit Hanging Decoration (thecraftygentlemen.net)
Liven up your room with this easy-to-make, original and dainty decoration.
Ingredients:
Grapefruit

Decorative twine or string

Needle

Short piece of dowelling, or a stick

OPTIONAL: chillies, cinnamon sticks, star anise
Directions:
Cut grapefruit into thin slices, revealing the cross section.

Use a paper towel to remove as much moisture from the fruit as possible.

Place grapefruit onto a baking tray and bake at 212 degrees Fahrenheit for one hour.

Turn the slices over on the tray and bake for another hour, or longer if necessary.

Once fruit is dried, use twine or string to link the fruit slices and spices together.

Repeat this with several strings and tie all strings to a short stick.
3. Grapefruit Sorbet (aroundmyfamilytable.com)
A perfect ending to a dinner, this grapefruit sorbet is light and refreshing.
Ingredients:
¼ cup sugar

¼ cup water

2 cups fresh grapefruit juice

3 tbsp fresh lemon juice

1 tbsp grapefruit zest
Directions:
Combine grapefruit zest, sugar and water in a pot over medium high heat until sugar is dissolved.

Take off heat and stir in grapefruit and lemon juice.

Allow mixture to chill in the refrigerator for two hours.

Pour into ice cream maker and turn on until sorbet is thick and frozen.

Pour sorbet into container and let freeze for several hours or until firm.
          4. Grapefruit and Basil Dish Soap (happymoneysaver.com)
Tackle any tough stains on your dishes using this simple and organic dish soap.
Ingredients:
1 1/2 cup filtered water

1 cup unscented liquid soap

1 tsp baking soda

1 tsp fractionated coconut oil

12 drops grapefruit therapeutic grade essential oils

8 drops basil therapeutic grade essential oils
Directions:
Mix all ingredients together with a whisk and pour into a soap bottle.
About the Contributor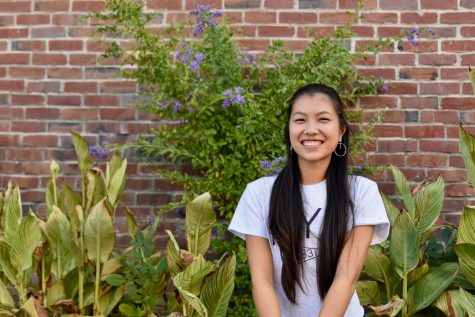 Emily Xia, Managing Editor
Emily Xia is currently a managing editor in both journalism classes. She spends her time on El Estoque writing stories, designing pages and creating graphics. Outside of school, she enjoys drinking boba and practicing color guard.