Culinary Connections: The way cooking brings people together
The clock ticks just loud enough so that assistant principal Andrew Goldenkranz can hear it, reminding him of his quickly approaching deadline. Eyeing his ingredients, he gets to work, whipping out bowls and measuring cups. Swiftly pouring and mixing ingredients, he runs a recipe through his head, something that needs to be finished within the next few hours for his Thanksgiving party.
For Goldenkranz, cooking is a regular activity, whether it's for a family dinner or a large party. When he's not at school, he can often be found in the kitchen, creating something new and delicious to serve friends and family.
"For me food is largely a social experience in preparing," Goldenkranz said. "You get to serve it to your friends and family and they tell you how much they like it and everybody's happy. Even sometimes when something's not perfect, they will appreciate the effort whether they really appreciate the product or not."
Goldenkranz believes his community boosts his love of cooking and baking, as he enjoys hearing other perspectives about his own dishes. For senior Sabrina Hung, although cooking is a way to connect with others, it is also a way for her to relieve stress.
"When I'm stressed out, just the thought of making stuff for other people and seeing them smile, I guess, the act of giving really makes me happy," Hung said. "It's like an art. I feel like you have to really learn certain skills, and it gets [easier] as time goes."
Hung developed a passion for baking when she took her first pastry class in eighth grade.
" When I was little, my mom was really involved in making different foods," Hung said. "Middle school, the first time, there were cooking classes at Kennedy, and I took those classes. From there, I started to really like baking and cooking. I took a pastry arts class my eighth grade year, and that's when I really realized, 'Oh wow, I really do like this.'"
However, for new teacher mentor Jackie Corso, cooking was not originally a passions of hers.
"Honestly, at first [cooking] started out of necessity and then I would make things for other people and they'd really like it," Corso said. "I really like cooking for other people. That's the thing that makes my heart happy — hearing when someone likes the food that you make — for some reason that feels really gratifying."
Corso's journey in cooking, like Goldenkranz', began in college. For Corso, the drive to cook came mostly from a desire to eat food that wasn't fast food or takeout.
"I remember I was 20-years-old, and I decided I really wanted to make gnocchi," Corso said. "It was a hot mess. It was the most disgusting thing I've ever cooked, everything globbed together, there was pesto in it so it was just green mush. I made it for [my husband's] birthday, and he was very sweetly eating this disgusting green mush that I made."
After her attempt at gnocchi, Corso delved into other types of food, such as spinach artichoke dip and macaroni and cheese. During the Christmas season, Corso cooks with her father and makes biscotti and rosemary shortbread cookies while visiting her family members, a tradition she started during college. For Corso, cooking is something that brings her family closer together and something that reminds her of her childhood, both during the holiday season and in her everyday life. Corso and her husband also cook together often, using this as bonding time during their busy schedules.
"It's a fun time for us when we spend time with our families," Corso said. "It usually revolves around food in some way, so we cook as a family. More so with my dad, my dad really likes to cook and there are some recipes that are traditions. Especially around Thanksgiving and Christmas time, he always likes to make Cioppino fish soup, and he makes this really good crab cake. I've kind of grabbed those recipes from him over the years."
Similarly, in Goldenkranz's household, much of the family bonding and activities are centered around cooking. As a child, Goldenkranz' mother, his role model, would teach him recipes. As she aged, she became unable to cook, and Goldenkranz began teaching those same recipes to his kids, something he feels is appreciated by his mother.
"When my mom lost her ability to cook, the family would get together with my kids and my parents and my wife and I," Goldenkranz said. "I would tend to make some of my mom's recipes. And my mom, even though she couldn't cook anymore, really enjoyed my kids talk about how much they liked the food that I was making because they knew that they were her recipes. There was a lot of kind of love and compassion in that."
Goldenkranz's family has a diverse background — his mother's family came from Eastern Europe and his wife's family is from Guadalajara — and because of this, he has adopted a wide variety of cooking styles.
Not only does he have recipes from different countries, but he also carries recipes from many different time periods. Having received recipes from both his grandmother and his mother, he is able to analyze the evolution of their cooking and family recipes over the past few generations.
"What was kind of interesting was, my grandmother was the immigrant, so she brought her really old school recipes from her homeland," Goldenkranz said. "And then in my mom's generation, everybody wanted to be a real American. So they would adapt the recipes, in that kind of Betty Crocker generation, and lately, we're sort of getting back away from that and getting back into the original kinds of recipes."
Like Goldenkranz, Hung received many cooking tips from her mom, who enjoys experimenting with her own recipes. Through this, Hung realized how she could personalize the dishes she made.
"My mom really likes to make bread, and just in general she started out with almonds," Hung said. "She found ways to roast almonds in different ways and it was just really cool how she would come up with these things. It's just really cool how she takes random ingredients that I would never think of and put it into bread. She's my inspiration of trying to take a simple recipe like a cookie, and just really turning it into my own."
With such a diverse background, Goldenkranz is able to merge many different cultures into his dishes. In addition to this, he has also catered for various events and has attended an apprenticeship at a San Francisco bakery.
Goldenkranz's passion for cooking is not something he has wanted to pursue professionally, though others have told him that they believe he could pursue it as a career.
"From time to time when I do a big event, somebody will try to pay me a compliment by saying, 'you should open a restaurant' which is a flattering thing to say," Goldenkranz said. "Usually my response is, 'Well, If I were looking for a career with longer hours and harder work than public education then I would certainly consider that.' But right now I like doing it as kind of a hobby and a pastime."
Hung, on the other hand, hopes to pursue culinary arts as a career. From her experience interning at a culinary school, she realized she had a passion for baking. Although her parents were hesitant, they now fully support her decision..
"At first they were kind of hesitant because this field is pretty risky, it's pretty hard to get out of," Hung said. "But they do see that I really enjoy baking, so they're all for it and they're supporting me, so it's really nice."
While Hung never had much guidance from those around her, she is able to give advice to those who would like to start cooking but don't know where to start.
"Talk to people," Hung said. "If you know someone who bakes, I think it's really helpful when you want to learn something. [Research] a lot and keep practicing. Don't give up on the first time if you fail because you might learn other things. It might work and it might not work."
As someone who also didn't have much guidance and has learnt cooking through mostly trial and error, Corso believes that cooking is, in reality, a fairly simple task that anyone can be successful at.
"Start small, and keep adding," Corso said. "Learning how to make simple things is a really good place to start. There's a lot of basic pasta dishes or one-pot meals. Start with good ingredients, and keep it pretty simple. You'd be pretty surprised at how good food can taste."
About the Writer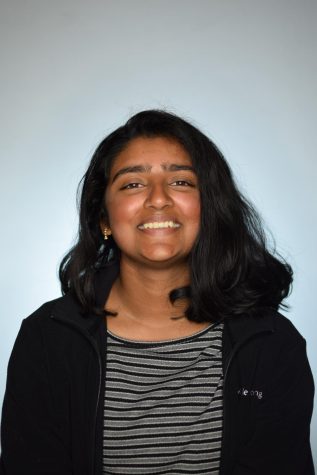 Priya Reddy, Staff writer
Priya Reddy is a senior at MVHS, a third year staff member and a managing editor. Priya was a multimedia Special Report editor her sophomore year and a print Special Report editor her junior year. She likes to read, watch trashy action movies and take long naps.