BTS as a global phenomenon
BTS, or Bantan Sonyeondan, meaning "bulletproof boy scouts," is a Korean boy band composed of seven members that debuted under the company Bighit Entertainment in 2013. Since then, they have become extremely popular in the United States, even receiving awards in the Billboard Music Awards and the American Music Awards. Some of their most popular songs include "Dope, " "Spring Day," "Not Today," "DNA" and "Fire".
Although BTS is a band that originated in Korea, the group has been able to achieve international fame and has a fanbase that spans countries all over the world. Five students shared their thoughts as to why the band has become an international sensation.
Sophomore Kimberly Chen
"The fact that they're making it in America is a testament to how impactful their music is. It's really important because it really separates them from the rest of K-Pop. They don't just have flashy dances and cool aesthetics, but they have really deep messages in their music that can connect to a wide range of people. Their relatability is what makes them so popular."
Junior Kristin Lee
"First, about a lot of Asian music in general, it's a different style from what you usually hear in America. For example, groups are [different] in Korea. BTS incorporates more American styles and recently, they've been collaborating with a lot of American artists."
Sophomore Katherine Chen
"I feel like for BTS, they moved past the aesthetics, they have everything. They have the meaning behind the music. A lot of people internationally can relate to the music because they talk about generally taboo topics, like mental health, things that are wrong in society that a lot of artists don't touch on. That resonates with everyone around the world."
Freshman Olive Tang
"We're bringing more awareness to K-Pop groups like BTS. A lot of people say that K-Pop isn't good, but now they won awards and we have proof that they're actually insightful."
Sophomore Sakina Naqvi
"My friend is super obsessed with BTS, and she tried to make me listen to a bunch of songs. They're really good and they have a lot of talent, I just don't understand the obsession. I think it's really cool. I don't have that much of an opinion, but there's a lot of fans out there who really like them."
Photos by Emily Xia
About the Contributor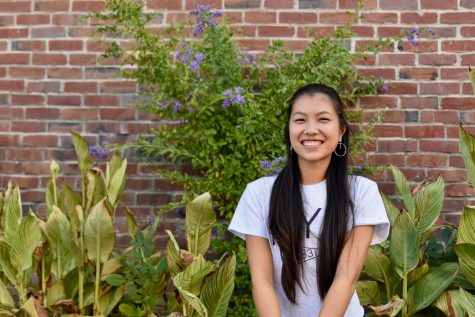 Emily Xia, Managing Editor
Emily Xia is currently a managing editor in both journalism classes. She spends her time on El Estoque writing stories, designing pages and creating graphics. Outside of school, she enjoys drinking boba and practicing color guard.