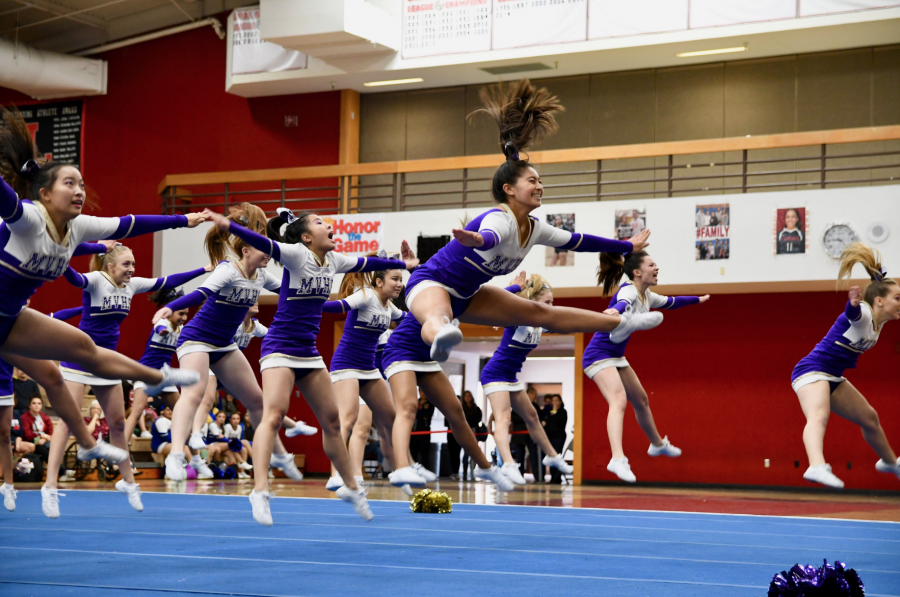 Additional reporting by Roshan Fernandez
hen the cheer team members took to the mat on the afternoon of Saturday Dec. 2, it was hard to tell this was their first competition as a team. Generally, the team begins competing in September, but this year was a little different.
After conflicts with booking the field house for practices, the team felt underprepared for its earlier scheduled competition. As a result coach Brittany Carey and senior captains Sarah Wood, Ellie Orvick, Tiffany Wong and Tiffany Leung made the decision to change their competition schedule.
"I felt like we were really prepared [for this competition]," Orvick said. "The extra time we got was very beneficial. It let us calm our nerves and be more confident in our routine which is wonderful."
And so on Saturday Dec. 2, the MVHS cheer and song teams participated in their first competition together as the MVHS spirit team at James Logan HS in Union City. The cheer team performed first with a strong showing.
According to Wood, the team hoped to score high enough to qualify for USA Spirit Nationals at this event, and after finishing third they were able to secure their spot at the national competition in Anaheim, Calif. in February.
"We haven't had that much time to do full-outs, so I'm really proud of us: that we pushed through, and we were able to do the best that we could," Wood said.
After the award ceremony for the cheer competitions, it was song's turn to perform. The team, composed of six girls with two members who also competed in the cheer performance, participated in the small team division. Unlike cheer, the song team had already competed twice before and entered their third competition with experience. They too placed third in their division, but they had already qualified for USA Spirit Nationals at a previous competition on Oct. 7 at California's Great America.
For this competition at JLHS, according to senior captain Madi Anderson-Au, their goal was to try to get a higher score by using feedback from their previous competitions. Their feedback from this competition will also be incorporated into their routine which they will continue to work on throughout the season.
"The main thing is at practice after a competition, we usually go over the entire scoresheet," Anderson-Au said. "Basically we go over all the things the judges said, and that's basically so we can keep improving the routine and get to that final version."
Both teams will compete again in Antioch, Calif. on Jan. 13, 2018.
Photos by Roshan Fernandez, Om Khandekar and Akshara Majjiga.