Who's on the cover of TIME?
On Dec. 6, 2017, TIME magazine released their person of the year issue, and this year, it wasn't just one person. The magazine cover features five women, given the name "The Silence Breakers," all wearing black. None of these women are the same — but one woman can be recognized as one of the biggest popstars in the world — Taylor Swift.
Many may not know what Swift has gone through in the past year. El Estoque has done previous reporting of the issue in this article. To sum up, Swift was groped by DJ David Mueller in 2013, in which she decided to sue him for a single dollar. This choice resonated with many women, as it was simply done to raise awareness and to make a point.
As many social events do, this sparked controversy on Twitter. Many thought she was unworthy of the cover, when creator of the #metoo campaign, Tarana Burke, was not featured on the cover of the movement she started years ago. The reason behind this remains unclear. Even though I would have liked to see Burke on the cover, Taylor Swift is definitely not in the wrong place.
Some people called Swift out for "doing nothing" to deserve the cover:
Lmfao. Taylor Swift is LITERALLY a silence keeper. Not judging her on her refusal to use her celebrity advance just causes, but can we at least stop praising her for doing Nothing?

— 🇨🇦Rob Ambrose (@Rob_ThaBuilder) December 6, 2017
Others felt that Swift was wrongly chosen over other candidates, such as singer and activist Kesha:
I'm sorry Taylor Swift getting person of the year for being a "silence breaker" after Kesha has been publicly fighting for years for her right to be freed from her assaulter is truely a disgrace on TIME's part.

— Kelsie Wysong (@kels_wysong) December 6, 2017
But taking up a majority of the crowd, supporters of TIME's decision spoke up for what they believed in:
Hey don't tweet about "believing women" if you're going to complain about Taylor Swift/Time Magazine.

Your support of women can't be conditional.

— ali (@alibakerevans) December 6, 2017
Many "swifties" came to their idol's rescue with hard facts:
Reasons why Taylor Swift is TIME's Person of the Year:

– She stood up against sexual assault (and won)
– She countersued only for $1 and made her point
– She helped other victims to raise their voice
– She showed her financial support for other victims (like Kesha) #TIMEPOY pic.twitter.com/nRJLpIvlER

— Taylor Swift Facts (@TSwiftFCT) December 6, 2017
I am personally not a fan of Swift's. Her unnecessary drama with Kanye West and sneaky marketing plans do not draw me in to become a "Swiftie." However, I will stand by Taylor Swift while she graces the cover of TIME (and rocks that dark lipstick).
At the end of the day, regardless of the volume of the assault, victims are victims. Victims are survivors. Survivors are survivors. Hollywood has finally been exposed, and there is only moving forward from here. Women especially need to band together and show support for each other. If we are divided now, there is no telling its effects on the world around us.
The change we wish to see is fully dependant on how much support we offer to anyone, regardless of wealth or status or reputation. If you don't listen to Taylor Swift, that's fine. But the least you can do is respect her.
Stay right where you are, Taylor, cause we've got your back.
About the Writer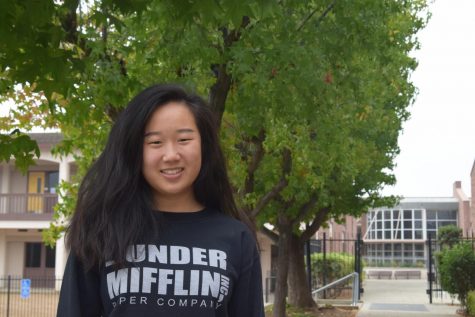 Ruth Feng, Managing Editor
Ruth Feng is a managing editor of El Estoque. Aside from journalism, she likes to watch reruns of The Office and West Wing.