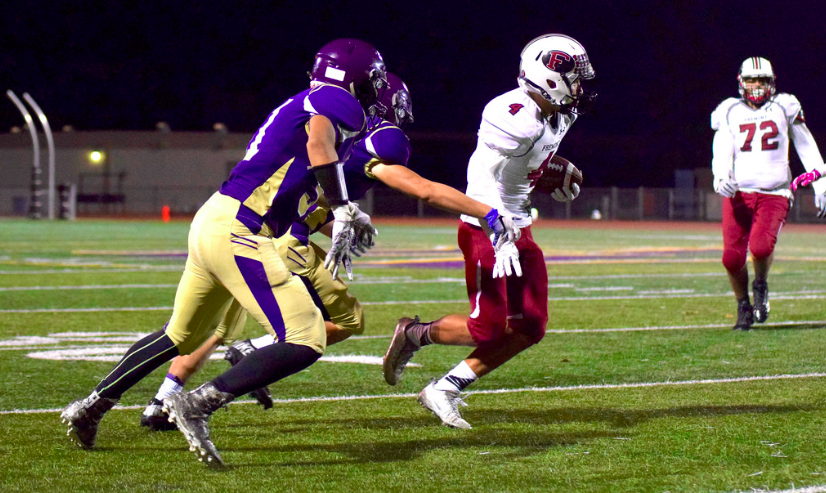 Additional reporting by Rucha Soman.
espite the fact that Matadors' CCS hopes were no longer alive, the team came into their matchup against Fremont HS looking to close out their season with pride. MVHS had only three days to prepare after their helmet game defeat, and they did so with a thin roster due to injuries to key players such as starting quarterback junior Cheto Vasquez.
Senior Owen Malone filled in as quarterback, throwing a long bomb to junior Derek Zheng in the second quarter for the Matadors' only touchdown of the night.
Overall, however, the team was dominated through all four quarters, struggling to develop a rhythm on offense and unable to make the necessary stops on defense. MVHS trailed FHS 28-6 at halftime, and three more third quarter touchdowns from the Firebirds sealed the Matadors' fate. The game ended in a 49-6 defeat.
For Zheng and the other players that will return for next season, they know that despite suffering losses this year the team is still making progress.
"Although our injuries made it harder, we still had a chance," Zheng said. "We were trying to go to the playoffs, and we had a really good chance this year."
The game ended in a loss, yet the team walked off the field with their heads held high. Senior Eliot Lubomirsky, who joined the team with only a month left in the season, explains that it was a great decision and one he wishes he made earlier on.  
"The experience is like nothing else," Lubomirsky said. "You learn a lot of lessons, even if you get knocked down or if you're losing, but you work hard till the end, [and] you still feel good afterwards."
And for seniors like Malone, despite not always getting the results they hoped for, they recognize the progress the team has made over the season.
"Thank you to coaches, families, for coming out [and] supporting us, [and to] all the seniors," Malone said. "MV is on the rise, baby. MV is on the rise."
Click through the photo gallery below to see photos from the Matadors' final game of the season.