The weight of change: mothers reflect on their experiences after children leave home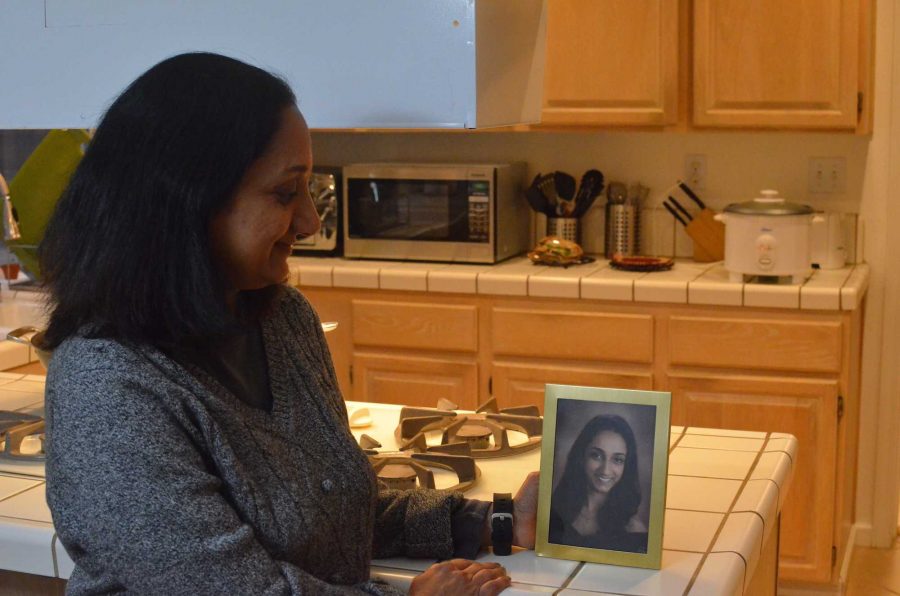 Ananya Bhat
November 15, 2017
C

hemistry teacher Elizabeth McCracken gets in the car, ready for the five-hour-journey to Quincy, California. Situated in a hilly area between the booming cities of Chico, California, and Reno, Nevada, Quincy is a quiet town, filled with scenic lakes, green meadows and endlessly rolling hills.

For Samara McCracken, McCracken's 23-year-old daughter, it is also the destination of her dreams, a crevice of opportunity that satiates not only her love for the countryside, but soothes the dissatisfaction she felt as a long-time resident of Silicon Valley.

Having graduated from Homestead High School in 2014, then attending West Valley College for four years, Samara was constantly on the lookout for the perfect program. She wanted to venture out of the heavily populous San Jose area, to escape the traffic and the noise that characterized it and to further her interest in equestrian sports. With this in mind, she began her research, eventually stumbling upon Feather River College.


McCracken, who had known for a long time that her daughter was unhappy living in Silicon Valley, was delighted by this. She was so delighted, in fact, that she enthusiastically supported her daughter's endeavor and embraced her departure.

"It was time," McCracken said. "She waited. After [graduating] from Homestead and [going] to West Valley for a couple of years, she waited to find the perfect school for her and the perfect program, and she did, and I couldn't be happier."

For any mother, letting go of her child is an important moment and one that signifies the transition from childhood to adulthood. Because of this, many mothers hesitate before letting their children go, including English teacher Kate Evard, whose daughter's departure to the University of California at Santa Barbara was an event that shook her core, leaving her in slight denial for days to come.

"Everyone says you get used to it," Evard said. "It won't be so bad, [but at the time], I [was] like I don't wanna get used to it. I just want [her] to be with me."

With her daughter gone, Evard began to notice tiny changes in her lifestyle — the house felt empty all of a sudden. The laundry was neatly folded and stacked, tucked away in its proper position. The socks that were previously strewn across the the living room were now stowed away. For Evard, all these changes seemed to point to one idea — what once was her daughter's radiating presence had dimmed away and become a void in the household.

Sangita Vasudevan, mother of senior Hasini Shyamsundar, echoed a similar sentiment when her older daughter, Harini Shyamsundar, left for college at the University of California at Berkeley.

"Luckily for us, [Harini] didn't go to a college far away from home," Vasudevan said. "But when we dropped her off, it was a weird feeling, even though we knew that we could drive [to Berkeley] whenever we wanted, and she could come home if she needed to."
Despite the weight it carried, McCracken, Evard and Vasudevan all agree that the disruption in their daily routine was not the most significant effect of their children's departure. In fact, with their daughters away from home, the theme that unified the mothers was their evolving interpretation of motherhood — what it truly meant to be a mother with an empty nest.
For Vasudevan, it didn't mean much.
"[Harini and Hasini] are still my responsibility, and I would like to guide them should they need help," Vasudevan said. "It's my job to make sure that they are on the right track and [are making] good choices in life."
For McCracken, however, it also meant letting go of certain motherly duties. She found herself worrying less about her daughter and worrying more about her own life — something she had not been able to do for a long time.
"My role as a mother has changed because with [Samara's] level of contentment, with her level of independence, I don't have to take care of her as much," McCracken said. "My life is incredibly full, so I'm not feeling like I'm missing anything. I love my job, and I'm spending time with my friends and my boyfriend and all the things that interest me. So because I don't have to worry about all the things that I used to in the same way, I get to do more fun stuff and be present in other ways."
McCracken's relaxation stemmed from the fact that she believes her daughter had turned out exactly as she had hoped — kind, self-reliant and levelheaded. Evard felt the same way regarding her own children, though she admits that her journey to accepting her daughter's independence was a bit rougher than others.
"It's just amazing to me how all of a sudden [my daughter] is a young adult [and] woman, how she has great ideas and dreams for the world, how she wants to change and shake things up," Evard said. "And that's different, to see [her] as a young woman, independent of me. And I know that's how [it's] supposed to be, but it's still hard."
To confront these changes, Evard began focusing on new interests, ones outside of her role as a mother. She became especially involved in working with her friend Michele Dauber, a Stanford law professor, to remove Judge Aaron Persky, who presided over the Brock Turner sexual assault case in 2016.
"I'm working with her and 100 other people to get signatures to get him off the ballot," Evard said. "In fact, the last two nights, I've been doing events related to this."
Like McCracken, she also attempted to rekindle old friendships and reach out to those that she had lost touch with over time.
"This summer, I had dinner with two friends I hadn't seen in 25 years," Evard said.  "You know, slowly trying to fire up and restart friendships that I had kind of let go."
In doing so, Evard realized just how important it is for mothers to find an interest or hobby that does not relate to their children. This is a sentiment also echoed by McCracken and Vasudevan, who not only encourage young mothers to redefine themselves, whether it be though a new passion or through spending more time with friends, but to also cherish their motherhood and appreciate every little minute of their lives.
"[It doesn't] have to be hobbies, but volunteer, campaign, so that your self worth isn't coming from your role as a mother," Evard said. "Because it will diminish — it will never go away — but it won't be what it was before."