Viewing the solar eclipse at MVHS
When speaking about the total solar eclipse that traveled across the U.S. on Monday, Aug. 21, Assistant Principal Andrew Goldenkranz points to curiosity as the driving force behind witnessing the event.
"There's an old saying in the science teaching world that says, 'Scientific curiosity begins by laying out in your yard at night looking up at the stars,'" Goldenkranz said. "And that's really what the eclipse is about; it starts from, here's this thing that's happening, [and becomes] how do we explain it."
According to NASA, being able to witness a total solar eclipse from where you live happens once every 375 years. The rare nature of the event has motivated students and teachers at MVHS to make a collective effort to allow everyone to experience the solar eclipse.
With ideas like canceling school on Monday and organizing a bus trip to Oregon, MVHS students thought of ways to take advantage of the opportunity to view the eclipse during school hours.
At the beginning of the summer, sophomore Sarang Deshpande approached the MVHS science department with a proposal to drive a bus full of students up to Oregon, the closest location to California that offered a complete view of the total solar eclipse.
While the field trip was cancelled due to logistical reasons, Deshpande's push to bring MVHS closer to the eclipse wasn't in vain.
"It occurred to me that while there might be a few dozen kids who are working to get a bus charter to try to go up [to Oregon] next week, there are hundreds of other kids and likely some teachers who are at least going to want to go look at or who are at least going to be interested in some aspect of it," Goldenkranz said.
With this in mind, Goldenkranz researched a variety of lesson plans that could be implemented into every department, forming a multi-disciplinary menu of curriculum that could be used to teach students in every class about the eclipse. Along with curriculum, Goldenkranz wanted to make sure there were ways for students to view the eclipse in classes, too.


"We're trying to see if we can project NASA's recording of the total solar eclipse in science classrooms," Deshpande said. "I think that's a really simple way for students in classrooms to be able to enjoy the eclipse and that seems to be working pretty well so far."
In addition to watching the eclipse on a screen, students learned about the ways a total solar eclipse has influenced history and read literature about how the total solar eclipse consolidated power for a Connecticut Yankee in King Arthur's Court.
Chemistry and physics teacher Emily Fitzgerald was heavily involved in the effort to bring students to Oregon to view the solar eclipse. Even though the original trip was cancelled, she  still implemented the solar eclipse into her curriculum by allowing some of her students to see the total solar eclipse firsthand.
"In my chemistry class, we're going to view the eclipse and then use it later on to analyze electromagnetic radiation," Fitzgerald said. "And in the physics class, at least in regular physics, we're doing an activity about what eclipses are and watching the NASA stream of the eclipse."
Even inside the classroom, the solar eclipse sparked conversations, and as Goldenkranz, Deshpande and Fitzgerald pointed out, it provided students and staff with an opportunity to witness something that they may never be able to see again.
Goldenkranz believes that the solar eclipse offered something for everyone on campus.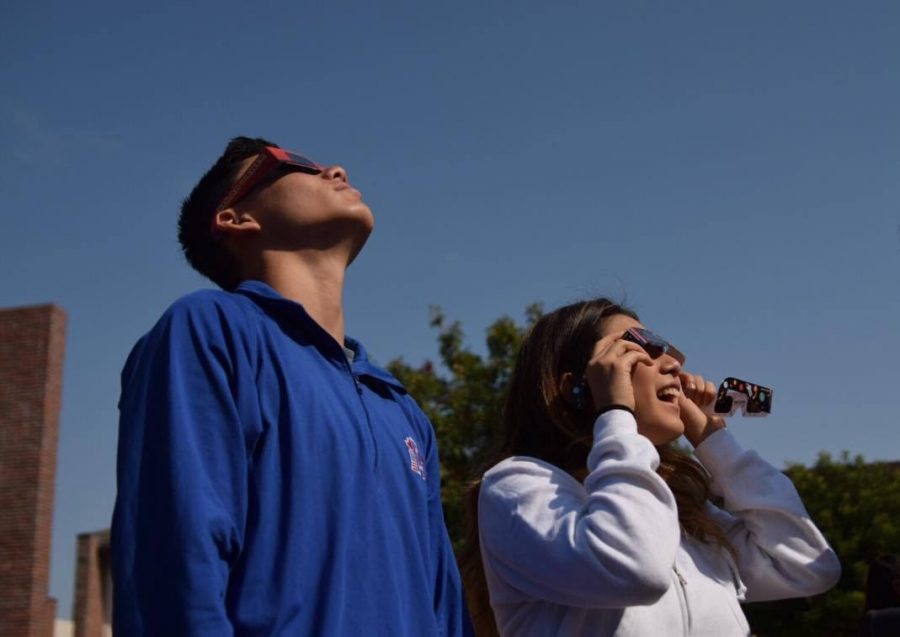 "We don't mandate anything around here, so we just said look, here's some ideas," Goldenkranz said. "Go have some fun. For some people it might be ten minutes, for some people it might be a period. I think teachers are going to be all over the place and my hunch is [that] kids are going to want to go out and see it."