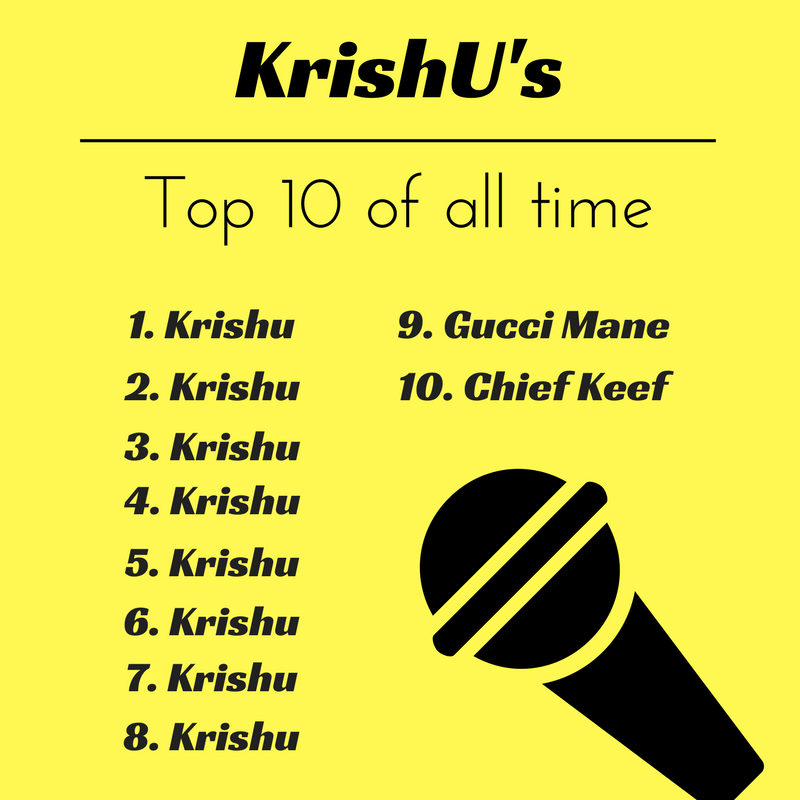 [soundcloud url="https://soundcloud.com/krishu1/invzim"/]
The Intro
"I'm ready to have my guy take 100 pictures of me," DJ Khaled's voice resonated. "And Imma post'em all up."
The beat drops. Mellow, cloudy and ice cold.
Gradually, a monotonous bass begins to settle in, creating a trance.
The verses strike and the hook comes in hard. The delivery is flawless.
Two short minutes later, as the track comes to a close, the room is filled with an eerie quiet and a murderous vibe.
Every generation has its taste of a groundbreaking rapper, the chosen one, the select few who are prophesied to become the next "Greatest of all time." The late 20th century gave way to groundbreaking hip-hop groups such as the Staten Island-based Wu-Tang Clan and the South Central Los Angeles-based N.W.A along with lasting individuals such as Nas and Tupac Shakur. In the early 21st century up till the present, as hip hop graduated from the G-Funk era to incorporate more party music, new artists such as Waka Flocka Flame and Soulja Boy rose to prominence. With the decade that is to come, Krish Karandikar, former MVHS senior and all around legend emcee, believes he can be the next rapper talked about at the dinner table.
Karandikar, who transferred out of MVHS to an online school his senior year, did so to pursue his dream of becoming a rapper under the alias KrishU. Drawing inspiration from a Lil' Wayne video, rapper Lil' B, his mother and even from Jesus Christ, Karandikar has kickstarted his career by setting up a home-studio and establishing connections with several producers, some locals from the Bay Area and others from as far out as Toronto. As of two years ago, He has developed his own record label known as the Backyard Throwed Records (BTR) and has released a total of five full-length songs under the handle @Krishu1 on SoundCloud.
"I'm definitely just getting started and right now, it's still about trying to get noticed through SoundCloud," Karandikar said. "But I guarantee in 20 years, everyone will listen to my music."
Karandikar's passion for rapping draws from his general passion for art, which he achieves the greatest satisfaction for him when he creates it. Modeling inspiration from current rapper and icon Kanye West, who has since indulged in many other projects such as fashion, Karandikar hopes that one day, he will be remembered as more than a rapper but as an all around legendary artist.
"I love art in general and I just love making art," Karandikar says. "Like Kanye, I want to take on ambitious art projects."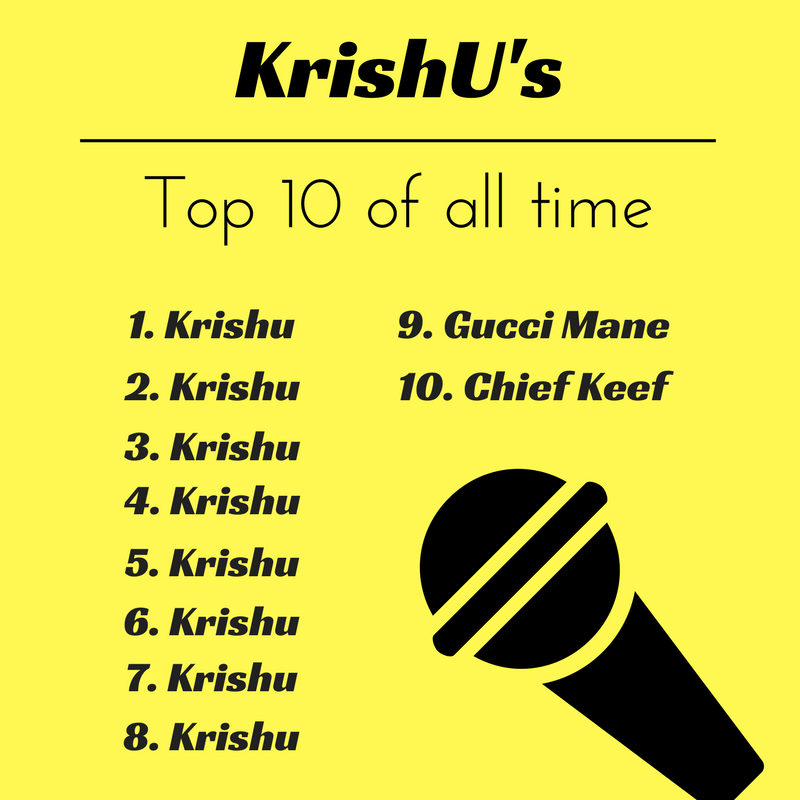 The Process
From mumble rapping to complex lyricism to impeccable flow, every rapper has his/her own trademark and style that defines them; Karandikar brands his own trademark as "future rap" as he believes his music embodies the future of rap. According to Karandikar, his form of future rap, or "timeless rap," transcends in skill beyond anything even professional hip hop artists are able to formulate in their music.
However, when it comes to style, Karandikar doesn't have a concrete stylistic trademark. He likes to superimpose whatever he feels will create a groundbreaking track. He first listens to a loop of the beat over and over and tries to envision the lyrics overlaid on the beat and the style in which they are delivered. When he feels satisfied with his vision, he goes straight to the drawing board and begins crafting his work of art. Within his hooks (chorus), Karandikar usually employs an 8 bar (line) hook and 16 bar verses. Depending on the beat of the song, he will decide how many verses he wishes to employ.
"Everything just comes to my head," Karandikar says. "It's pretty crazy that everything just snaps together like that."
At his studio, Karandikar goes through a highly detailed process to compose a song. He first scouts for a beat — mainly samples from Youtube, SoundCloud or what he receives from his producers — which he thinks will be suitable for a rap song and proceeds to listens to the beat on a loop. After several playthroughs, Karandikar gains a general vision of how the lyrics will be delivered to the track. He listens to the loop again over and over, this time mumbling the lyrics along until he develops just the right sense of flow. He puts the sample on pause, opens a blank document on his computer, and begins to compose the lyrics which constitute the first verse. He plugs in the headphones, opens GarageBand, loads the beat and begins to record.
When the recording is finished, Karandikar saves the project file and exports a rough unmixed version to his producers. In GarageBand, Karandikar usually isolates a single track by muting the other tracks in order Once his producers finish mixing the track, Karandikar revisits his song and puts it on playthrough, making a list of imperfections to be perfected. Once he finishes the playthrough session, Karandikar emails the track back to his producers and tells them what to fix. He repeats the entire process until he feels satisfied with his track. Finally, Karandikar uploads the track onto his soundcloud along with a cover photo he receives from one of the two graphic designers he works with.
The Future
[soundcloud url="https://soundcloud.com/krishu1/tylue"/]
Although his career is only beginning, Karandikar already has visions for what his future is going to be like when his career takes off. Karandikar believes that he and the people who derive their music from him will become the future icons of the hip hop genre. Karandikar's goal in the future is nothing more than to write timeless music that will be played for the rest of eternity by not only the people of Earth, but also by, according to Karandikar, organisms on Mars as well.
"I will transcend through the universe because people will not stop listening to my music, even the little plants and organisms on Mars," Karandikar says. "Even though you might be a postal worker in Anchorage, Alaska, you will still be bumping my tracks daily."
As for a concrete path on how to get there, Karandikar has planned out step-by-step how he is going to achieve his vision of success. Currently Karandikar is striving to achieve more popularity off Soundcloud as an upcoming rapper. When Karandikar dropped his first song on his Soundcloud, he shared the link with 15 of his closest friends and immediately gained considerable popularity since many had not know what had become of him since he transferred schools.
"All my friends didn't even know I was rapping so even people who were familiar with me were surprised. They all went into it expecting some trash," Karandikar recalls. "However, they really liked the music I was making and it kinda took off from there."
Karandikar has already gained a steady amount of fans within the MVHS community, most notably senior Rohan Chitale and senior Alvin Lee.
"Every one of his songs is a banger," says Chitale, "When I listened to his song Harambe Pack, I was hypnotized."
"I really likes the way he flows his lyrics. The vibes are cloudy" adds Lee.
In the near future, Karandikar plans to boost the amount of followers he has by constantly releasing new songs and even music videos to try to make himself known to the public. Eventually, once each release amounts to 10,000 to 20,000 likes, Karandikar will look to branch out to include more mixtapes and collaborations with other rappers in the Bay Area. Depending on how popular his music becomes, Karandikar is also considering doing shows and selling merchandise in order to attract more attention, convert more fans via social media and ultimately make more money.
"Soundcloud is just my medium for now," Karandikar says, "I want to move past that. I want to transcend that. I want to be as big as I can."
In the future, Karandikar has also planned ways to utilize his affluence. According to Karandikar, his first purchase would be an enormous and elaborate house for his mother in order to demonstrate his thankfulness. His second purchase, however, is much more flamboyant.
"I'm getting whatever car that has the highest retail value because everyone else has to know that they are worse than me at life," Karandikar says. "Then, I'm buying a couple other super cars and donating them to charity because public relations is important."
Despite fierce competition in the rap industry, Karandikar will continue to pursue his vision of being a successful rapper due to his passion for rapping and creating art in general.
"At the end of the day, even if you do something that's gonna give you a decent living in life and keep you OK, If it is not your dream and not something that you want to do, you will always feel unfulfilled," Karandikar said, "I gotta chase whatever I love."