Cat's out of the bag: The subtle art of being evil
Until last Thursday, I never had a reason for self-cannibalism.
Yes, my dearie, you read that correctly.
Essentially, that Slow-as-a-Slug Sally was walking so darn slow in front of me, I had to gnaw on my own vocal chords and digest 'em, or else I'd have let fly a scream of irritability hibernating in my lungs, a mad howl to be heard round the world.
Reincarnated as a human, Sally (anonymous identity for the sake of her undeserved safety) was certainly a bumbling, lethargic sheep in her past life and thus incapable of brisk walking. She sported pearly white Converse — an unmarked and unblemished "shoe version" of what I wished my bloodied-by-red-pen math tests could attain — and walked ever so slowly, plodding one shoe in front of the other.
At her rate of walking, I, the poor schmuck stuck behind her, would arrive at school approximately nine years late.
It became the sole desire of my life to bungee jump on her shoes like the cannibalistic hooligan I was — I mean, I am — and dirty 'em to a mud brown.
I did not.
Effectively, I was hyper-effective at being ineffective — on the outside, that is. I had smiled at her quite enthusiastically and happily, trotting off on my merry way.
Yet being the high-functioning sociopath I am, I lurked under the eaves of the D building, biding my time … and am still biding my time to this very day, having done absolutely nothing to her. I have not confronted her. I have not trashed her shoes. In fact, I have been a smiling, civilized and cultured lady. However, in reality, the inside of me still churns with the cannibalistic insanity and anger — a controlled, oppressed evilness which never has and will hopefully never bubble to the surface.
Still, that girl had better watch out.
To most, I am not a terribly obnoxious or vile person, although specific people on the El Estoque staff refer to me as "Spawn of the Devil" or "Loan Shark." I do not have the slightest inkling why.
To those who knew of me in middle school, I say, with enough conviction to bash the stronghold that is the Great Wall of China, I must have been a — no, good reader, not a sheep, I have always walked at a respectable, considerate speed — cat in my past life, claws unsheathed 24/7 and tail up in indignation.
An all-around prissy ditch! Oh, my bad. Apparently, "b" has reflected itself to a "d" for a day.
I despise emotion-wrought confessions and reliving horrendous memories, which is why I'll boil it down to the basics: As a middle schooler, I was the so-called "mean girl" of my class; I delighted in interrupting people, embracing the ideas they volunteered and promptly pushing said ideas off a cliff — you scallywag, we're outlining the title in Sharpie, not pen, capiche? — and into Oblivion, a pithole of rejection. As I grew older, the disgustingness of my behavior grew apparent to myself, and as I've mentioned many a column, I morphed into a reserved, more polite girl.
Here's the cat-ch.
Unfortunately, I'm still half a ditch. Again, the "b" has decided to be a "d" for the time being. I say "half," because I still have a fondness for ordering people to walk the plank. Luckily, the splishin' and splashin' of the victim is mental, the "evilness" confined to my imagination (although it occasionally trickles into my writing) and expressed solely through a tight-lipped smile.
Trust me, if I were still in middle school, I'd be screeching my insults like a boiling kettle if you so much as shook your head at me, instead of containing them to my consciousness. I've simply improved in on-the-surface anger management; under the surface, I'm evil, with a heart like a muddy ditch.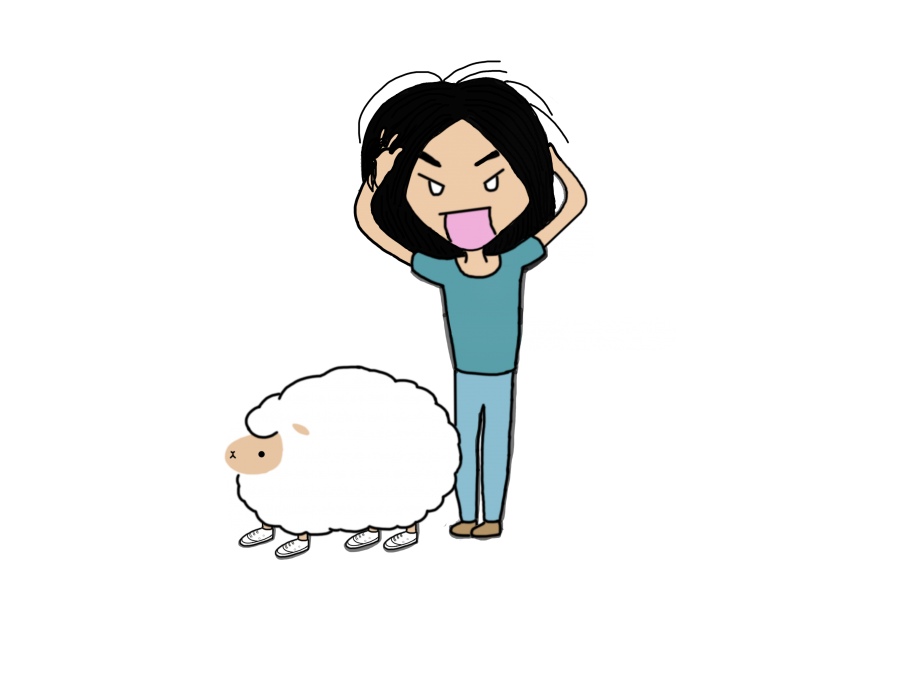 My fellow adolescents often grapple with becoming so-called "good" and responsible adults. I say "so-called," because the adults we look up to may appear composed and polite, but they certainly aren't wholly "good" or completely inline with their moral compasses.
They've just got a tad more self-control, a little more skill at hiding their emotions and a tidbit more composure in plastering on a fake smile. Yes, they may only utter a quiet, exasperated cough or simply grit their teeth when children mouth off to them or some barbaric brute cuts them off in traffic. But, my dear reader, adults are just as "bad" and "evil" as us.
They simply swear themselves hoarse and unleash their insanity or temper behind closed doors — out of our sight. Or like me, a half-adult, instead of physically swearing at someone to their face, they may quarantine their evilness and mentally curse the person to a thousand lifetimes of extreme dandruff. And then imagine flinging the person into a nearby trashcan, who is hungry for trash.
And if that's not the case, well, consider this. Why am I, a supposed half-adult, also a secret devil child?