School board members share thoughts on Resolution #1617-12
A flurry of mixed emotions spread across the country when President Donald Trump announced the travel ban on Jan. 27, placing a 90 day suspension on anyone entering the U.S. from seven Muslim-majority countries: Iraq, Syria, Iran, Libya, Somalia, Sudan and Yemen.
The ban, and other questionable actions mentioned by President Trump, whether said or done, prompted many individuals and organizations to take various measures. On a local level, the FUHSD district passed a resolution on Feb. 7.
"Unless specifically required by law, District employees, contractors, volunteers and representatives will not use District resources for the purposes of detecting or assisting in the apprehension of persons whose only violation of law is or may be being an undocumented resident in the United States, or failing to produce documents authorizing residency in the United States." – Resolution #1617-12
"When the President was elected, we had some teachers and community members say 'Wow, school board, we need to do something because we want to make sure that our students feel protected,'" assistant superintendent Tom Avvakumovits said.
Avvakumovits, along with representatives from the Teachers' Association and school principals met together to draft a resolution that can give all students the safety and security they need to pursue an education.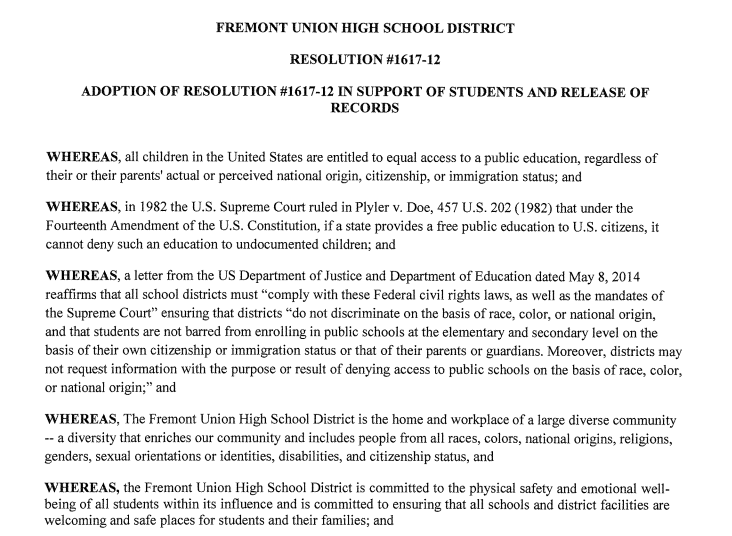 Principal April Scott adds that the resolution doesn't just address the political influences right now, but also serves to reinforce the mission of FUHSD.
"These are our children," Scott said. "These are the teens that we are to take good care of…[our goal is] to have students here and to make sure that they feel safe and protected and educated."