Then and Now: The impact of technology on our lives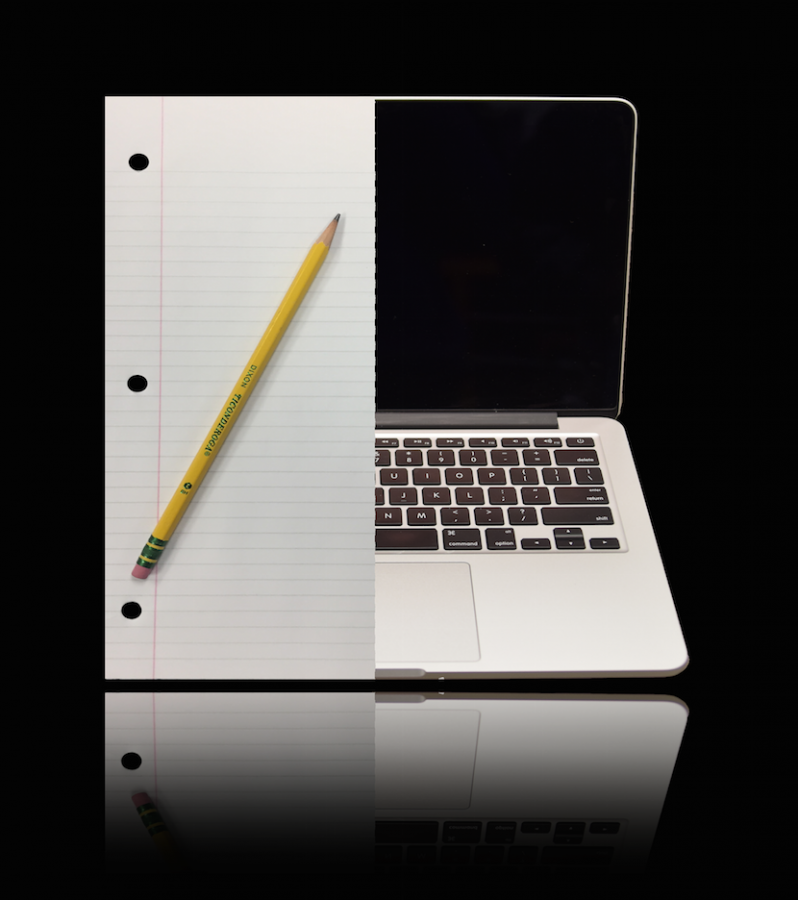 A
P Chemistry teacher Kavita Gupta did not know what to expect of her new high-tech classroom. After five years of teaching in places from rural India to Los Angeles, she was finally making her way to one of the most high tech areas in the world: Silicon Valley. However, much to her disappointment, the technology in her classroom was no different.
After over 30 years of teaching, Gupta believes that the amount of available technological resources and the frequency in the use of technology in her classroom has increased with its evolution. Back in her classroom in Los Angeles in 1996, the whole science department shared one Apple IIE Computer, the first Apple computer ever released. Ever y teacher in the depar tment would use it solely to key in their grades. Now, every morning when she walks in, she is greeted by the familiar display of the Apple TV and the stark clarity of the Liquid Crystal Display in her school- issued MacBook Pro, marking just a few of the several technological milestones achieved in her teaching career.
For Gupta, the use of technology is crucial. In order to succeed in Chemistry, students must have a strong understanding of how particles bond and how they interact. To help her students attain visualization of how these processes work, Gupta relies on the Dell Netbooks, stored in a cart in the upper left corner of her room, to run Java simulations and animations, providing a visual representation of the infinitely small particles as they react. Thirty years prior, during her student teaching in New Delhi, India, Gupta found herself with the exact same lesson plan, only this time, in a country halfway across the continent, in a classroom twice as small and with only a blackboard and chalk to explain what she is able to do now with just a simple animation.
"It was very hard … especially in my subject area, where [the] things that I talk about — atoms, molecules — they are so invisible," Gupta said. "When I was teaching, I found it hard to create the models that I have in my head, in my students' heads."
She remembers narratives and filling u
p the board with two-dimensional pictures in order to depict something which she is able to now illustrate with a click of her mouse. Even as she was able to successfully detail the process through spoken words and static diagrams, many students, who Gupta had lost somewhere along the way in her thorough description, still walk away as confused as ever only to repeat the process over and over until something finally clicked. 
Yet this confusion, Gupta feels, can be significantly mitigated through the advent of technological animations and other education tools.
"I didn't realize how important technology is, until I started using it," Gupta said, her voice rising in excitement. "Things that were so hard to teach became so easy!"
Subjects like three-dimensional modeling and trigonal pyramidal structures were suddenly much more straightforward with the support of online visual animations, compared to Gupta's own drawings in a two- dimensional medium.
With the convenience of having technology being able to enhance her teaching and allow for a fast
paced class, Gupta still has hopes that technology can be augmented much greater in the classroom to the extent of which she is able to use it for globalized learning. With students in her classroom being able to interact from students all around the world with the help of technologies such as Facebook Live, Gupta hopes that these students are able to not only garner different perspectives of foreign students, but also be able to apply what they learned in class to tackle worldwide problems together. With the help of globalized learning, Gupta also hopes to be able to bring learning to those who do not have as much access to it.
For example, Gupta imagines that technology could contribute to an education model wherein students who do not have physical, high-quality resources in education — such as a classroom, a good teacher — can obtain just as quality of an education through education platforms like Khan Academy. In this model, students who are perhaps less financially privileged will nevertheless still be able to afford a decent education. After all, Gupta says, a number of children in the world will have the same intellectual curiosity, but not all will have the same opportunities; some will face greater limitations than others.
"If [students] have access to this remote content which is still very engaging and interactive, could there be a place for self-based learning?" Gupta said.
A TEACHER OF THE MILLENNIAL GENERATION
The light from her computer screen bounces off her glasses. She replies to her emails, opens up the Google slides lecture for that day's lesson, then faces the class and says the usual greeting, "How's everyone doing today?"
English teacher Jasmine Solder grew up in Australia. Throughout elementary school and middle school, her education was mostly paper-based. Her classes paid occasional visits to the computer labs, but she never experienced the designated Chromebooks initiative that many classes, including her own, utilize in their studies.
"People still weren't as obsessed [with social media]. Technology is an art right now," Solder said. "I sound so old."
She laughs as she looks around a room full of high school students.
Every day when her fourth and fifth period students walk in, the first thing they grab is their designated Chromebooks, which were assigned to them at the beginning of the year. Students then walk to their desks and settle down, and their computers are up-and-running within five minutes of the class starting.
These Chromebooks are used for journaling, essay-writing and big projects. In one research assignment, students relied on news articles and databases such as EBSCO database to help them write their formative essay. Other commonly used web applications include Google Classroom, Turnitin.com and School Loop.
Solder believes technology helps students learn more in a shorter amount of time. Typing as opposed to writing is not only more efficient, but it gives students a chance to delve deeper into themes. However, with technology comes a heightened occurrence of procrastination.
"I think here especially, kids here have so much to do, they are very overwhelmed and technology is a really good reprieve from the day," Solder said. "It can be difficult to find the desire to get started when you have the accessibility to so many different apps at your disposal."
One of Solder's dilemmas is how she can better utilize technology in situations that present themselves with the opportunity for procrastination. She has yet to figure out a solution.
"[How we can put technology to better use] is arguably the most important question for teachers right now," Solder said.
Looking into the future, Solder thinks technology will provide students with the resources they need in order to succeed, but the role of a teacher is irreplaceable.
She compared her case to an experiment titled the "Monkey Love Experiment," where psychologist Harry Harlow placed a developing monkey with two fake monkeys. One was made of wire and provided food for the monkey, the other was made of cloth and offered nothing. Despite this, the developing monkey chose to spend time with the cloth mother.
For Solder, just as how a real teacher can provide more warmth for a student, the developing monkey was more attracted to the cloth monkey.
"So, that's me," Solder said. "Cloth monkey."
ONLINE COURSES
Sophomore Alex Boko
vikova takes Pre- Calculus Honors online instead of at school because it was getting difficult for her to find a balance in her classes. In her experience, she feels that there is an element missing from the online course, being that the teacher role does not even teach the lessons.
"All I know is his name. That's kind of it. I think I've emailed him once," Bokovikova said. "There's not really a connection."
However, Bokovikova has found herself to be more independent without a prominent teacher role.
For junior William Hsu, his independence is what pushes him to take online courses to get his credits instead of taking in-person classes at school.
The first course he took was roughly three or four years ago — an online photography course to fulfill his Fine Arts credit that lasted for a quarter. Provided by a local community college, it allowed Hsu to avoid spending time in school each day on the class.
"That was before I was really used to these online course platforms, like Coursera, these open online courses," Hsu said. "And going into it I don't think I had many expectations."
For Hsu, taking classes online allows him to choose from a variety of options which aren't offered at school, without having to spend a lot of time in school on each class.
But despite the availability of options online, Hsu believes that students just don't know that they have the option to take courses like art online.
As a student Hsu feels that he is motivated enough to manage his time and complete these courses, and believes that online course could be a viable replacement for in-person courses. But Hsu agrees that it may not be the best option for every student, he believes that some students may need the push from their teacher whereas others are self-motivated enough to stay on track.
"In my opinion I think it does come down to […] motivation and personal discipline," Hsu said.
This belief comes in part from the large number of classes Hsu has taken online, ranging from classes that seek to mimic the in-classroom experience through the use of video calls and set meeting times, and classes that are almost completely without teacher involvement. Hsu estimates that he has taken a total of 10 online course – four courses for credit, and six not for credit.
Hsu doesn't see the physical distance to be much of a problem.
"In the online Bio class I'm taking, sometimes people will just be sleeping, and then they pause the camera and then no one can really tell," Hsu said, "So there is potential for people to abuse that system because there's a physical barrier, but at the same time I don't think that that can stop you, even at Monta Vista people sleep in class."
Despite this, there are some classes Hsu believes are better suited to being done in person. As a requirement of his AP Biology class Hsu must complete a lab portion, and in order to do so he must order all the lab materials and lab kits himself in order to complete the labs at home. Something which he says is more inconvenient than if he had taken the class in school.
"It becomes easier to do these kinds of things in person," Hsu said, "So things that require a physical aspect, would probably be easier to have in an in-person format for that."
The online classes also offer another benefit for Hsu; smaller class sizes that allow teachers to provide more attention to each student. And despite the physical distance between him and his teachers, Hsu believes that the opportunities and benefits of online course far outweigh the few downsides.
"I think, for me actually [I am] more connected [with the teachers online]. But I don't think that the online platform has anything to do with that, versus it was just a smaller class size so it was able to be more personal," Hsu said, "And I think that's one of the benefits of online learning, that we can connect people like that. Sure, the entire online platform may be a bigger barrier, but it also provides more opportunities, like smaller class sizes and more personal classes."
About the Writer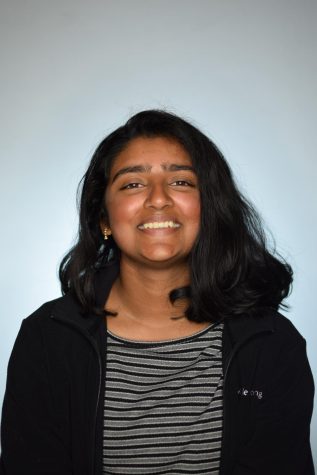 Priya Reddy, Staff writer
Priya Reddy is a senior at MVHS, a third year staff member and a managing editor. Priya was a multimedia Special Report editor her sophomore year and a print Special Report editor her junior year. She likes to read, watch trashy action movies and take long naps.