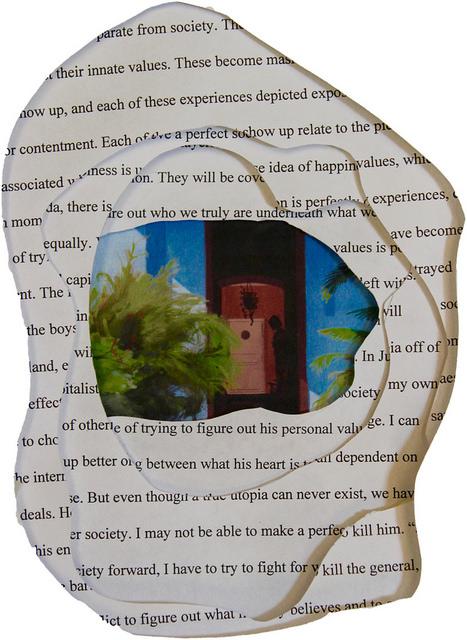 ad it not been for art teacher Brian Chow, alumna Samantha Shieh would not have pursued art after leaving Monta Vista. Currently majoring in illustration at the Art Center College of Design, Shieh is all too familiar with the elaborate journey during her time at Monta Vista that got her to where she is today. A journey that started with creating a portfolio.
Those applying to arts schools have to send in an art portfolio, a compilation of an artist's artwork that show colleges what the artist is capable of.
The process of making this portfolio is different for everyone, and is often as unique as the artwork itself. And while the ultimate goal is to get into the school, Chow believes that the act of compiling the portfolio helps these students grow artistically in a way that no other project can.
"When you say you're building a portfolio, it's implied that you're constructing it," Chow said "And constructing it implies that it takes a course of time and skill development to build it. It's not like, make a portfolio now in three days. It doesn't work that way. It's really about the process."
It starts with a concept. A whisper of an emotion or idea in the back of an artist's mind. Then, rationalizing this idea, trying to express it. And finally, they are ready to begin drawing.
This is how the illustration process begins for senior Nikki Phan. Whenever she feels a strong emotion, she tries to find a way to express it visually through drawing.
"If I feel something really strong, I'll try to rationalize it and it'll be super hard, so I'll kind of associate a picture in my head with the feeling," Phan said. "Basically, it's just to try to kind of invoke some kind of visceral response."
Phan is applying to some schools with a minor in illustration and a major in business and marketing, so she needs to compile a portfolio.
Throughout the process of creating it, she's learned not to force herself to draw pieces just to add to her portfolio, but rather to draw when she has a strong idea that she wants to convey. It's always easier for her to draw when there's a strong motive or concept behind her idea, something that she feels she can be extremely proud of.
And when she has an idea in her mind, the art follows soon after.
"It just happens really naturally," said Phan. "And it doesn't happen all the time, but when it does, it just clicks."
Sending in her art has changed the application process for Phan. She doesn't feel like she has to work so hard to stand out from the other applicants, and she is able express herself through her drawings.
"Everyone's art is different, so it's not like you have to be like 'I'm different because I volunteer at this place, I do this,'" Phan said. "I think it's easier to tell a lot about a person based on their art."
Chow agrees with Phan's viewpoint, saying that a portfolio can speak volumes about an artist's character.
"I think a portfolio's really an expression of your voice," Chow said. "It's visual storytelling that is curated at a very high level."
However, finding this voice isn't always easy, especially with the input of others. Chow explains that comments made about an artist's artwork have the potential to deflate the creative process.
"Innocent questions like 'oh let me see your artwork,' is fine," Chow said, "But the next words that come out of their mouth can be damaging."
This is most commonly seen among people who don't understand the creative process, according to Chow.
Shieh was unsure if pursuing an arts career could support her, and thought of it as more of a hobby. That was the case, until after hearing guest speaker, illustrator, and MVHS alumna Catherine Roy speak in Chow's art class.
She remembers sitting and listening to the alumna talk about how she'd created a successful career through illustration, which gave Shieh courage to move forward with her own aspiration.
Chow's words of encouragement also helped Shieh.
"I wouldn't even have considered going to art school if I hadn't talked to [Mr. Chow]," Shieh said. "Being in that class can really help you. I think it's easy to forget because MV is such a STEM environment. Gosh, it's quite an experience, but we have such a strong art program as well that gets overshadowed."
"I wouldn't even have considered going to art school if I hadn't talked to [Mr. Chow]." -Alumna Samantha ShiehShieh remembers sending her portfolio to dozens of arts schools, just hoping to get in somewhere. She started compiling her work throughout her sophomore and junior year. In retrospect, she believes that it's essential to start the portfolio building process early, so that an artist can have the most time to create pieces that they're passionate about.
Shieh also got professional opinions on her portfolio at events like National Portfolio Day, where representatives from schools travel around the globe to give feedback on art portfolios. She specifically remembers going her senior year, when she was looking to show her portfolio to schools she applied to. Ironically, the schools she went for had already accepted her, so she just got to enjoy the experience.
And although a career in the arts may seem like a long shot for many, Shieh says that it shouldn't deter prospective arts students.
"For people who don't think it's possible, I'm not gonna say that you should just blindly throw all reason away," Shieh said. "It is hard; it's incredibly competitive here [at Art Center]. The art industry is full of people who are trying to pursue their dreams. You have to be willing to put in a lot of hard work to make it in this industry."
However, for her and Phan alike, following their dreams is worth the work.