Three comfort food recipes to get in the winter spirit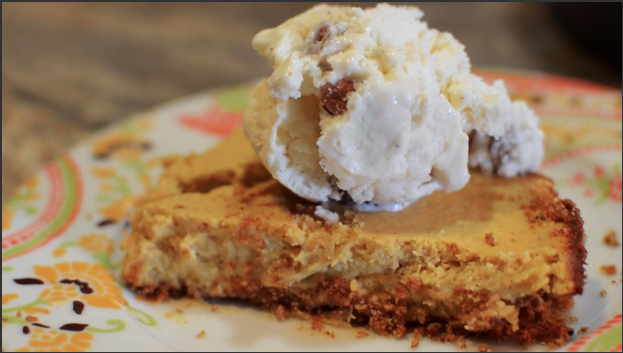 Aanchal Garg
December 7, 2016
Additional reporting by Ananya Bhat

W

ith winter break coming, many students recognize the feeling of wanting to cuddle up and eat warm and tasty food. From smooth, aromatic cheesecake to warm, crunchy fried rice, eating to your heart's content is an important of the holiday season. Reward yourself after finals with these three winter recipes that you can try at home!
FUSION FRIED RICE
A filling yet fresh combination of rice, soy sauce, scallions, bell peppers and corn that leaves you with a warm and cozy feeling.
Ingredients:
1 ½ cup cooked rice

2 tbsp sesame oil

4 tbsp soy sauce

1 tsp garlic and ginger, minced

½ cup bell peppers

½ cup diced onion

1 cup scallions

½ cup corn

Sriracha and avocado (optional)
Directions:
Turn stove on medium-high heat.

Add sesame oil to a stockpot and swirl it around to coat the bottom.

Add diced onion into the pot and let it cook for about two minutes.

Add cooked rice and mix with onions. Let both cook for about two minutes.

Pour in soy sauce and mix it with the rice.

Add the minced garlic and ginger, bell peppers, scallions and corn. Cook for about four to five minutes, occasionally mixing so that the contents don't burn.

Take the pot off of the stove and plate the rice. Serve with sriracha and sliced avocado, or other condiments.
PUMPKIN CHEESECAKE
A scrumptious blend of sweet, spice and everything nice in this creamy alternative to pumpkin pie.
Ingredients:
Crust:
9 graham crackers

3 tbsp sugar

½ tsp ground ginger

½ tsp ground cinnamon

¼ tsp ground cloves

6 tbsp unsalted butter, melted
Filling:
1 ⅓ cup sugar

1 tsp ground cinnamon

½ tsp ground ginger

¼ tsp ground nutmeg

¼ tsp ground cloves

¼ tsp allspice

½ tsp salt

1 can (15 oz)pumpkin puree

1 ½ lb cream cheese

1 tbsp vanilla extract

1 tbsp lemon juice

5 large eggs

1 banana

1 egg white

1 tbsp unsalted butter, melted
Directions:
For the crust:
Preheat oven to 325 degrees Fahrenheit.

Spray the bottom and sides of pan with non-stick cooking spray or coat with vegetable oil.

Pulse the graham crackers, sugar, cinnamon, ginger and cloves in a food processor until finely ground.

Transfer crumbs to a medium-sized bowl. Drizzle the melted butter and mix it with a rubber spatula until evenly distributed.

Pour the crumbs into the pan and spread into an even layer along the sides and bottom of the pan. You can also use a flat-bottomed bowl and spoon to smooth and pack the crust.

Bake the crust for about 15 minutes until golden brown.

Cool on a wire rack while making the filling.
For the filling:
Preheat oven to 325 degrees Fahrenheit.

Whisk the sugar, ginger, cinnamon, cloves, salt, allspice and nutmeg together in a bowl and set aside.

Add the cream cheese to a standing mixer and mix on medium for one minute to break up the cream cheese. Make sure to scrape the sides of the bowl with a rubber spatula after mixing.

Add the sugar mixture in three parts, mixing on medium for about one minute after each one.

To dry the pumpkin puree, empty a can onto a baking sheet lined with at least three layers of paper towels.

Spread the puree on the towels and cover with another three layers of paper towels.

Using your hands or a bowl, press firmly against the puree to absorb all of the moisture.

Peel back the top layer of paper towels.

Add the pumpkin puree, vanilla extract and lemon juice to the bowl and beat at medium speed until all the ingredients are thoroughly integrated.

Add the eggs and continue to beat until well combined.

Mash a banana and an egg white together with a fork until combined.

Add the banana and egg white mixture to the filling until combined. Be sure to scrape the sides and bottoms of the bowl to make sure all ingredients are incorporated.

Pour the filling into the crust

Bake the pie for about 35 minutes or until the center is set.

After baking, allow the pie to cool for 10 minutes, then serve with whipped cream or ice cream.
OATMEAL WALNUT CHOCOLATE CHIP COOKIES
A crunchy yet soft cookie recipe that is perfect to make with family and friends over the holidays.
Ingredients:
¼  cup rolled oats

1 ⅛  cup all-purpose flour

¾  tsp baking soda

½  tsp salt

⅛  tsp ground cinnamon

½  cup unsalted butter, softened

⅜  cup brown sugar

⅜  cup granulated sugar

1 tsp vanilla extract

¼ tso lemon juice

¼ cup vegetable oil

1 ½  cup chocolate chips

½  cup chopped walnuts
Directions:
Pulse the rolled oats in a food processor until the texture is semi-fine to fine.

In a small mixing bowl, add the oats, flour, baking soda, salt and cinnamon. Mix the dry ingredients together with a rubber spatula.

In another mixing bowl, add the butter, brown sugar and granulated sugar and cream together using an electric mixer.

Add the vegetable oil, vanilla extract and lemon juice and mix with the electric mixer. Make sure to scrape the edges and bottom of the bowl so all ingredients are completely incorporated.

Add the dry ingredients to the wet ingredients in two parts to avoid chunks in the dough, Mix with a spatula.

Add the chocolate chips and walnuts and mix thoroughly until they are evenly distributed throughout the cookie dough.

Freeze or refrigerate the cookie dough for 1-2 hours.

After taking the cookie dough out of the fridge, preheat the oven to 350 degrees Fahrenheit.

Gather up a medium-sized ball of dough and use your hands to shape it into a ball. The warmth from your hands should warm up the cookie dough, making it easy to mold. If the cookie dough is too hard, microwave for 20 seconds until it is easy to mold.

Place the cookies on a baking sheet lined with a silicone mat or parchment paper, and continue making balls until dough is finished. Make sure to keep a two to three inch distance between each cookie.

Place cookies in the oven and bake for 12-14 minutes, depending on the size of the cookie.

After taking the cookies out of the oven, allow them to cool for 10-12 minutes before serving.