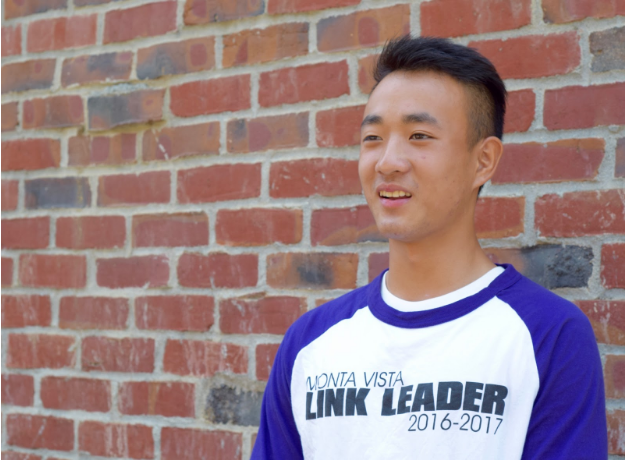 f there's one thing that senior Vincent Kao has taken away from his past three years at MVHS, it's resilience. Kao remembers having a hard time adjusting to high school, between juggling extracurriculars with school and learning to focus more on classes he didn't really enjoy. Like many students, he had a habit of procrastinating, and would often become stressed over small things and fail to see the big picture. But now, as a Link leader, he passes down the lessons he's learned from his time at MVHS to the incoming freshmen in his Link group, hoping that they can learn from his mistakes.
In his freshman year, Kao remembers worrying intently about individual events like an upcoming test and forgetting to pay attention to other priorities, as well. Juggling frequent football practices with piles of schoolwork was a challenge, as well.
"One thing came at me and I got engulfed by that, whether that was a test or a game; that took control of me."-Senior Vincent Kao.
The worst time for him was during the pig practical in Biology class. He remembers putting everything else aside to study, since there was such a large amount of information to take in that it was overwhelming.
"One thing came at me and I got engulfed by that, whether that was a test or a game; that took control of me and I didn't worry about the other stuff." Kao said. "If I was able to be more flexible with my schedule, able to prioritize better, then everything would [have] probably [worked out] better."
After a rocky start his freshman year, sophomore year was less of a worry for Kao. It was also the last year before Kao felt he had to start thinking about college.
[soundcloud url="https://api.soundcloud.com/tracks/279168287″ params="color=ff5500&auto_play=false&hide_related=false&show_comments=true&show_user=true&show_reposts=false" width="100%" height="166″ iframe="true" /]
In contrast to sophomore year, as a senior Kao has been thinking about college even more as the time for applications becomes closer and closer. Contrary to his expectations in freshman year — that senior year was a time to relax and enjoy high school —  the experience hasn't been particularly blissful thus far. Between finishing up the ACT and applying to colleges, Kao has realized that there's still a lot of work to do.
As he prepares to move on to college, Kao leaves the lessons from his rocky start to high school for the freshmen in his Link group. During orientation this year, the Link leaders split off into groups with the freshmen, and did a series of activities that were a mix of team-building exercises and lessons about life in high school. He tied the activities back into his struggles when he started at MVHS, telling them stories about when he had a rough time, too.
He's tried to give them the best advice he can. The same advice, in fact, that he would give the freshman version of himself if he could.
"Be more resilient," he said with a smile and a shake of his head.
He describes his tough transition into high school, and what he might have done to make it a better one, such as prioritizing and avoiding procrastination.
"As a freshman, I realized that I had to balance it out," he said. "And that's something that I couldn't really do [at first], but as the year went on, I started to adapt better."
And as one year led into the next, he continued to adapt. Now, in the final stretch of high school, Kao hopes that he can catch a break during second semester.
Even though senior year hasn't been stress-free, Kao is still looking forward to the supposed calm of second semester. He sees it as the only time he'll finally get to enjoy high school
"If everything works out, then I won't really have any stress on my shoulders," Kao said. "I can relax, really enjoy the last semester of high school and have some fun."