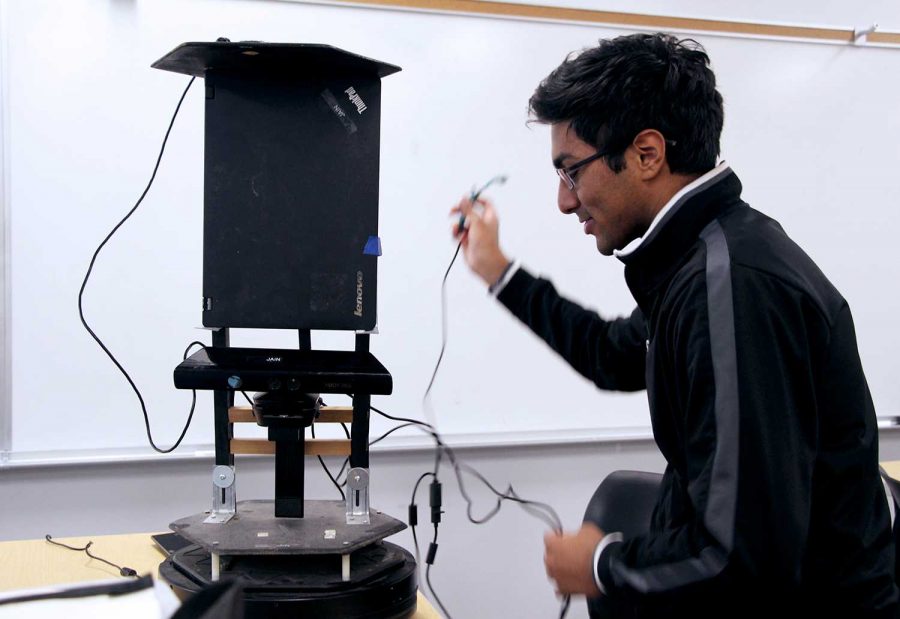 Co-authored by Tal Marom and Zach Sanchez
Oftentimes we think of college as a time for personal change, an essential part of picking one's focus and finally entering adulthood. But through our studies, through our future professions, what do we seek to change about the world? MVHS seniors discuss how they want to take their skills and college experience to improve not only themselves, but society at large.
Virtual Reality
Robots such as Roomba have been making appearances in homes, and senior Ajay Jain took it a step further by building his own with code and hardware. He constructed a nursing robot out of a laptop and wheels to distribute medicine to the elderly during his sophomore year. During hackathons, Jain also produced many projects, including a "Rap-Genius for literature" called Reader which allows students to collaborate on their interpretations like a Google Doc. In the future, he hopes his current research will reach consumers.
Jain will major in computer science at Massachusetts Institute of Technology with a possible minor in statistics and data science and take some business classes on the side. He plans to start his own company after graduating.
"The advantage of startups is that you can build a product that actually hits the customers," Jain said. "In the industry, if I join a big company, then I am a little cog in the whole system."
Jain is still trying to figure out which branch of computer science he wants to pursue — he sees himself mainly working in software with some mechanical engineering, but the subjects are not mutually exclusive. According to Jain, simulation and web development is an attractive option for startups because it mostly requires a computer and a server, but robotics require expensive materials. He believes he can make a huge impact with an educational technology startup. His study on Reader could be expanded outside of literature into other applications, such as science.
"In educational technology, there is a lot of power for simple projects to make big improvements in existing manual processes," Jain said.
Watch a video of how Reader functions here:
However, with the prices of robotics hardware dropping, Jain hopes the advantage will help him start his own robotics company instead. Going to MIT will give him the facilities to develop his ideas.
He sees a large market in the future for care-taking robots. The robots will improve quality of life and help the elderly avoid nursing homes, which are expensive. Personal robots are more difficult to create than industrial robots because the robots require more intelligence to execute tasks, which is why Jain finds the research angle interesting and wants to solve the numerous problems in the domain.
"Robots can help in small ways, making your life easier, making your breakfast or helping you get ready for school," Jain said, "but they can help make an impact in ways that humans can't or in ways which it's not economically feasible for humans to help."
Animated in Work
Although the characters animated on the screen move and talk so effortlessly, behind-the-scenes, filmmakers and producers clock in hours of work animating to make each character so unique and impressionable. Senior Anna Hsiao will study character animation when she attends Art Center College of Design. One day, she aims to marry her art with her stories to create movies that will change her watcher's views of the world.
"I chose animation because I like how motion works," Hsiao said. "I like when I draw many, many frames and it forms something beautiful or it looks like it actually could happen."
Hsiao studied animation in Advanced Multimedia during senior year using Adobe Flash, an animation software.
After graduation, she hopes to go into the movie industry or make music videos. She is a fan of the music videos from the band Gorillaz because of the combination of good music and animation. She enjoyed the wide range of motion in the Japanese animated film "Ping Pong the Animation", unlike some anime she watched in the past that Hsiao felt had faces and movements that were too stiff.
"I like any animation that's very unique that you can see the style of the creators," Hsiao said. "Not mainstream Disney movies."
In her current work, she separates her technical animation from storytelling. She writes stories in her spare time, but she has yet to make an animation from her stories. After going to college, she wants to learn how to connect the two aspects with classes that will help her learn 3D programs such as Maya as well as writing for shows and dramas. So far, she hasn't released her stories to anyone, but just writes for her own personal enjoyment.
Hsiao finds that in a lot of stories, there are all-pure heroes, but with real people, she thinks they are allowed to be heroes even though they are not perfect. In one of the stories she wrote, a man wants to make a movie, but has a lot of emotional baggage on the side. He still made the movie in the end, coming to terms with who he is without feeling any shame about his identity.
"When I write my stories, I try to explore something about the human condition and human nature, and have some of the characters be relatable for people," Hsiao said. "When you can relate to characters, that's how you really get engaged in the story."
She hopes that one of her stories can one day become a movie or a show. If Hsiao had the chance to direct her own films, she would want to make a film with a deep concept that can help people change their mindset.
"The reason people watch movies is so that they can feel good or that the plot was worth it," Hsiao said. "Whenever I create movies or animation in the future, I want people to feel happier from what I've done."
After graduating, she would join an animation company. Once she is well-equipped with knowledge in the industry, her dreams of making her own film would be within reach.
Left Brain, Right Brain
When senior Priyanka Agarwal entered high school, she knew from the start that she would go into medicine. It's a path taken by some students at MVHS: majoring in a science-related field in college and then moving on to medical school to become a doctor.
But to broaden her breadth in other STEM fields, Agarwal decided to dabble around in the many courses that MVHS has to offer. She took Java her freshman year, followed by a year of AP Computer Science.
"In the computer science class, I ended up really enjoying it and learned a lot," said Agarwal. "I really saw the applications of computer science in the world around me and its role in health care."
Given her newfound passion for computer science, Agarwal decided to look for a major where she could apply this new skill in the medical field. Agarwal was still very passionate about healthcare, but she decided to pursue her interests through the avenue of computer science. Although she's still pursuing a STEM-related major at Harvey Mudd College this fall, Agarwal stresses the importance of interdisciplinary education.
Although Harvey Mudd only offers STEM majors, the school still emphasizes the humanities.
"One third of our classes have to be in humanities, and we have to specialize in a humanities subject," Agarwal said. "[Through the humanities], we learn how our fields of study apply to the world around us and how we can actually make a difference."
Agarwal is quite excited about the humanities requirement, and plans on potentially concentrating in a foreign language to help fulfill her goals of developing medical tools and software that are more accessible to people in  developing countries.
We tend to look at STEM and humanities as two separate worlds, especially as more college-bound students are choosing STEM-related fields of study over the humanities. According to a study published by UCLA, the proportion of incoming college freshmen who plan on majoring in a STEM field has increased by over 7 percent since the 2008 recession. As major news outlets like The Wall Street Journal, publish stories on the difference in the "return on investment" of STEM and humanities degrees, the way we view these inherently interconnected segments of academia is becoming increasingly divided.
For Agarwal, the two are inseparable for a well-rounded education. More specifically, she believes that computer science can serve as a bridge between STEM and the humanities.
"I think now people are realizing that computer science is very applicable to everything," Agarwal said. "I believe that it can be applied to almost anything that someone wants to do."
Intelligent Design
For every product created, between the engineers who build it and the sellers that distribute it, there lies an often overlooked group of industrial designers who seek to bridge the gap between concept and practicality. This is senior Shikhar Tyagi's dream: thinking up and improving real products for real people.
"Product design, by definition, is making product to solve a problem," Tyagi said. "That's kind of the fun of it… It sets you apart in that way because you're able to showcase what your creativity is, but at the same time, help others."
According to Tyagi, his interest in this craft was piqued when as a young child, his father showed him how to draw in 3D, namely cars, which remains among the most sought-after areas of industrial design. While mechanical and engineering experts handle the moving parts like the engine, transmission, aerodynamics, or suspension, it is up to the designers to decide the real look and functionality of the vehicle. That was Tyagi's original focus, studying transportation design at a pre-college program at the Art Center in Pasadena. For him, however, the concentration was too narrow.
"I realized I didn't really have the proper skills to be a transportation designer," Tygai said. "So I decided [that] to be more open, I should do product design. It's a more open field, you have more freedom. So I switched my interest to products, because I was able to experiment with things like phones and other gadgets."
For Tyagi, this entrance into the wider world of industrial design helped him realize the broader implications for how his potential trade could really help people, particularly the disabled.
"Let's say we have Ms. Cler," Tyagi said. "She has a problem where she's unable to stand properly. It affects her entire back and her arms and her legs." To Tyagi, learning of this situation presented a clear example of the consequences when it comes to ignoring proper functionality.
"She has to use a cane to get around most of the time. She's complained about that cane, and it's been doing her well so far, but it's not very ergonomically designed," Tyagi said. "When she came to give our [Commercial Art] class a talk about about her cane problem, we were able to take note of how her cane was structured. How curvy it is, how much cushion it has, all of that factors into how you're going to solve this person's problem."
Taking these lessons into account, Tyagi has become more and more engrossed in exploring product functionality and design using complex programs such as Maya to render realistic 3D images. In the fall, he plans to attend the Pratt Institute to study industrial design, where he hopes to further develop his skill in creating products that make a meaningful difference in the day-to-day lives of their users.