Sunday Projects: Backstage Tashan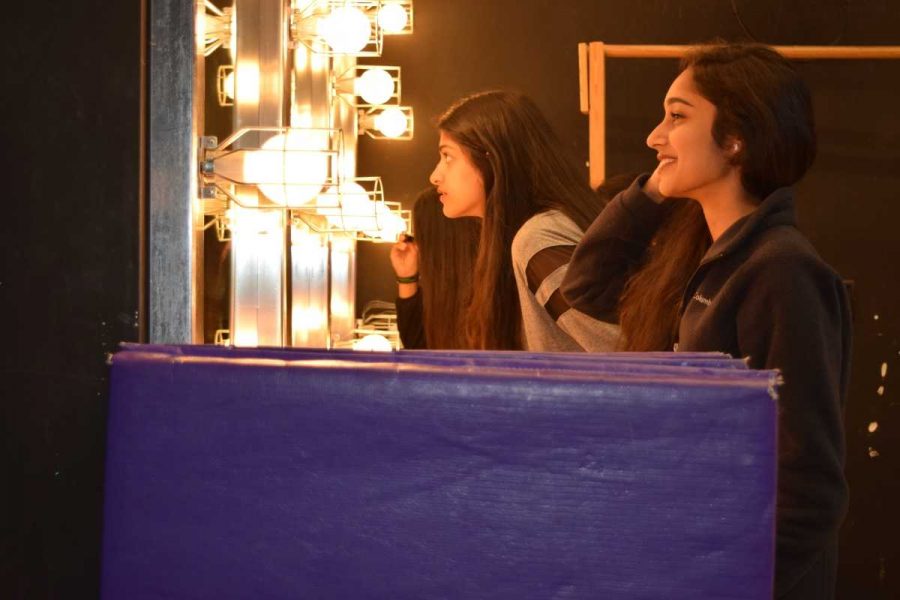 Trisha Kholiya
April 10, 2016
Check out what happened during the show here.
5:30 p.m.
It's an hour and a half before the 7 p.m. show's start on Apr. 9, but the broken clock on the far wall of the MVHS Student Union insists that it's 8:30 p.m. Beneath the clock bustles groups of student performers, with seven distinct clusters of students scattered about the room. Some lounge around dazedly in the light of their phones. Girls bunch together, applying heavy makeup on each other to prepare for onstage lighting. A group of three girls sitting directly under the clock do not seem to notice its rapid, albeit incorrect, progress and continue curling their hair. Exhausted from a dance show the night before, the girls are still excited for today's event: Tashan, where groups of students from different schools dance and sing in a series of performances showcasing Indian culture hosted by MV Andaaz.
Sophomore Aliya Merchant works diligently to curl her friend's, sophomore Sindhu Bijj's hair. Sophomores Sindhu Bijj and Amritha Sankarappan, situated to the right of Bijj, will both be performing in Tashan. They come from Notre Dame and Bellarmine High Schools' versions of a Bollywood team: Zamana. Bijj and Sankarappan performed yesterday at another show with different choreography, and attempt to dispel the possibility of mixing up their dances in Tashan. After all, they'd been practicing tonight's routine since Christmas in 2015.
As they giggle with excitement and share their hopes for the upcoming show, MV Andaaz dance captain senior Ajay Merchia shouts to garner the whole room's attention: there will be a post-show party at In-N-Out. Everyone cheers.
Outside, sophomores Aurum Kathuria and Dhruv Parikh release their boredom by kicking a soccer ball. While other MV Andaaz dance members are scattered throughout the school helping guide other teams to the auditorium and dressing rooms, these two dancers would rather ease their boredom through soccer. They don't mind the light drizzle of rain, nor the haze of gray sky that draws shadows on their mini soccer game. Kathuria and Parikh just need to keep moving. They continue passing the soccer ball to each other, following a steady rhythm of kick and receive.
Junior Reva Kalkarni of Leland High School has been dancing for twelve years — just enough time for her to calmly anticipate tonight's performance without any anxiety. Having more than a decade of dance practice under her belt allows her to be excited, but not scared, in front of a packed crowd of engrossed students, family and staff. Today, stress isn't on her mind. Before the show, her group will have a pep talk for a last minute confidence boost. Kalkarni is ready.
Vocal group Aca-Masala began practicing its singing by meeting once a week in early February. Slowly, one practice a week gave into three. But for the past two weeks, the group of girls has been meeting almost every day. And they're excited to see their hard work pay off. Seniors Harini Kumar and Priyanka Agarwal smile as they recall the first time the group of girls' voices harmonized together.
6:15 p.m.
People rush to find their seats, with 45 minutes left before the start of Tashan. Outside the building and in the Student Union, dancers shake out their anxiety. No one sits still.
A man in a black cap and gray shirt walks in through the cafeteria doors. He is quickly welcomed by hungry teenagers for his Pizza Hut delivery. He carries a total of three boxes and sets them down on a nearby table. Immediately, a group of about eight boys crowd around the pizza, with the first two boxes nearly disappearing in the first minute. Someone yells "Homestead kids!", and more performers — presumably from Homestead High School — move towards the pizza.
6:17 p.m.
Music starts playing on a speaker in the corner, yet in a room full of dancers, no one dances. As the beat steadily heightens, some people can feel the music's calling, and finally begin shifting their bodies to the rhythm of the music and the rain.
6:21 p.m.
Now, some performers begin dancing outside. Other are evidently practicing choreographed routines in preparation for their performance. They stand within the Student Union, unfazed by other groups, forming up together and pumping out their body in smooth, developed moves. Others simply shake their bodies or tap their feet to match the beat.
A group of girls circle up near the speaker in the corner to make dandiya sticks — colorful rods used by Raas dancers in their dances. They use a hot glue gun to glue purple ribbons adorned with pink gems to plain sticks.
Next to the girls preparing dandiya sticks sits sophomore Kashish Singal, a dancer on MVHS Bhangra. His left knee is wrapped in a thin blue heating pad — Singal says that he injured his right knee doing squats and ended up developing chondromalacia, a condition where the cartilage beneath the kneecap softens. He then proceeded to overuse and also strain his left leg in practices, which will unfortunately affect his performance.
But, he will still perform tonight.
Nearby, sophomore Isha Shan from the dancing group Cupertino Dhadkan, a group of dancers from Cupertino High School, laughs at Singal's comments and looks forward to performing during Tashan.
"It's really lit onstage," she said, giggling.
6:38 p.m.
Dancers may have begun by practicing in sweats and baggy sweaters, but with the dance coming up soon, they rush to get themselves ready. Around the room, girls, who had began their makeup at 5 p.m., put the final touches on their face — their masterpiece.

For the boys, it's less of a matter of putting on makeup and more so of getting their costumes ready. While many run to change in the fitting rooms of the MVHS Drama department, others simply rush to change within the Student Union.
At the opposite side of the room, senior Rohan Vaidya from Homestead Bhangra practices using the saap, a prop used in traditional Bhangra dances. The saap is responsible for the iconic clapping noises that can be found in Bhangra, and according to Vaidya, is typically used for bass drops and at the beginning or ending of choreographed segments.
Vaidya recalls that learning how to maneuver the saap was especially difficult. Although he started using the instrument last year, he never really mastered controlling the prop until a few months in. Maneuvering the saap requires the dancer to have good control over direction, and Vaidya says it's much harder than it looks. 
Just like Tashan: tonight's performance is a final product that entails months of planning, organization and hard work. The groups of dancers around the student union, some half-dressed in costumes and half-dressed in sweatpants, offer a look into the backstage processes of this vocals and dance show.
Story written by Trisha Kholiya and Mingjie Zhong.
Pictures by Trisha Kholiya.
Video by Anushka Tyagi.