Changing Seasons: The evolution of winter sports
Co-reported with Pranav Iyer.
Correction: The number of seniors on the girls basketball team in the magazine from 2012-2015 were inaccurate. The correct numbers are reported below.
Boys Soccer: A losing team was quickly turned into a winning program that eventually reached the CCS playoffs for the first time in 17 years.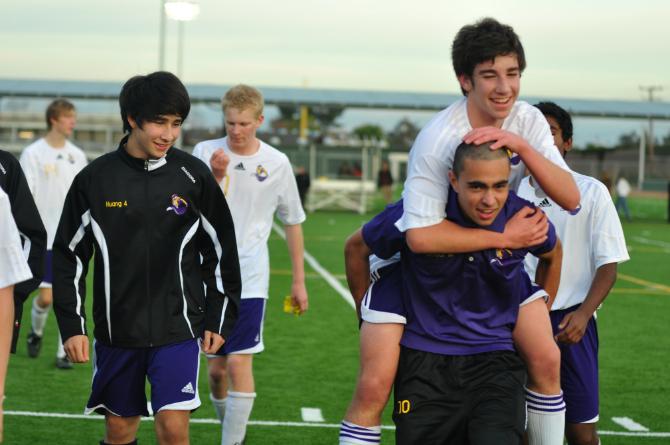 Alumnus Bobak Ohadi carries alumnus Baris Demirlioglu after their game against Los Gatos High School in their 2011-12 season. Photo by Rachel Lu.
Wins-losses-ties
2011: 0-9-1
2012: 11-5-3
2013: 11-7-1
2014: 11-4-4
2015: 8-8-6
2016: 13-5-3
Girls Soccer: After years of success, the team plummeted and moved down a division due to a lack of upperclassmen leadership.
Current girls soccer coach DJ Driscoll explains basic drills to the team during a pre-season practice in the 2014-15 season. Photo by Malini Ramaiyer.
Coach and team comparison
Then: Alan Kute
Coached varsity girls soccer for 10 years
Led the team through CCS Several times
2012-13 team had 11 seniors and one freshman
Now: DJ Driscoll
MVHS Coach since 2013-14 school year
Have not reached CCS
2013-14 team had three seniors and three freshmen
Boys Basketball: Five years later in 2016 the team had its most successful season in Stiver's era and made it to the second round of the Division I CCS playoffs.
Alumnus Ramana Keerthi blocks a shot during MVHS' game against Santa Clara HS on Jan. 8 of the 2012-13 season. Photo by Robert Sulgit.
"I remember when I took this job and Ms. Belshe actually told me one time: 'Give it five years,'" Coach Clay Stiver said.
Girls Basketball: Three straight playoff appearances was disrupted by a loss of valuable seniors and the program is now in a rebuilding phase.
Seniors on the team:
2012-13: 4 seniors
2013-14: 6 seniors
2014-15 7 seniors
2015-16: 3 seniors
Wrestling: Coach Ian Bork instilled a winning tradition through his strict regimens, which has led to the program becoming a CCS powerhouse.
MVHS and Japanese teams celebrate their success together after the meet. Photo by Amol Pande.
2011-12: Head coach Ian Bork joins the program
2012-13: Team places 10th in CCS
2013-14: Team places 10th in CCS
2014-15: Team places 5th in CCS
2015-16: Team places Top 20 in CCS