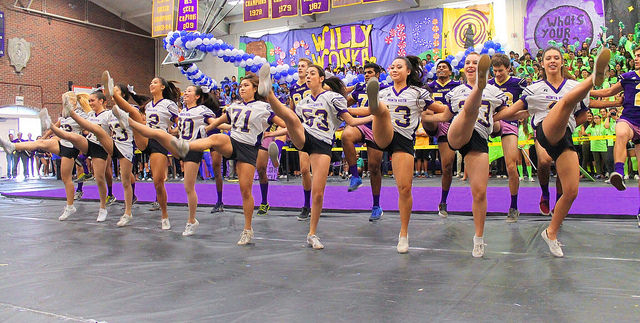 lash mobs, food drive, talent shows, quad decs, senior spoof, and of course to top it all off, Homecoming rally. It's was the usual Homecoming events but nevertheless a busy week. Spending a brunch or lunch studying for your math test could have meant missing a talent show act or a flash mob. Just in case you missed anything, here are the results, photos and behind the scenes videos on activities from Homecoming week:
Overall:
First place: Class of 2016
Second place: Class of 2017
Third place: Class of 2018
Fourth place: Class of 2019
For a special look at class of 2017's activities during Homecoming week, click here.
View the gallery below to see pictures from Homecoming activities.
Photos by Fatima Ali, Amanda Chan, Aanchal Garg and Justin Kim For a more detailed look at Homecoming events, click here. 
Food drive:
First place: Class of 2016 Second place: Class of 2017 Third place: Class of 2018 Fourth place: Class of 2019
Instagram Challenge:
Winners: Junior Kendall Choy, freshman Julia Yang and senior Sara Ye
[<a href="//storify.com/elestoque/instagram-challenge" target="_blank">View the story "Homecoming Instagram Challenge " on Storify</a>]
Quad Decs:
First place: Class of 2017
Second place: Class of 2018
Third place: Class of 2016
Fourth place: Class of 2019
Check out the vision and goals for each class during Quad Decs here.
Homecoming Rally:
First place: Class of 2016
Second place: Class of 2018
Third place: Class of 2017
Fourth place: Class of 2019
Scroll through the album to see photos from the Homecoming rally:

Photos by Avni Prasad