Welcoming anyone, Chinese Club plans a year of exciting events
The walls of the classroom are patched with students' artworks, ancient writing and posters of famous Chinese romantic movies. Every seat is taken by anxious students, ready to spend the year immersed in Chinese culture through games and food. One student laughs loudly at his friend's comment. Another silently munches on her sandwich. Yet another eyes the stack of pizza boxes, ready to pounce when allowed. More students come in and sit on the floor between rows of chairs. Finally, the meeting begins.
"Welcome to Chinese Club!"
Sophomore Mikaela Lee greets each eager student who pours into room A203 during lunch on Thursday, Sept. 17.
Lee is co-president of the Chinese club along with junior Tanvee Sinha. Lee emphasizes that Sinha's Indian heritage shows the members that anyone with any background can be a part of the club.
"We accept anybody, no matter your ethnicity," Lee said. "You just need to be willing to learn about Chinese culture."
The club's meetings are conducted mainly in English, so that every member feels comfortable. Sometimes, the officers throw in a few Chinese words that are common or easy to learn. Throughout the year, the members of the club get to sing karaoke, play traditional Chinese games and eat delicious food.
Treasurer of the club, sophomore Jessie Pao, loves working with her officer team, and they have bonded over the various activity-planning.
"I have gotten to know them better through the club," she said. "We also talk to each other more often."
Bright smiles light up Pao and Lee's faces as they explain the fundraisers and entertainments to the members. Sinha joins in with them as they chuckle about an inside joke that only the officers share.
"I'm really hoping for all the members to return to future meetings because we are planning on having some super fun activities this year," Lee said.
It seems that that will be the case as the students file out of the classroom, contently chewing on their pizza. What an exciting year to come, filled with singing and dancing, playing and joking and all the while, learning about the rich culture of China.
About the Writer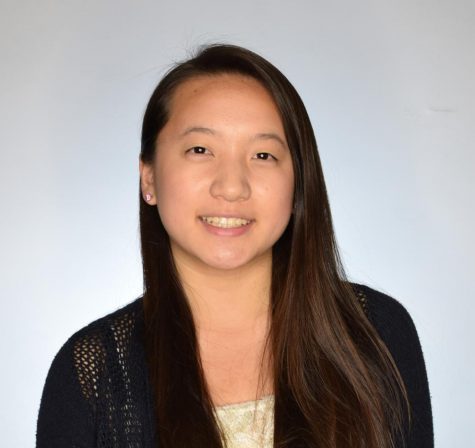 Vivian Chiang, Staff Writer
Vivian is a third year staff writer and former Features and Opinion editor on El Estoque. In her free time, she likes to make videos, listen to music, and hang out with friends.