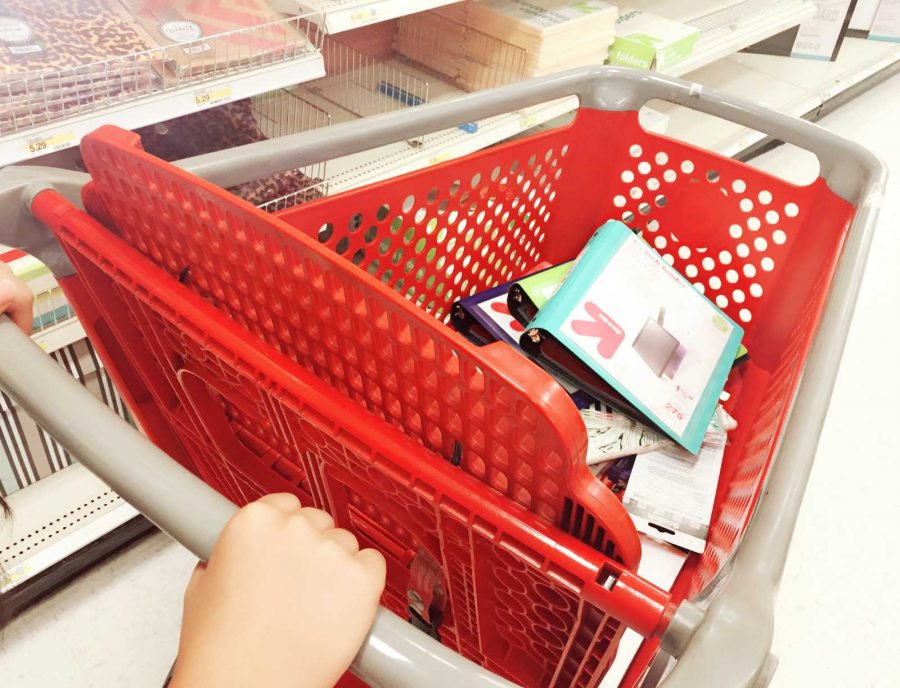 ix bright red carts are lumped together in the middle of the shiny white marble floor, blocking the way of everyone trying to get pass. The smell of anxiety and impatience fills the air as people maneuver their way in and out of the incoming traffic. Phones are out, people trying to find each other in the Back-to-School clearance space at Target. Eleven checkout lanes are open, as well as four self-checkout stations, yet the lines still stretch and weave their way through the Accessories and Hosiery aisles.
At 8:08 P.M. on Aug. 17, the first day of class for all schools in the FUHSD district, Target is a complete mess. Backpacks in the Back-to-School area are thrown astray, red carts are jammed here and there and people are pushing and shoving to get the items they want.  Both students and parents frantically pour through the aisles in the Back-to-School area, all of them trying to find that Expo marker, or 3 by 5 inch index notecards that the student needs by the next day.  
Many high schools and middle school teachers don't give a list of school supplies to their students until the very first day of school. It's this exact reason which leads to the mass last minute shopping and grappling of the leftover school supplies.
Sometimes, the school doesn't accommodate to students' busy schedules.. The students don't have unlimited free time which they can use to do whatever's handed to them at the moment. Even on the first day, they have math homework to do, Japanese tests to study for, green papers to get signed and more.  On top of that, students have to make a very rushed trip to the nearest Target or Staples where they stand in lines longer than the ones at Disneyland, only to buy that single notebook they don't have, or those post-its they just found out they would need the next day. Students need more time than just a day or two to get supplies, because it gives them time to maintain a balanced schedule.
Of course, the situation would be understandable if it was the only choice students had, with no other solutions.  However, there are definitely ways for teachers to make students', as well as their own lives, a lot easier.
Sophomore Annabel Li is one of the very many hasty supply shoppers on the first day of school. "In middle school, the thing was each teacher had their designated website," said Li. "And there was a supply list on that."
Instead of the last minute school supply dash, with all the mini traffic jams worse than Highway 85's 5 to 7 p.m. work time rush, teachers should find time to compile a nice general supply list for students that can be posted on the Monta Vista website or their class website. By doing this, students don't have to rush to Target for that last one-inch binder, and they can come to school more prepared.  
"I'm shopping here today because we didn't get the list of supplies until today and it's really irritating," Li said. "The cheap stuff is gone and shopping carts are everywhere."
Also, some teachers may have specific materials for their class.  If this is the case, and students can only know about it on the first day of school, teachers should allow their students more time to get the specific supplies. This would be more convenient for both teachers and students, so teachers don't have to deal with unprepared students, which could cause a delay in the learning curriculum, whereas students don't have to deal with the chaotic situation.
English teacher Stacey Cler thinks that the idea that teachers should hand out a general list of selection of supplies before class starts to make life easier for students is a good one.
"Each teacher in high school is competent enough of what they need, to make a list, and there is no reason why someone at school couldn't be able to post per course per teacher what things you need." Cler said. "I would be happy to post stuff before hand, that just seems rational to me."
Cler's willingness to post supply lists will definitely benefit all students, as well as herself. She's willing to make this change.  It may seem like students are procrastinating the task of buying school supplies because they don't go until the first day of school, but the reality is that they are unclear of what to buy, and are forced to go out right at the last minute. It ends up being an extremely disorderly process
A simple list of supplies posted during the summer, or even earlier, can help students come to school more prepared, and teachers won't have to worry about students not having important materials for their classes. And it can solve Target's chaos at 8:08 P.M. on the Monday night of the first day of school.  
Co-reported with Grace Zhou