New School Loop login confuses many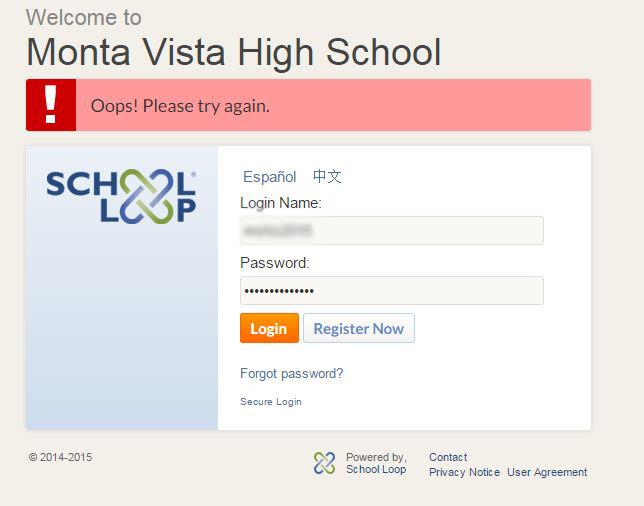 It's the first day of school, and confusion already runs rampant throughout the campus. Library
media teacher Laura Utile's desk is already under siege, as students organize themselves into queues stretching across the library. Utile frantically types away at her keyboard as she resets passwords and helps set new ones. School Loop has mutated, resulting in widespread disarray across the entire student body.
The Fremont Union High School District and School Loop collaborated in order to completely change the School Loop system for MVHS. Although the FUHSD and MVHS's tech staff implemented the changes, School Loop assisted in planning and fixing technical issues. The recent change was enacted last week, and was part of a phased plan implemented from the beginning of August. It was done to assist students in their academic pursuits by making the logins more uniform.
Last year, the FUHSD created official FUHSD emails that were available for all students to use.This year, the district and School Loop tried to augment students' ease of access to School Loop and other school programs by changing the usernames and passwords of students to their default computer logins. It is the FUHSD email address (first initial, last name and last three digits of the ID number) and the password for that account.
"They're trying to get it so that students only have one username and one password for different things that they use at school. So this year, for their School Loop, their school email, their Infinite Campus, all of them are linked together," Utile said. "They have the same username and the same password so you don't have five different things you're trying to remember."
Originally, the plan was to only test this new feature with the incoming freshmen's accounts, but due to a technical difficulty with the system, the change was implemented school wide. Confusion spread like wildfire.
Sophomore Jeremi Kalkowski relies on School Loop to keep track of homework and his grades, and was unable to log in last Monday evening, Aug. 17. He discovered what had occurred the next morning.
"I wasn't really angry because I knew my school password," Kalkowski said, "but it was just weird knowing what had happened, and the misinformation was misleading. I preferred my old password because it was mine and it was simpler, but I guess I can live with this."
The entering freshmen, too, were affected. Freshman Anvesh Lohiya's first time encountering anything like School Loop was characterized as extraordinarily irritating due to the constant login issues.
"I would rather create my own password because you can choose whatever you want,"Lohiya said, "With the FUHSD system, you have to go through all the research, but if you create your own, it's your choice of what you want to do."
The technology staff will be finished helping all of the freshman classes by Monday, Aug. 24, but people can always stop by the library to ask for help.
"When you change something in technology you always have unexpected issues that arise," Utile said. "I think it will be better in the long run, but the initial change always has complications to it."