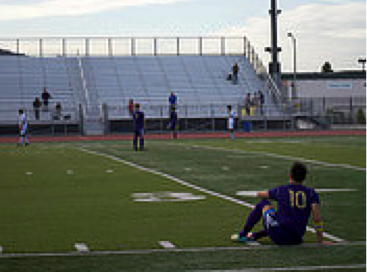 "Sorry I can't go, I have too much homework."
"I don't know anyone on the team, so why should I go?"
"What's the point?"
These sentiments are commonly expressed  by students when asked if they want to attend a sports game. At an academically-oriented school like MVHS, students seem to have limited free time, and spending that precious time watching a game that has little to no effect on their lives is not seen as a popular choice.
This is a trend that goes beyond MVHS — over time students have gotten busier and more careful with the way they spend their time, and schools and universities have experienced rapidly declining rates of sports game attendance. According to an analysis by the Wall Street Journal, average student attendance at high schools in America is down more than seven percent since 2009. While attending school sporting events is an act of leisure, it also has many benefits.
One of the major positive impacts of taking the time to watch a sports game is that it would give students a chance to relax, socialize and forget about other school work. Those that are stressed and overwhelmed can take a few hours to think about something other than the massive amount of work that awaits them at home. Students may counter this argument by saying that going to a sports game would detract from the time they could otherwise have spent studying to reduce their steadily growing workload. However, studies by the Sleep Foundation show that taking regular breaks can increase productivity by 6.45%. In this case, all work and no play is definitely not the right choice.
Furthermore, according to an article by Psychology Today, surrounded by other people who are passionately cheering the team on, normally reserved people let go of their inhibitions at games and wholeheartedly participate in the fun and excitement. A breath of fresh air goes a long way; add an exciting game to it and it goes even farther.
By attending sports games, students not only reap numerous personal benefits, but also have the opportunity to support their school, both psychologically and financially. Psychologically, attending games shows support for the school and provides players with the confidence boost that they may need to score that extra run or make that tricky save. Additionally, by watching games of some of the less popular sports that normally have smaller attendance, such as tennis and badminton, will show those teams that the school truly cares about their success as well. Financially, money made from ticket sales at sports games is a major source of revenue for high schools and universities. High attendance rates will allow the school to balance out its spending and invest more in its athletic departments.
It's understandable that students choose to prioritize academics over attending a school sports game. However, taking the time to occasionally watch a game on a less busy week or when you just need to relax is something all students should at least consider. After all, there's nothing wrong with taking a break every once in a while, especially when the positive effects are numerous for both yourself and your school.