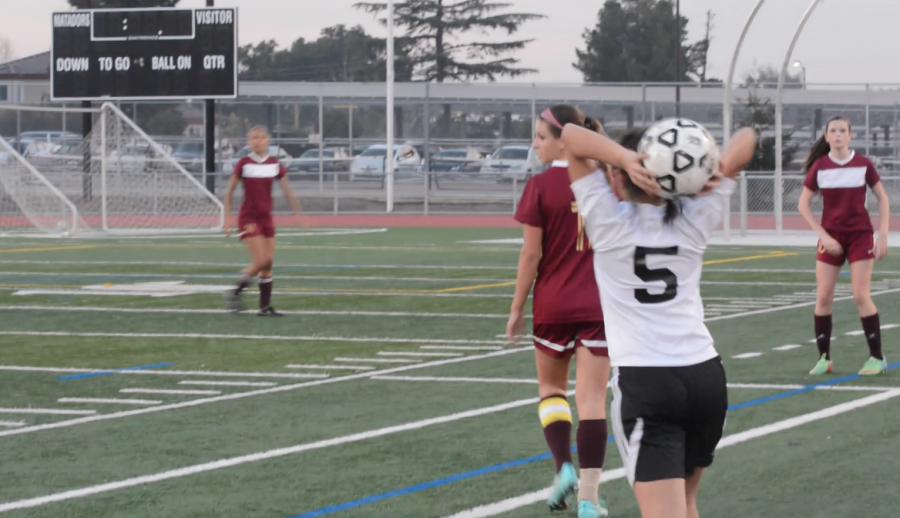 They started with 11 field players, a goalie and a half-sub. Then junior Allegra Ziegler Hunts fell down and they were down to 10 field players. Minutes before the end of the game, senior Janaye Sakkas tripped, so they had to play short with only nine field players. Towards the end, Assistant Coach Tibor Polgar left full water bottles open on the sidelines for girls to pick up and take a quick sip — most girls had to play the whole 80 minutes.
On Jan. 8, girls soccer lost 3-1 to Cupertino High School. The absence of sophomore Anitra Varhadkar, juniors Rachel Poulo and Nikki Stuart, freshman Riya Khilnani and towards the end of the game, Ziegler Hunts and Sakkas left MVHS scrambling to compete. Varhadkar had received the green light from Athletic Trainer Marie Gishifu to play after she injured her knee, but since she wasn't comfortable yet, she remained on the bench as a "half-sub." Varhadkar would only play if an extra player was crucial. Yet despite their handicaps, the team competed until the last minute.
"Considering we had one and a half subs and we already had a game this week," Polgar said. "I think [the game] went really well."
Minutes before half-time, forward freshman Nina Biondi intercepted a CHS pass and headed the ball, towards junior Alissa Paterson. The two forwards frequently took possession and shots, yet they lacked the finishes needed to score goals.
"The girls generated more attack. The other team was more clinical in finishing," Polgar said. "We had our chances. We just didn't finish."
In the second half, CHS midfielder tripped left-midfielder freshman Nanda Nayak. Nayak consistently dribbled CHS players and contributed to MVHS' relentless offense.
Goalie junior Monica Polgar blocked a direct shot on a CHS breakaway. Lacking a complete team, the Matadors had to adjust and play in new positions. The new defenders faced difficulty against the faster CHS offense, who was able to make multiple breakaways and score.
"Since our defense was a little unorganized this game, [CHS] had a lot more breakaways," Monica said. "Especially given that their team had some amazing strikers, they could just get around our players."
With about ten minutes left in the game, Paterson finally scored MVHS' only goal of the game after attempting many shots throughout the game. The Matadors now tailed closely behind CHS with the score at 2-1.
Minutes before the game ended and moments after Sakkas tripped and left the field, Monica dove in reaction to a fake from a CHS forward who then scored from the left. MVHS continued to play until the end with 10 players. They lost with a final score of 3-1.
The next home game will take place on Jan. 15 against Lynbrook High School at 3:30 p.m.
Reporting by Varsha Venkat and Malini Ramaiyer.