Boys basketball: Matadors prevail over Cupertino Pioneers in rivalry game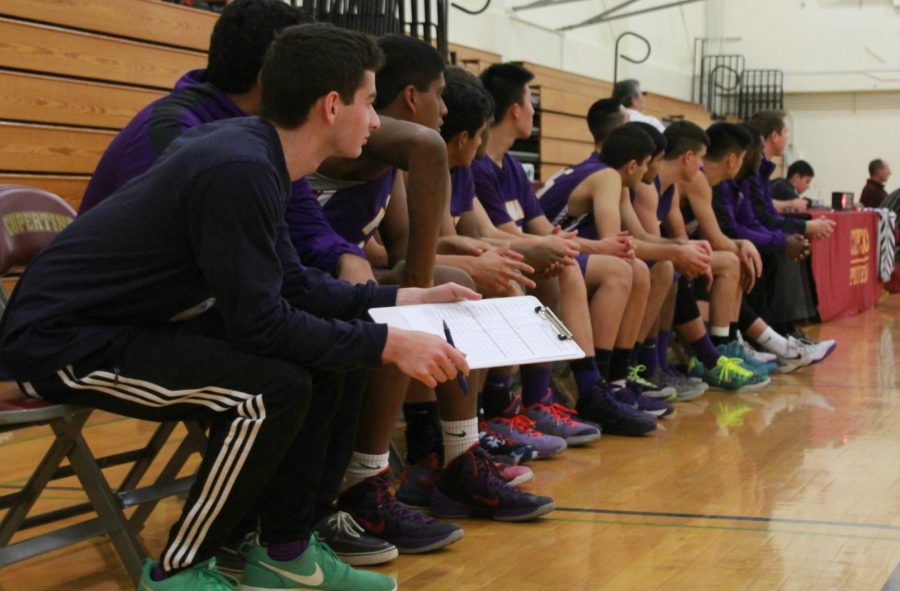 Aditya Pimplaskar
January 6, 2015
On a chilly Tuesday night, throngs of Cupertino fans poured into the CHS gymnasium, eager to watch the intense rivalry game between the Pioneers and Matadors on Jan. 6. MVHS supporters found themselves miserably outnumbered, given the sea of red covering a whole section of the stands. Amidst a roaring crowd chanting CHS cheers, a rowdy group of students sitting courtside and a soon-to-be-confiscated pumping umbrella, the Matadors went to work against the Pioneers.
The Matadors started off strong displaying near perfect offensive flow. The guards were moving the ball around with ease and shooters were draining open shots. The early dominance by MVHS silenced the Pioneer crowd and prevented their opponents from gaining any momentum. Stellar performances by junior Ashween Manimaran and senior Casey Parsay drove the Matadors' success in the opening half. The Matadors entered halftime with a commanding 38-29 lead.
As the second half started, the Pioneers were able to gain much needed momentum by forcing turnovers on the defensive end and converting them to scores on offense. Following six straight points, the Pioneers looked well on their way to a comeback, riding on the success of guards making long jumpers and dishing to the paint. However, this success was short-lived, as the Pioneers were unable to make crucial defensive rebounds giving the Matadors extra opportunities. Manimaran took over the game in the fourth, making basket after basket in isolation situations. Junior Andrew Ding placed the finishing touches on the game with a scrappy lay-up to put the Matadors back up by ten.
The Matadors prevailed with a final score of 53-45.
The Matadors will play their first home league game this Friday, Jan. 9 at 7:00p.m. against Santa Clara High School.
Story by Pranav Iyer and Aditya Pimplaskar
Photos by Aditya Pimplaskar