Kira Williams produces a well balanced relationship between passion and work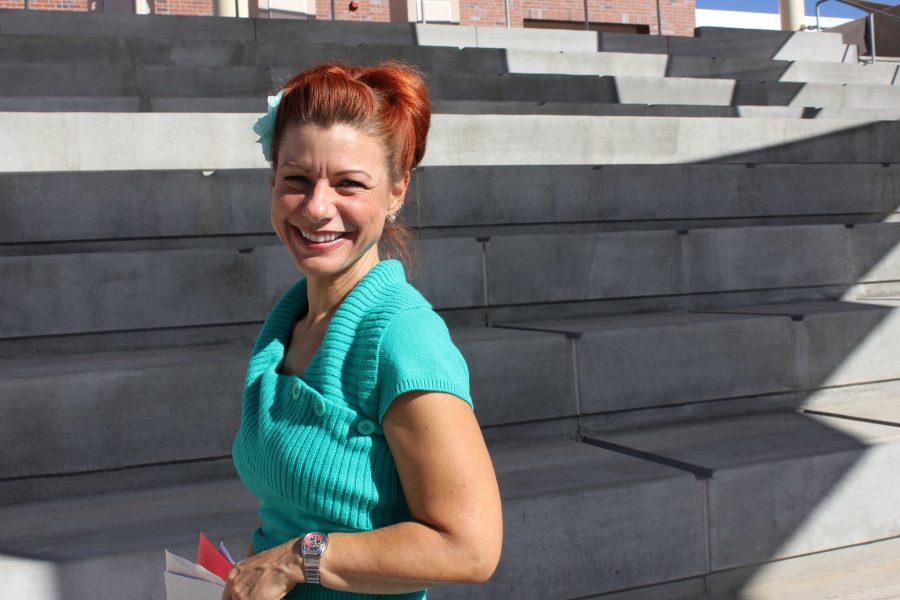 Vanessa Qin
October 23, 2014
Last year, Kira Williams spent five months out of the school year as a substitute teacher at MVHS. Her most memorable experience teaching was with MVHS photography teacher Tyler Cripe's class. Within the six weeks at the beginning of the year and eight weeks at the end of the year that William staught this class,, she formed powerful connections with the students in the class. At the end of her term, the entire class gave her a standing ovation in recognition of her impactful teaching.
"It gave me chills," Williams said, "it was just such an amazing and lovely experience for me."
Williams was drawn to fine arts at a young age, but did not attend an art university after graduating from high school. She studied psychology in college to become a therapist, but her active interest in art and a push from MVHS' art and photography teacher Brian Chow prompted her to pursue her passion.
Williams poses for Brian Chow's Art 1 students who are doing a life drawing activity in class.
Though she originally set out towards a more practical path, Williams was always drawn back to art. In the past, Williams worked in high tech for companies like Adobe, but did not feel it was the best fit for her. Although she was earning more money, Williams was not satisfied. However, she found this fulfilment in teaching art.
"Sure, you live with less," Williams said, "but what difference does it make? None. I look forward to getting up in the morning… it would be the same if I were making a million dollars or no dollars."
Williams began substituting at MVHS frequently while attending school to obtain a masters degree in fine arts with a concentration in metalwork to teach. Her original intent was to teach college students, but her experience teaching at MVHS made her realize that teaching in high school environments was perfect for her.
Freshman Angela Win, who is a student in Brian Chow's art one class that Williams teaches in, finds Williams to be a fun and outgoing character.
"She's really fun and energetic and friendly and social," Win said.
Williams' largest hope is that she will impact her students beyond the technical skills of their artwork — her students are her inspiration.
"It's this beautiful symbiotic relationship between me and my students, Williams said, " I am not just helping them learn something; they're constantly teaching me how to be a better person, how to be a better teacher. When they are creating things from their experiences, I'm learning from that. I'm learning about their background, their culture, their individual insight, which is fresh and exciting. It's so unfettered by the bigger outside stressors of the world."