Students help out behind the counter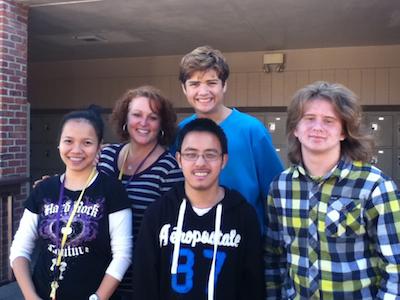 Special education students reflect on their memories of helping out in the cafeteria.
While most people's interactions with the campus cafeteria mainly involve buying lunch and leaving, another group of students has been helping out behind the scenes for several years.
Under the guidance of special education job coaches Syvees Sazon and Tina Volzing, those in the Academic Community and Transition program at MVHS work with the cafeteria staff every day for lunch. Students like seniors Justin Quigley and William Tan and junior Daniel Fairbairn do everything from setting up tables to restocking food.
After months, and years for some, of helping in the cafeteria, the students know exactly what they're doing — and what they do and don't like.
"I like handing out chips and drinks best," Tan said. "We don't keep customers waiting."
The less favorable job responsibilities, the students explained, include cleanup, mainly because trash is frequently left on the lunch tables. Volzing hopes that with a newly renovated cafeteria, students will keep the building clean and an enjoyable place to eat and study.
"I can't believe that the cafeteria has been here for 44 years," Fairbairn said in a short written statement. "I am excited to see the new model … it would be great to have a change."
Tan suggested television and video games as new additions to the cafeteria, explaining that it would bring students together and allow them to interact more.
"If we could have a nice two-story building we could have space for more student interactions, eating, drinking, making it like a student lounge," Tan said.
With the demolition of the cafeteria, the students will probably work in the food cart's new location, along with the food trucks that will serve meals during construction.
And even though their job calls for hard work and a sense of responsibility, the three have enjoyed their experiences there. When asked if he's proud to help serve food to the entire campus, Quigley replied, a smile on his face, "Absolutely."