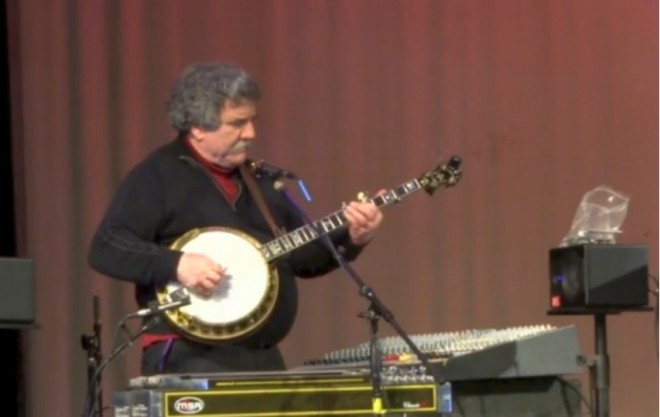 Career Technical Education, or CTE hosted the Electric Circus, or Fiddling Cricket Concerts' annual Holiday Show on Saturday, Dec. 15 in the MVHS auditorium. Starting at 7 p.m., the benefit concert showcased three musical groups, as well as a performance from the Bollywood Dance Team.
Electric Circus held at MVHS from El Estoque on Vimeo.
Fiddling Cricket Concerts, headed by Dr. Dick Brundle, is an all-volunteer organization that puts together acoustic music concerts. According to Multimedia and Photography teacher Dale Barcellos, Fiddling Cricket's main venue for the Holiday Show, the Mission City Coffee Roasting Co. in Santa Clara shut down earlier this year, but Fiddling Cricket and Barcellos decided that they could have the show anyways if they had it at MVHS. Though this is Fiddling Cricket's first year holding their annual Holiday Show concert at a school, Barcellos's band, the Avalanche Choir, has been performing in the Holiday Show for 15 years, since the founding of the company.
Since the Holiday Show would be at school, Barcellos and Fiddling Cricket decided to make it a benefit concert to allow the school's art department and clubs to raise funds through selling tickets.
"If we were to fill the auditorium, we would have earned a lot of money," Barcellos said. "If clubs would have bought into this and sold tickets, we would have earned somewhere in the range of $4,000 to $6000 for the school clubs if we made a push to sell these tickets. But it didn't work out that way."
Business teacher Carl Schmidt partnered with Barcellos to coordinate concert. The plan was that Barcellos would be in charge of coordinating the acts while Schmidt, along with DECA and FBLA, would be responsible for promoting the concert. DECA and FBLA accepted 50 posters to promote the event, and 400 tickets to sell.
According to Barcellos, around 80 to 100 people have attended this event in the past. He predicted that attendance would be lower this year, not only because of the change of venue, but also because of the lack of ticket sales within the school.
The CTE planned to feature student acts in the Holiday Show as well, and held auditions in room A103 everyday last week. However, because no student groups came to audition for parts in the show, only the four of the five groups who were originally scheduled to perform did so. The Ritards, a student  group, was also scheduled to perform, but could not make it because some of the band members fell sick.
Along with Barcellos's band, the Carolyn Sills Quartet, which performs originals and covers in a 1950's style, Photography teacher Tyler Cripe and the MVHS Bollywood Dance Team volunteered to perform at the Holiday Show. Seniors Preston Yeung and Vineet Vijaykumar volunteered to host the event.
According to Barcellos, many of the people who have followed this concert series from Fiddling Cricket have drifted away from this event, mostly because of the change of venue. Still, Fiddling Cricket sold 60 tickets to people outside of MVHS, most of whom were middle aged.
"I'm not going to worry about ticket sales at this point," said Barcellos. "We're just going to make sure it's a great show."
Correction 12/19/12: Multimedia and Photography teacher is Dale Barcellos and the student group which was scheduled to perform but did not is the Ritards.
On 12/23/12, this story was updated to include a video of the event.