Environmental engineer speaks to math classes
Guest speaker Allen Lund emphasizes importance of a varied skill set in the job market
In a math class, students are expected to apply the theorems they learn to the problems given to them. On Nov. 15 and 16, math teacher Kathleen Koch's students were still learning this process, but in a way even more grounded in the real world than word problems.
Throughout the day, environmental engineer Allen Lund, who graduated from Humboldt State University with a degree in geology, gave a presentation to Koch's first and second period geometry classes on Nov. 15 and sixth and seventh period precalculus classes on Nov. 16, regarding the life lessons he learned in school and the experience he gained through his career. According to Koch, the goal was to introduce her students to another area of study, but in addition to doing so, Lund also sought to inspire them in terms broader than the real-world application of math and science in a particular job.
"I really hope the students saw that there are many options within the STEM fields," Koch said. "I want students to realize that they don't have to attend Stanford or MIT or any other elite school to have a successful and interesting career."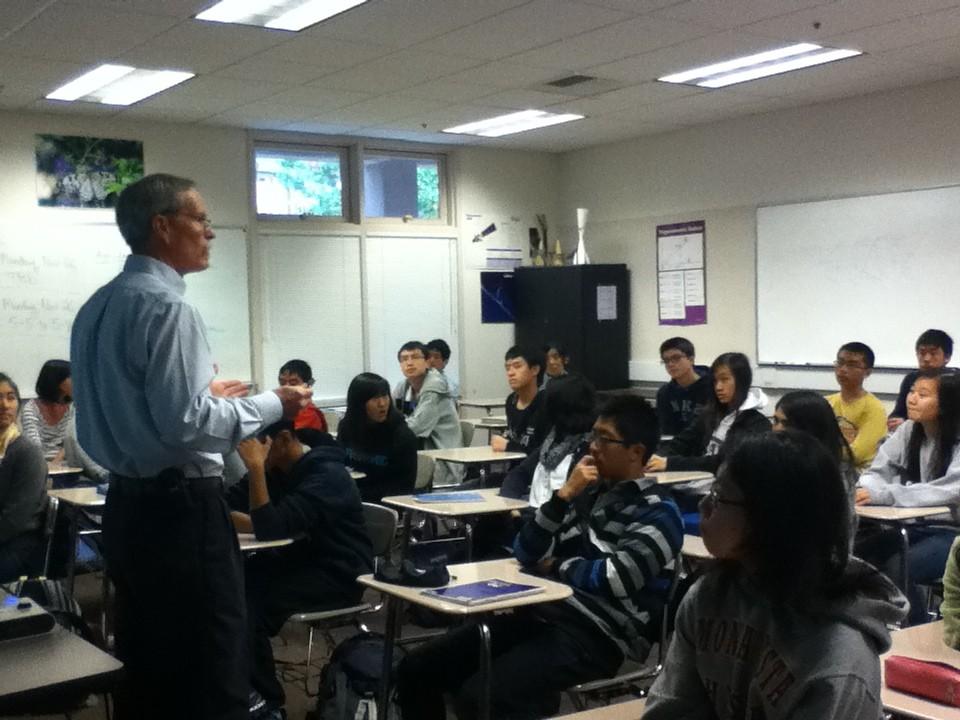 Over the summer, Koch attended a teacher's conference with 19 other middle school and high school teachers. The event was hosted on June 18 by Lockheed Martin — an aerospace and advanced technology company — as part of the company's long-standing support of the Bay Area-based Industry Initiatives for Science and Math Education. The IISME organization focuses on teachers being the primary agents for causing meaningful change in mathematics and science education.
During the conference, Koch signed up to host a guest speaker from Lockheed Martin in her math classes, and earlier this week, she was contacted by the company. Koch then exchanged information with Lund and scheduled a time for him to visit her classes.
"I was motivated [to come to MVHS] by the opportunity to convey what knowledge I have — from college and even my job — to teach students in high school," Lund said.
Lund and Koch had never met before the day of the presentation itself, but Koch believes that her students will take a lot away from both Lund's life story and the work he does.
"I learned about what a geologist engineer does, [but also] that it is important to be able to adapt with the skills that you know," junior Sriya Srinath said.
Accordingly, Koch believes that the most significant aspect of the presentation was the insight Lund provided regarding the importance of having a varied skill set rather than simply focusing on one area of expertise, especially in regards to the workplace.
"Everybody wants a job, and you can make yourself look much better to an employer or company when you have not just one or two really good skills but are well rounded … able to write, speak, manage money … you become more viable," Lund said. "For me, to help students understand that is very important."
The one point Lund hopes will stick with the students is the idea of never being satisfied with what is already known.
"I don't even consider myself just a geologist anymore," Lund said. "I look back in terms of what I knew when I just graduated from college in the oil business, [and] compared to what I am doing now, it's huge, and that just confirms to me, as I tell students, that continuous learning is huge. Never stop learning."