Creating the connection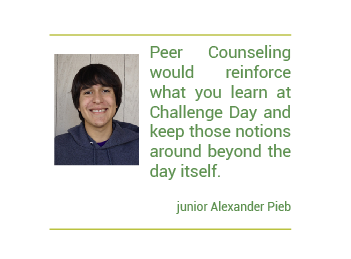 Amrutha Dorai
November 19, 2012
Students link support organizations available on campus to create community
On Sept. 12, Saratoga High School sophomore Audrie Pott took her own life. The following Friday, students not only at SHS but also at schools around the area wore teal — Pott's favorite color — in honor of her memory.MVHS junior Simone Becker's approach at dealing with the situation was a little different.She wanted to make an impact, one that would resonate with the student body long after she graduated. So she and her friend, junior Alexander Pieb, discussed what they could do to accomplish that goal in regard to preventing similar situations in the future.
Becker and Pieb considered options such as an assembly, but a one-day outreach event wasn't going to carry the message the duo was trying to get across. Instead, they opted for a less conventional method: peer counseling.
"If we do a peer counseling program, then maybe it'll have a lasting impact, and maybe lives will be saved," Becker said. "And people really will feel happier, and people really will feel that they can have a home at MVHS. Because I think it's so stressful that sometimes people feel like they don't belong."
Becker spoke with her counselor, Kate Duphily, to discuss the potential formation of a peer counseling club. It turned out that Becker was not the only one on campus with this idea in mind; Student Advocate Richard Prinz had brought up the same idea at a staff meeting the previous day. Peer Counseling now had an adviser. The club, founded by Becker and Pieb, was approved Oct. 22 and had its first meeting Nov. 16.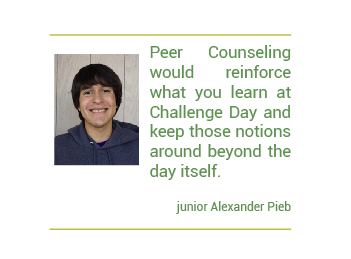 Social-emotional intelligence quotient
Peer Counseling is only the newest of a variety of resources on campus with the goal of improving what Prinz calls students' "social-emotional intelligence" through the creation of a supportive network. These resources include Verdadera — which plans to collaborate with Peer Counseling — Prinz' parenting classes and Challenge Day, which was held Nov. 15.
"[Emotional intelligence is] not just learning academic subjects… [It's] where you're directly learning life skills," Prinz said. "You develop expertise in the area of your own mind to be able to deal with problems and facilitate happiness. And then social intelligence is [when] you … can recognize that in others, and you kind of have empathy."
Social-emotional intelligence was once included in the school curriculum: Sociology, Psychology and Peer Counseling existed as classes on campus in the past, but they were cut, according to Prinz, to make room for AP Statistics. However, Peer Counseling will remain as a club, both because of insufficient funding and a newfound interest in focusing the club around students.
"Essentially, what we're doing is creating a community of MVHS students who are available to help the MVHS community in any way they can," Becker said.
Creating a community
Becker plans to cap club membership at 30 peer counselors, selected through application. These counselors — who need to demonstrate care for others, the ability to listen and, in Becker's words, a willingness to spread positivity — will then undergo 10 to 12 weeks of Wednesday morning training sessions with Prinz, during which they will learn how to listen more effectively and mediate conflicts.
Then, they will become available as resources to the general student body. When students fill out the form to request a meeting with their counselor, they will also be given the option to meet with a peer counselor. Becker hopes that these counselors will eventually come to develop areas of expertise, such as suicide prevention or parental stress.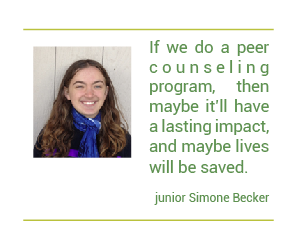 Becker and Pieb also hope to improve the morale of the school as a whole through random acts of kindness, which would consist of deeds such as putting notes in lockers, handing out candy and picking up trash to help the janitors. This aspect of the club was partly inspired by the mental shift students often feel after having experienced Challenge Day.
"[After I attended Challenge Day], I felt like there was a feeling of community within the room and the people who attended were now looking at the world with a more open and less judgmental eye. I don't know how far that carried on beyond Challenge Day itself though," Pieb said. "Peer Counseling would reinforce the things that you learn at Challenge Day and keep those notions around beyond the day itself."
Ideally, the club would serve to channel the students' positive energy post-Challenge Day into an activity such as peer counseling that would encourage students to sustain this optimistic mentality not for mere hours but rather for months, years and even potentially throughout their lives.
The connecting thread
Most importantly, however, the goal for Peer Counseling is to to create a stronger advocacy front, and in order to do so, Becker and Pieb will coordinate the subjects they cover at their meetings with those discussed monthly in Verdadera. In fact, both organizations function to give students the opportunity to explore a wide array of often controversial topics not necessarily addressed on campus, making Verdadera and Peer Counseling, according to Verdadera adviser Carol Satterlee, natural partners.
"[Verdadera] just gives [students] another outlet to express themselves … Peer Counseling, I would imagine, is a place where people can go to just kind of dump things, to connect with people who have been trained how to listen really well," Satterlee said. "What I hope Peer Counseling does is make it safe for students to go speak to someone, and then feel comfortable with that peer counselor to say, 'Is it okay if we just tell an adult?' so that they can get the right kind of support."
Legally, there are circumstances — such as those that involve suicide, depression, or abuse — in which Prinz is required to intervene, but the novelty of the club lies in the fact that students are given the opportunity to seek advice from fellow students.
Satterlee looks forward to collaborating with Peer Counseling because she believes that letting students know that there are many tools available to them is the common thread running through all of the resources available on campus to further students' social-emotional intelligence. Whether it be Peer Counseling, Verdadera, Challenge Day or Prinz' parenting class, all emphasize connections, communication and the creation of a community.
"The theme is really about creating a culture on campus," Prinz said. "More inclusion, and people helping each other, and being kind to each other, and caring about each other. More of a happier, more supportive environment."